10 Useful Tips When Taking Your Puppy Camping
Thinking of bringing your puppy along on your next camping adventure? Wondering how to make the experience an amazing one for both you and your fur baby?
Your pup is a beloved member of your family. Nothing beats snuggling up with your puppy in a cozy tent at a beautiful campsite. So, it makes sense to take your fur baby along on your camping trip!
If your fur baby is old enough to leave its mother, usually around 8-9 weeks, you can take your puppy camping. Remember that the younger your puppy is, the more awareness, patience, and preparation will be needed to keep them safe. 
Pet Parent Tip: It's best to wait until your puppy is 5 months old and has all their required shots before taking them camping.
Related Reading: Camping With an Anxious Dog (Tips)
Some of the links in this post are affiliate, and we may earn a commission.
Tips for Camping With Your Puppy
Bringing your dog along on a camping trip sounds wonderful, but might be a bit tricky when you plan with a new puppy. Well, camping with a fur baby can be lots of fun if you are prepared and ready for adventure.
Before you head out on your camping adventure, take a look at these tips when camping with your puppy. Even your puppy will become a "happy camper" with these tips.
1. Plan Ahead
Camping with your pup is definitely an awesome and unforgettable experience. You should plan ahead when taking your puppy camping. It is the best way to ensure both you and your fur baby have a safe and enjoyable camping experience.
Reserve a campsite early, particularly during peak season. Plan a convenient travel route, invest in some high-quality gear and take your dog to the vet and for a check-up before setting out.
2. Research Dog-Friendly Campsites
There is nothing worse than reaching a campsite and finding a 'No Dogs Allowed' sign. Be sure to call ahead or research online to find dog-friendly campsites. Always let any campsite know ahead of time if you plan to bring a puppy.
Keep in mind that not all campsites are dog-friendly. Some of them even have specific rules in place for four-legged visitors. You may find that many campsites will have rules that change by season. They may be more dog-friendly in the off-season than during peak months.
3. Make Sure Your Puppy Gets All Their Vaccinations
New puppies need a series of vaccination shots before they can go camping with you. Vaccines will protect dogs from many diseases including rabies, distemper, parvo, gastro, and many others. Also, get them covered for fleas and ticks.
Young puppies get three sets of vaccines at 8, 12 and 16 weeks of age. Once they have had all vaccines, they are safe to go out to explore new places. All of these vaccinations and check-ups can be expensive if you haven't prepared for them so, if you can, signing up for Pet Insurance (click for a free quote) from the outset can be a great idea.
4. Know Your Puppy
If your puppy is very young, unvaccinated, and not trained; reconsider your decision before planning a camping trip. It's important to assess your puppy's readiness. 
Be honest about your puppy's temperament and plan your trip accordingly. If you're uncertain how your puppy will adapt to camp life, try taking a series of day trips before planning an overnight campout.
5. Respect Your Puppy's Physical Limitations
Before you go on an adventure, make sure your puppy is physically able to travel. Puppies are little bundles of energy, but you should recognize the signs when they start getting tired.
A puppy's physical limits vary with age, gender, and breed. For example, if you have a small breed puppy who is not able to go on long walks, then you should avoid a campsite that requires you to hike in and out (unless you plan to carry your puppy AND your gear). 
6. Practice Good Campsite Etiquette
It's nearly impossible to do a puppy training session out in the wilderness. So, be prepared ahead of time with etiquette and training. Basic training for good etiquette should not be ignored before you take your puppy camping. It's better if your pup has the basics such as sit, down, come, and stay down pat before you embark on an overnight trip.
7. Stick Close to Their Schedule
Young puppies are in the process of forming their routine. Sticking close to your puppy's regular routine adds a sense of normalcy in the new environment. Going away for even a few days can throw them off their schedule. It is important to stick to the basics of their routine like feeding and sleeping at the same times. 
8. Watch out for Wildlife and Poisonous Plants
You need to protect your puppy from wildlife, including both plants and animals. There can be predators like bears, wolves, and also venomous snakes and insects. Also, keep your dog away from stagnant water, lakes, ponds, or rivers that could be infected with blue-green algae. You need to identify any potentially poisonous plants in your area, so you can avoid them, before going for hikes or walks.
9. Prepare for the Unexpected
Nature can be unpredictable and so can puppies! You should prepare for the unexpected with some extra food, medication, and emergency supplies.
You should also ensure your pup's ID tags are up-to-date. You can even make a laminated card with your contact information, your puppy's identifying information, and vaccination and health records. If you are travelling out of your area, be aware of pet hospitals and vets in the area in the case of an accident or injury to your puppy. We hope nothing bad ever happens to your pup but it's always better to be prepared.
10. Never Leave Your Puppy Unattended at the Campsite
To keep your puppy safe and ensure they have a positive experience, make sure you constantly monitor them while camping. Never leave your puppy unattended while camping. This includes in the car, at the campsite, and during activities. 
Many puppies feel a little overwhelmed or excited by all the new places and sights. Most campsites have leash requirements. A leash is the best way to keep them by your side and it is the best way to keep your dog safe.
Plan Puppy-Friendly Activities
If you are bringing your puppy camping, it is probably because you want to enjoy spending time together. To make it fun for both of you, incorporate safe and fun activities in your trip. Hitting the trails or playing outdoor games during summer heat waves are never recommended for your puppy. 
Some of the best dog-friendly camping activities include:
A short jaunt (think 5 to 10 minutes, nothing too tiring for puppy)
Visiting the beach
Explore local parks
Going boating at moderate temperatures
Remember, not all camping attractions are puppy-friendly. Many parks, beaches, trails, and dining centers do not allow dogs. Always consult local dog and leash laws. 
Remember to bring plenty of dog poop bags and don't forget to clean up after your puppy!
Should Puppies be Allowed in Tents?
Tent camping with puppies might be a little more challenging. Keep in mind that if temperatures are extremely hot or frigid, tent camping with your puppy might not be the best idea.
You can keep these factors in mind while camping with your little furball.
Tent Size: When sharing a tent with a puppy, the bigger the tent, the better. Big and spacious tents will help you and your fur baby feel more comfortable. Your puppy can even play inside on rainy days.
Security: Always zip and secure your tent before going to sleep. This will prevent your puppy from making an escape in the middle of the night. If you are still worried about how your puppy will behave, consider placing your backpack and gear in front of the tent door to block the exit.
Noise: Some puppies become anxious and bark if they hear a sound in the middle of the night. You can use a battery-operated fan or a portable sound machine to help calm your fur baby before bed.
Sleeping Arrangements: To keep your dog less anxious while camping, try to keep sleeping arrangements similar to your home routine. Bring your puppy's dog bed or crate and place it in the tent. Try to choose a tent that can accommodate the size of the dog bed and crate. If your puppy sleeps with you, do not forget to leave plenty of room on your air mattress or sleeping bag.
Puppy Safety While Camping
Camping can be good fun for both you and your puppy. You and your pup are spending quality time outdoors, but you are likely going to be in unfamiliar areas. There are few points to keep in mind for puppy safety while camping:   
Be Cautious of Overheating: Puppies are fragile, susceptible to changes in temperature, and can easily get overheated in the sun. Puppies with dense and long coats can overheat even more easily. Keep your puppy in a cool area during the hottest part of the day. Coldwater should be available for your doggie at all times.
Protect Your Puppy's Paws: Puppy paw pads are sensitive to extreme weather and abrasive materials. To protect your puppy's paws, use a good-quality paw protectant or invest in a pair of dog booties. 
Make Sure Your Dog has an ID: Consider including multiple types of identification so people know how to get ahold of you if they find your puppy. Get your pup microchipped at the vet and have physical ID tags. You should also add a temporary ID tag that has your campsite address and number.
Don't Forget the First Aid Kit: Don't skip the first-aid kit (view on Amazon) on your camping trip. These puppy first-aid kit essentials include your dog's vet records, gauze, bandage, thermometer, and canine sterile eyelash.
Camping with your puppy can be a lot of fun. It just takes a bit of extra preparation. You need some planning, a few additional supplies, and the right safety gear. 
What to Pack for Your Camping Adventure
In addition to your regular camping supplies, you need to bring along everything your puppy needs to have a safe and memorable time. 
Camping with dogs means being prepared for anything. Once you've finalized your own camping checklist, you also need to include some puppy camping essentials:
Dog food; bring more than you think you need!
Food bowl
Water bowl and bottled water 
Dog treats
Safe and interactive dog toys
Vet records and medical information
An attachable ID tag
Dog poop bags
Portable dog bed and crate
Winter clothing if camping in fall/cold weather
An emergency fold-up blanket
A recent picture of your pup (in case they become separated from you)
To keep everything orderly, you can use a separate bag for your puppy's belongings.
In Closing 
Remember that the most important part of camping with your puppy is to spend time together. You can use your camping trip to bond with your fur baby. Start young with your doggie and you will be on the road to becoming the best camping partners in no time at all! 
With a little preparation, you and your puppy will be all set to have a blast. The most valuable thing about every camping trip is to have fun. Try to make the experience enjoyable for everyone, including your puppy!
If you still have questions about camping with your puppy, please let us know! We would be happy to hear from you.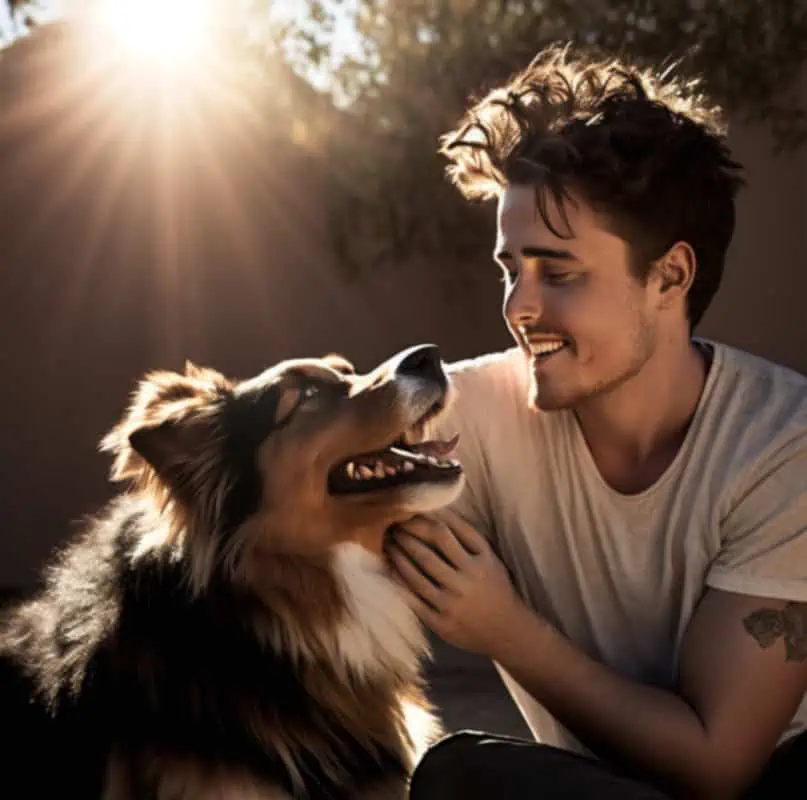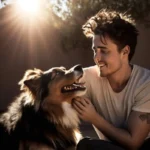 Family Dog Expert Author
Hi there! I'm Stuart, a devoted dog lover and family dog expert with over a decade of experience working with our furry companions. My passion for dogs drives me to share my knowledge and expertise, helping families build strong, loving bonds with their four-legged friends. When I'm not writing for SirDoggie, you'll find me hiking, playing with my beautiful dog, or studying music.