One of the best things about having a dog is being able to take them on long walks and runs with you. Just like humans, dogs need to have their feet protected when outdoors.
Dogs do have tough feet but they are not indestructible. If running is a regular activity that you engage in with your dog, then chances are their soles have accumulated some wear and tear and may benefit from boots.
Here are some of the best dog boots for running on the pavement:
HiPaw Breathable Dog Boot
CovertSafe Dog Boots
QUMY Dog Shoes
My Busy Dog Water Resistant Dog Shoes
Petbobi Waterproof Dog Shoes
Lymenden Dog Boots
RilexAwhile Dog Sock Boots
Some of the links in this post are affiliate, and we may earn a commission.
While they don't need a wardrobe of shoes for different occasions, finding a reliable pair is important. Take the time to choose the best dog boots for running on pavement to keep your dog's feet in good shape.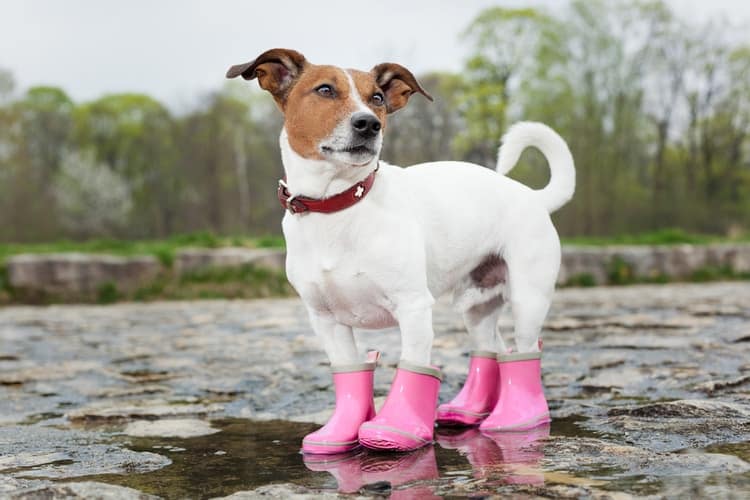 Related Reading: 10 Small Dog Breeds That Are Perfect to Take Hiking
Top 7 Recommended Dog Boots for Pavement
You might need a dog boot that can help keep your doggie's paws warm for running on the pavement in winter. Or, you and your dog live in the dessert and need a booth than can both breathe and protect from the heat.
We've tried to include a boot that covers all the different needs from pet parents who want to run on the pavement with their dogs. We've also added some tips for choosing the best dog boots closer to the end of the post.
Alright, let's take a closer look at these recommended dog boots. Different dog boots will have different features, pros, and cons.
1. HiPaw Summer Breathable Dog Boot
During really hot summer days it can be difficult taking your dog for a walk, and not just because of the heat. The sun can heat up pavement to a very high temperature, causing your dog to be wary of stepping onto it, especially if they've experienced some really hot asphalt.
These are handy to have even for small walks from a building to your car with a dog, as it's easy to forget just how hot asphalt can get.
With these dog boots your dog's front toe will be completely covered by rubber, which will help protect their paws on pavement and other debris like thorns or pebbles.
The HiPaw Dog Boots are an excellent option for the summer months as they are made with breathable mesh to keep your dog's feet cool while running. These boots are durable and made with an anti-slip sole for strong traction. The boots have a rubber toe cap to protect your dog's feet.
You will find that the HiPaw Summer Dog Boots are easy to put on and take off with adjustable "magic tape" straps. If you and your dog enjoy going for night runs, these boots are an extra help because they have reflective tape to make sure your dog is seen on the streets.
With a very affordable price these are great dog boots to test out with your doggie. You'll be able to quickly put them on and off and get a feel for how they can help your dog run on pavement.
---
2. CovertSafe Non-Slip Dog Boots
The ConvertSafe dog boots add a waterproof option for your dog's booties. Whether you're purposefully going for a run in the rain on pavement or you and your doggie get caught in a passing rainstorm, these boots will have you both covered.
The first you may notice about these dog boots is the thickness of the boot. The thickness helps ensure your dog won't feel the snow, ice, or heat/coldness of the pavement beneath them.
They also have a lot of soft material that adds warmth to the inside of them. This is great if you and your dog live in colder climates and go for runs on the pavement during the winters.
If you're looking for a well-made, easy to put on dog boot made for warmth and some water protection while running on the pavement, then definitely check out this dog boot.
---
3. QUMY Dog Shoes
The QUMY dog shoes kind of combine the previous two into one model. They offer a firm rubber soul but also a breathable material on the top part of the shoe.
This helps them stay comfortable for your doggie, especially during warmer days on the pavement but also allows for adequate protection for rougher pavement.
The Qumy dog boots are also adjustable, secure and easy to put on / off. They expand with a wide split seam opening and two adjustable and reflective straps to ensure a tight fit, also make your dog visible at night.
A nice little bonus when order these dog shoes is a small training manual that gives some tips and tricks for breaking your dog into their new outdoor shoes. This is really helpful, especially if it's the first time you and your doggie are trying out dog shoes.
---
4. My Busy Dog Water Resistant Dog Shoes
The 'My Busy Dog Water Resistant Shoes' are a reliable option to keep you and your dog running together throughout the year, regardless of the weather.
These dog boots are made to be rugged with a strong anti-slip sole, which provides your dog with stability and traction during runs.
When faced with hot pavement, salt during winter, or even sharp objects, your dog's feet will be protected.
The boots are easy to slip on and off and are designed with two adjustable velcro straps. This means you can make sure that the fit on your dog is snug and comfortable each day.
Make sure to let your dog wear the boots inside the house for a little while before going out for a run!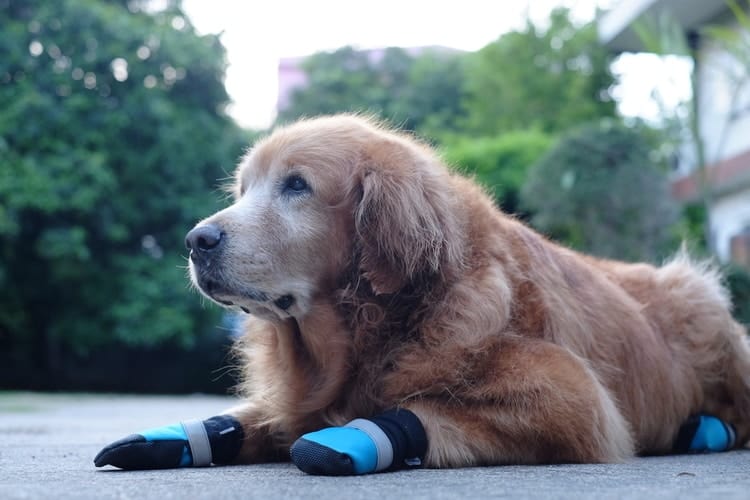 ---
5. Petbobi Waterproof Dog Shoes
The Petbobi Waterproof Dog Shoes will keep your dog out on the trail throughout all seasons of the year. Not only will these boots keep your dog's feet dry, but they will keep them warm during the colder months, as well.
The bright orange boots come up a bit higher on the leg for extra protection and bring a pop of brightness to your run. The boots are designed with tough anti-slip soles for optimal traction and stability.
These boots open at the back and are easy to slide on and off. Check out the size chart to see where your dog falls. If you're still not sure, you can contact Petbobi and they will help you decide on the best size for your dog.
---
6. Lymenden Dog Boots
The Lymenden Dog Boots are another option that can be worn throughout the year since they are waterproof. These boots come in different sizes and are also made with adjustable velcro straps for your dog's optimal comfort.
The rubber sole of the boots is durable and anti-slip to give your little friend the stability and traction they need to keep up on the run. The shoes slip on and off easily and remain tight and safe on the feet when secured.
---
7. RilexAwhile Dog Sock Boots Shoes
The QUMY Waterproof Dog Boots are another all-season option for your dog's running needs. These boots are secure, adjustable, and easy to put on and off, so getting your dog's boots on doesn't become a difficult ordeal.
The soles of these boots are durable and anti-slip, so your dog will stay balanced while running. The boots are available in a collection of sizes to choose from.
Although they are rugged and built with durable soles, these boots are super flexible. This means your dog will retain their ability to move naturally and comfortably while running alongside you.
---
Why Do Dogs Need Boots On The Pavement?
If you're a new dog owner or have never bought shoes for your dog, the idea of the best dog boots for running on pavement might seem like a little much. While nothing is wrong with pampering your furry pal, the purpose of running boots is far more functional.
Dogs do have tough feet, which you can see when you feel the pads on their soles, but they are not indestructible. If running is a regular activity that you engage in with your dog, then chances are their soles have accumulated some wear and tear.
The pads of dogs' paws are fragile just like the bottom of your feet. When they are not properly cared for, it puts dogs at risk of:
Redness
Cracks and cuts
Swelling
Burns blisters
Not to mention that your dog may end up getting seeds, rocks, and other small items stuck between their pads. This is uncomfortable and an issue you'll be responsible for helping your dog resolve.
Dog Boots For Running On Pavement Buyer's Guide
There are many dog boots on the market, but if your dog is an avid runner like you, it's important to choose the right pair. Here is what to pay attention to when choosing boots for your pup:
Textured Sole:
Since your dog will be pounding the pavement with you frequently, you want to make sure that their boots can keep up with the action. Soft soles may be practical for short walks or spending time at home, but running dogs need rugged and textured soles.
Water Resistant:
Running isn't a seasonal activity. If you want your dog to be able to join you on runs all throughout the year, you need to invest in a pair of water-resistant boots. This will allow your dog to run comfortably without suffering in very cold or icy conditions.
Proper Fit:
While it may seem obvious, it's important to remember that your dog's feet are unique. They need a pair of boots that are properly fitted to their feet. Shoes that are too small will cause irritation, while shoes that are too big won't provide enough support.
Final Thoughts
If you and your dog enjoy hitting the streets for regular running sessions together, boots are a must. The constant pressure of running on pavement can take a toll on the pads of your dog's paws eventually.
Wearing boots will keep your dog's feet healthy and comfortable throughout the year.