4 Best Dog Harness for Camping for 2023
Dogs very much have their own personality, and temperament, so when taking your pet camping it's recommended to know your pooch well in terms of the restraining tools you need to take along. Perhaps the first place to start with is the collar, and, if necessary, a harness.
A dog harness is good for camping for long treks, like hiking, or walking through unknown territory where a surprise may force your dog to pull really hard, really fast. Harnesses are designed to reduce the stress on a dog's neck ~ or possibly stress on the owner's hands and arms, depending on the size of dog and type of harness.
As camping with dogs grows in popularity, we get asked often about tips to control dogs around campsites or on long excursions into the wild. Following are our choice for the best dog harnesses for camping ~ plus other tips before you head out.
Summary of Top Camping Dog Harnesses
Who Needs a Dog Harness for Camping
Anyone who:
Has a big, strong, or heavy dog that outweighs you, to use a "no pull" model. (More on that below)
Has a small dog or puppy with a tendency to slip out of common dog collars
Wants to bring along a dog with an injury or problem in the neck
Wants peace of mind that your pet will be more secure as you both transverse new and unusual environments
Might want your pet to participate in the hauling of items you both might need.
What to Look for in a Dog Harness for Camping
Here's a round-up of what to look for in a dog harness, with tips sprinkled in specific to camping use:
When to Use
Dog harnesses are used mostly for the canine's comfort, taking strain off a single, vulnerable point (the neck), and redistributing it to the back and shoulders. Older dogs, or canines with neck issues, probably can use a harness instead of a collar whether you're camping or not.
For camping, think ahead to activities you might pursue. Think about your dog's temperament, and whether you plan very long trips, etc. If your dog tends to pull really hard when in exciting new places, and/or you lose faith in a collar's ability to restrain, consider a harness. Puppies and smaller breeds can be prone to neck pain if pulling against a collar too much.
Standard Dog Harness
A regular harness aims to shift energy off the leash from the neck to the dog's back and chest. These are excellent for small- to medium-sized dogs, but big, and/or hyper pooches, can tend to pull even harder on these because of the lack of neck pain they're used to.
No-Pull Dog Harness
This harness fights back when your dog pulls too hard. Well, not exactly fight, but these are designed to tighten a little when the pulling pushes the limit. (The difference with a collar is these harnesses cause pressure underneath the top-inside of the dog's front legs. Because of this latter tendency to pinch at the "armpits," if you use one of these extensively pay attention to your dog's behavior).
Size and Fitting
Measure your pet around the neck, and the rib cage (basically around the midsection, but a little closer to the head away from the rear end), and have the numbers handy when trying to buy a dog harness. Most packaging will explain sizing, which for dog harnesses is very important. Too tight and a dog will let you know that it is uncomfortable; too loose and you could chase your pet after he or she slips free.
Pay close attention to the directions, as new harness users have been known to put them on upside down, or even backward!
When to Not Use a Harness
Because harnesses take pressure off the sensitive neck area, some dogs can pull like crazy in a harness. So they are not always preferred for very large dogs, nor for very hyper or high-energy pooches. Note that harnesses are designed to be less restrictive, more comfortable for the canine especially on very long walks or hikes.
Don't want your arms pulled out of the sockets? You might also bring along a collar, just in case.
Our Choices for the Best Dog Harness for Camping
You can gauge how this PoyPet harness model might be attractive for a dog in a camping environment. Notice key phrases in marketing materials, like no choke, no pull, reflective, adjustable, padded, and easy control. If you could ask your dog if this was the one to go with, he or she would offer a knowing nod.
Frankly, this is an exceptional dog vest harness wherever or however you need to use it. Perhaps its top selling point are the buckles that allow adjusting, but then the ability to avoid having to pull the item over a dog's head. For some dogs, it's very important to get them to like the harness ~ and not having to pull something over their eyes helps.
This pet harness is made of soft, breathable mesh material, and padded well, with pressure from pulling nicely distributed around the dog's body. The elastic makeup of the belly straps allow stretching for comfort, and there is plenty of reflective material on it to locate in the dark.
What We Like:
2 buckles on bells, another Quick-snap buckle on the neckline for easy on and off.
Large among of reflective stitching for night visibility.
Straps adjustable 4 ways; allows customized fit, room to grow.
100% satisfaction guarantee.
Not So Much
Not much to dislike, except maybe there are more affordable harnesses. Still, this dog vest harness is not high-priced.
[maxbutton id="1″ url="https://www.amazon.com/PoyPet-Harness-Reflective-Adjustable-Control/dp/B07R9TNR6C/?tag=dogplayoutdoors01-20″ text="Check Price Now" ]
---
Back to the backpack versions of dog harnesses for camping, let's think about really hauling. If that's the top priority, then check out the details of this model by JiePai (see Amazon). That at times the manufacturer refers to it as a "saddle bag," "rucksack," or even "tactical dog vest" indicates a military-like focus on space-saving and ease of use.
Like the dog harness backpack mentioned above, this model also has a pair of 2- by 7-inch loop panels on either side for carrying pretty much anything you might need on long hauls. Here, we appreciate the molle system on the back, to tack on more items if needed.
Other neat features include a "magic sticker" ID panel to swap patches according to your needs; no pull and safety control design features; and a premium canvas material to boost comfort. All in all, this is a fine dog harness to help with the sizable loads often needed for campsites and long hikes.
What We Like
Very low price for all the features.
Thoughtful design inside pockets to prevent jangling of items as dog trots or runs.
High-quality 500D nylon material.
Soft padded lining to avoid chafing skin over a long haul.
100% Quality Warranty.
Not So Much
Not the most eye-catching aesthetic design; unless you like the military look.
[maxbutton id="1″ url="https://www.amazon.com/JIEPAI-Military-Backpack-Rucksack-Advanced/dp/B07WSLD921/?tag=dogplayoutdoors01-20″ text="Check Price Now" ]
---
A definition of the word "utility" is "the state of being useful, profitable, or beneficial." Well maybe not profitable, but this advanced model of the dog camping backpack by OneTigris (see Amazon) certainly is useful and beneficial for camping purposes.
Without listing the great number of features, just look at the product images and immediately any dog owner's mind will begin to wonder about the possibilities. For one, what's wrong with having your pup carry its own first-aid kit on your excursion into the wild? Sure makes it easy to remember where it's stored.
Beyond that, plus the extra control you get from a harness over a collar, the pair of 2- by 7-inch loop panels on either side help with carrying food items, water, treats, or toys easily. It even has cross-bungee cords to snap extra gear on top. You might not want to pack your dog like the Griswold's station wagon in "National Lampoon's Vacation" ~ but you sure can strategically carry quite a bit on that long hike.
What We Like
1000D nylon material, with mesh lining for breathability and comfort.
Hidden zipper design to prevent dog fur from getting snared.
Light at about 1 lb.
Reinforced grab handle, UTX-Duraflex clip for leashes.
Side compartments are jumbo-sized, really.
Not So Much
High-priced for a harness, probably mid-range for the backpack versions.
[maxbutton id="1″ url="https://www.amazon.com/OneTigris-Camping-Backpack-Rucksack-Advanced/dp/B07JFXYL17/?tag=dogplayoutdoors01-20″ text="Check Price Now" ]
---
Most everything mentioned above for a great dog harness for camping can be applied to this fine model by Ruffwear, a company known for making solid canine gear. So the selection of the top choice was not easy. The only drawback to this dog vest harness is the price, coming higher than most dog harnesses for camping use.
Let's spotlight a phrase the company uses in sales marketing materials: "padded everyday harness." Every day is right, based on design elements, so if you go with this harness for camping know that it is very likely also super suitable for home use too.
This dog harness model has received excellent reviews from users ~ and a lot of them. Clearly many dog owners are aware of this and other dog-assistance products from Ruffwear. The manufacturer added plenty of neat elements that you may find well worth the additional cost.
What We Like:
Very lightweight, and visible.
Nicely padded.
Designed for simplicity on and off.
Foam padded strips across chest and belly
ID pocket for safe storage of dog tags in easily accessible spot.
Not So Much:
Pricing at high end for a dog harness.
[maxbutton id="1″ url="https://www.amazon.com/dp/B082FQ7FQG/?tag=dogplayoutdoors01-20″ text="Check Price Now" ]
---
Barkbay begins its marketing of its No Pull Dog Harness (see Amazon) by noting its design for "strong pulling" dogs. As noted above, sometimes harnesses aren't the best for bigger dogs. But not always. It looks like Barkbay went out of its way to give you options, at least at a nice price to allow some testing.
The front clip is where to focus on to train against heavy pulling by your pet. This model has a solidly attached clip-connection point there, where if pulling your dog will be pressured backward or sideways, not something that could hurt it but definitely not a feeling any animal likes to feel.
That Barkbay spotlights its "lightweight no rip nylon" and "Anti-Chafe Mesh" material speaks volumes about what they focused on in design: canine comfort. This model's 4 points of adjustment allow for near-custom fits, and we like how easy it is to put on and off.
What We Like:
Design focused on training strong-pulling dogs.
ID tag pocket.
Study metal leach attachment points; easy-lift top handle for added control.
Ultra Reflective Strips to keep dogs visible at night.
Not So Much:
At this price not so much to complain about, except maybe mild concern about durability. Time will tell how this model stands the rigors of camping!
[maxbutton id="1″ url="https://www.amazon.com/dp/B07SN3CNQ9/?tag=dogplayoutdoors01-20″ text="Check Price Now" ]
---
What we really like about this Rabbitgoo model especially for camping are the strengthened bungee straps. Think about how long your dog might be wearing the harness on long walks or hikes, and how much pressure will be placed on your pet ~ and your arms ~ as he or she drifts back and forth exploring the new world.
These thicker-than-normal rubber bungee straps are a pretty cool design feature. It's not only good for comfort, but also to help reduce the potential for injury if a very sudden pull (and stop) is needed. Remember, out in the wild any sort of wild beast can trigger a dog sprint! Having a built-in shock-absorber can be ever so important.
And this Rabbitgoo model is priced nicely, for those new to camping with dogs who don't want to break the bank before knowing if your pet (or you) will even like the experience. Note that this model is aimed at medium- to large-sized pooches.
What We Like:
Rubber bungee straps for comfort and safety.
2 adjustable points on the beck, and 1 on the chest, to help with fit.
Breathable material.
Reflective stitching and soft padded handle.
Not So Much:
Not a ton of user reviews compared with more-established dog harness models.
[maxbutton id="1″ url="https://www.amazon.com/rabbitgoo-Harness-Shock-Absorbing-Adjustable-Reflective/dp/B08R5LMC5P/?tag=dogplayoutdoors01-20″ text="Check Price Now" ]
Final Words on Dog Harnesses for Camping
Understand going in, that there are a lot of styles for dog harnesses. Your choice will depend much on the size of your dog(s), personalities, and temperament. Add to that how intensive your activities will be.
Think carefully beforehand about upcoming planned trips. By computing the equation of dog personality/temperament x camping excursion difficulty, you can make the choice between harness and collar ~ or even between a harness and dog harness backpack. The best bet is to bring a collar along with the harness, just in case.
See Also:
How Long Can a Dog Survive in the Woods?
4 Best Dog Leashes for Camping
Leaving a Dog in a Tent While Camping: Yes or No?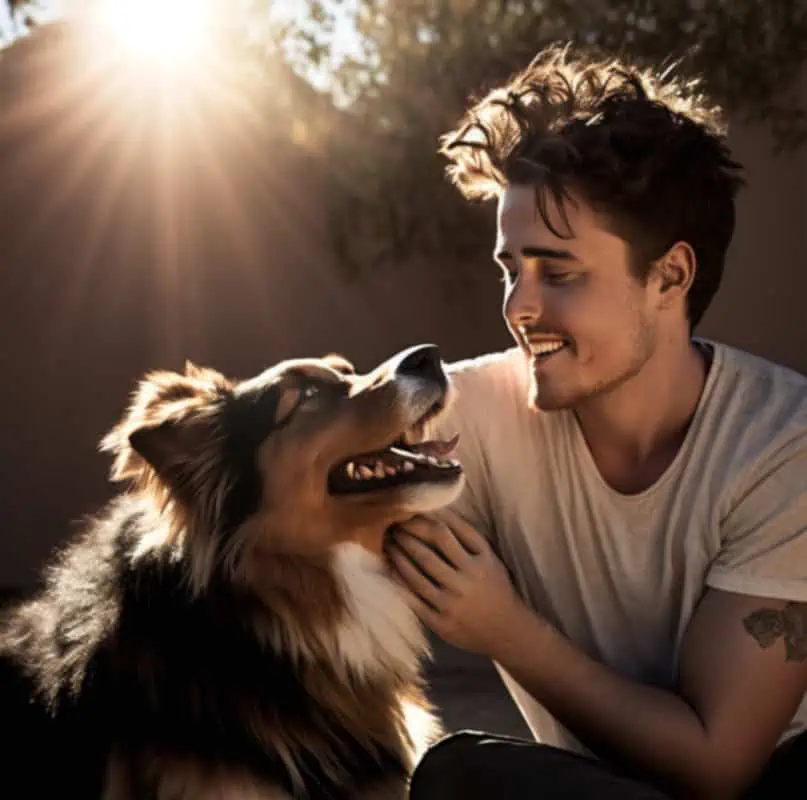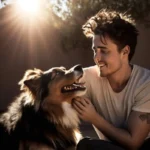 Family Dog Expert Author
Hi there! I'm Stuart, a devoted dog lover and family dog expert with over a decade of experience working with our furry companions. My passion for dogs drives me to share my knowledge and expertise, helping families build strong, loving bonds with their four-legged friends. When I'm not writing for SirDoggie, you'll find me hiking, playing with my beautiful dog, or studying music.