5 Chew Proof Dog Harnesses That Will Last
Having little trouble with the destructive chewing of your dog? It is a common issue with many dog owners. If you are taking your dog for a walk, a chew proof dog harnesses can surely make a difference. 
Here are our top 5 picks for chew proof dog harnesses:
BABYLTRL Big Dog Harness 
WINSEE Dog Harness No-Pull
Bolux Dog Harness No-Pull
Eagloo Dog Harness
RUFFWEAR, Front Range Dog Harness
Some dogs do well during a walk while others tend to bite and chew their harness. If your furry pal is an excessive chewer, then a chew proof harness is the best option.
The best chew proof harness for dogs will include the right combination of fit, feel, and durability of materials and closures.
Some of the links in this post are affiliate, and we may earn a commission.
Related Reading: Best Harnesses for Toy Breed Dogs
Top 5 Chew Proof Harnesses
There are several chew proof dog harnesses on the market. Identifying the right option for your furry companion can be quite tough. To facilitate you, we have researched and identified the following to be the top options available: 
1. BABYLTRL Big Dog Harness 
Babyltrl Big Dog Harness offers comfort and flexibility for your dog. It is made with breathable mesh fabric with soft sponge padding for extra comfort.
There's definitely an option that'll suit your furry pal as it comes in four sizes and multiple colours.
We earn a commission if you make a purchase, at no additional cost to you.
The straps are adjustable and reflective. This creates a custom fit for your dog and keeps it safe in the dark. There is a sturdy top handle for quick grabbing and better control of your dog while on adventures.
The quick snap buckles feature a locking mechanism for added security. This dog harness comes with a front and back sturdy D-ring leash attachment point. This helps to stop pulling and choking effectively.
It is lightweight and very easy to clean. This harness is perfect for daily walking, outdoor adventures, training, hiking, and more! It will be a huge hit for your pooch!
Key Features
Brand: Babyltrl
4 size option
Available in many colors
Material: Oxford
Closure type: Buckle
Breathable and soft padded liner
Reflective straps 
Front and back rings for attaching leash
Easy grip handle
Locking feature
Suitable for large dogs
Pros
Stylish and attractive
Easy to get on and off 
Keeps your pet safe in the dark
Gives better and easy control of your dog
Reflective and lightweight
Easy to clean 
Cons
The plastic clips are not very durable 
---
2. WINSEE Dog Harness No Pull 
Winsee Dog Harness is made from a breathable mesh material that gives comfort and doesn't overheat when it gets hot. It features high-density 1680D Oxford Fabric to prevent it from chewing up.
It is designed with quick snap buckles and a safe lock. It has a dual-clip vest with D-ring attachments and an easy control nylon handle on the top. The harness comes in a surprising array of exciting colors.
We earn a commission if you make a purchase, at no additional cost to you.
You can choose between five sizes based on your dog's neck and girth measurements.
This harness comes with a lockable dog collar. It is easy and secure to put on and take off. Winsee harness is perfect for hiking, running, or casual walks around the neighborhood.
Key Features
Brand: Winsee
5 size options
Available in many colors
Material: 1680D Oxford Fabric
Closure type: Buckle
Dog collar included
Easy control nylon handle 
Sturdy D-ring
Adjustable strap
Breathable mesh exterior
Comfortable padding
Reflective straps
Lockable snap buckle
Pros
Stylish and attractive design
Easy to adjust at neck and chest girth
Durable and sturdy
Breathable material
Keeps a pulling dog under better control
Works well for deep-chested dogs
Suitable for dog training
Cons
The front chest piece is not adjustable
3. Bolux Dog Harness, No-Pull
Bolux Dog Harness is a great option for dog owners looking for a chew-proof product. The load is evenly and comfortably distributed to prevent pulling and choking.
This harness has breathable, mesh nylon and padding for your dog's comfort. The reflective straps on the front of the harness ensure your dog is highly visible and keep dogs safe at night.
We earn a commission if you make a purchase, at no additional cost to you.
Bolux Dog Harness comes in a variety of colors and sizes. It also has a top D-ring clip and quick-grab handle. The adjustable chest and neck straps provide ease of adjustment for your dog. This chew-proof harness is perfect for dog training, casual walking, running, outdoor adventure and more!
Key Features
Brand: Bolux
6 size options
Available in multiple colors
Closure type: Double Ring
Reflective stitching
Adjustable chest strap
Stainless steel D-ring
Comes with a sturdy handle
Water-resistant 
Pros
Comfortable and breathable
Strong and sturdy
Outdoor safety and visibility
Easy to adjust
Easy to clip on and take off
Prevents choking, pulling, tugging 
Cons
The chest piece is velcro and can lose grip over time
4. Eagloo Dog Harness No Pull
The Eagloo Dog Harness gives you greater control on your dog and lessens their desire to pull. It is designed to distribute pressure evenly around your dogs' chest. 
This harness is made from Oxford nylon webbing with reflective material. It ensures good visibility and improved safety at night. The breathable mesh lining with soft sponge padding plate gives extra comfort and protection.
This game-changer harness comes with 2 metal clips and 1 sturdy handle. The handle helps уоu to mаnаgе dіffісult situations smoothly. The harness is fully adjustable at the neck and chest with 4 adjustable points. It allows a custom fit for your furry friend. 
The Eagloo Dog Harness comes in many different colors and size options. It is suitable for both casual walking and training.
Key Features
Brand: Eagloo
Comes in 4 sizes
Multiple color option
Durable oxford fabric
Closure type: Buckle
Padded plate
Elastic band for extra comfort 
2 metal clips
1 sturdy handle
Reflective thread
4 adjustable points
Pros
Durable and sturdy
Comfortable and breathable
Better control for pulling problem
Prevents choking
Distribute pressure evenly across the dog's chest
Easy to use 
Wide adjustability 
Cons
Some dogs can pull out of the harness
5. RUFFWEAR, Front Range Dog Harness
Ruffwear Front Range Dog Harness is lightweight, durable, and perfect for all-day outdoor adventures. It is made of bright, easily visible fabric with reflective trim. This helps your dog stand out against any landscape day and night.
The harness features 2 leash attachment points. It has reinforced webbing in the chest region that endures pulling and gives additional control. The padding is soft and is just the right thickness to provide extra comfort when running, walking, or resting.
We earn a commission if you make a purchase, at no additional cost to you.
There is an easy access ID pocket for safe storage of your dog's tags. The harness is designed with 4 convenient points of adjustment for full range of motion. It is easy to put on and off and comfortable for dogs to wear.
It is available in 5 sizes ranging from XX-Small dog breeds to Large/X-Large. It comes with an exciting choice of bright and bold colors. This chew proof harness is a good choice for dogs who pull a lot during walks. It ensures the ultimate comfort of your furry companion.  
Key Features
Brand: Ruffwear
Comes in 5 sizes 
Comes in multiple colors
4 points of adjustment
2 leash attachment points
Reflective trim
Bright and visible fabric
Padded chest and belly panel
Includes easy access ID pocket
Easy to on and off
Pros
Durable and lightweight
Padded for comfort
Won't choke your dog
Easy to adjust
Made for extended wear
Suitable for dog training and everyday use
Makes dog walking a pleasure 
Cons
The adjustable straps tend to slip and require retightening 
Best Chew Proof Harnesses: Buying Guide
When it comes to walking a large and hyper dog, a chew proof harness is a definite yes! The following points should be considered before buying a chew proof harness:
Comfort
Most dogs will get used to the harness if it fits well. It should provide ultimate comfort and good support to your furry companion. Chew proof dog harness needs a proper fit to provide comfort and protection. Otherwise, your dog may put itself at risk of injuries. 
Material
A good quality chew proof harness is one with a solid build. It needs to hold up to some serious chewing. It should also be water-resistant and have tolerance for a wet environment. The material used in the harness should be easy to clean, safe, and free of harmful chemicals.
Durability
Your chew proof harness needs to be sturdy and durable. The harness needs to be able to withstand chewing, pulling and wet environments.
Hardware
Hardware is often the first target for a dog but is often overlooked while looking for a chew proof harness. Metal buckles, rings, and clasps are best as your dog surely can't destroy them. Heavy duty plastic can also be difficult to break. 
Reflective design
Many chew proof dog harnesses feature reflective straps, patches, or stitching. This makes your dog more visible during nighttime walks and gives you additional peace of mind. A reflective harness provides more protection for your dog in situations where you can't help protect him. 
Style
Harnesses for dogs come in a few standard styles, which are suited to different dogs' needs and preferences. These harness styles include 
Step-in style dog harnesses
H-style dog harnesses
Vest style dog harnesses 
Straps should be positioned in areas that are harder to reach for the dog. This will ensure lesser chances of chew attack. 
Size
A poorly-sized dog harness can pave the way for chewing and biting. It should be of appropriate size and comfortably and adequately accommodate your dog's body.
Chew proof dog harnesses come in multiple sizes that start from extra small to extra large. This depends upon the dog's size and breed. You must measure your dog's weight and size before you buy a harness. A harness with multiple adjustment points is ideal.
Pet Parent Tip: Remember that no harness is 100% unchewable and indestructible. The durable construction and lack of accessible straps make the harness chew proof and difficult to destroy.
Benefits of Harness
It comes with multiple benefits for you and your furry companion. Here is why using a harness is good for your dog.
A harness makes it easier for you to manage and control your dog. This is especially useful if your furry friend is overly hyper.
Prevent injuries to your dog's trachea 
When a dog pulls a lot, there is a lot of pressure on its trachea that may lead to tracheal collapse. A harness prevents injuries to your dog's trachea and is a safer choice for all breeds.
Reduces the strain off your dog's neck
If your dog is a puller, the front of its neck bears the most amount of trauma. A dog harness takes the strain off of your dog's neck and prevents neck injury.
Serves as a good training tool
A dog harness can serve as great training equipment and discourages pulling and jumping. A chew proof harness is useful for both shy and overly active dogs.
If you want your dog to stop pulling the leash while walking, consider using a dog harness. Harnesses put gentle pressure on your dog's body and discourage pulling. 
Conclusion
You know your fido's capabilities when it comes to chewing things. Make things comfortable and easier for you and your dog with a chew proof harness. 
Dogs vary in their preferences, just like us. By now, you must have a good idea of the essential features to look for when considering the best chew proof harness. Use our picks as a guide to buying a perfect chew proof harness for your pet's safety and comfort!
Happy petting!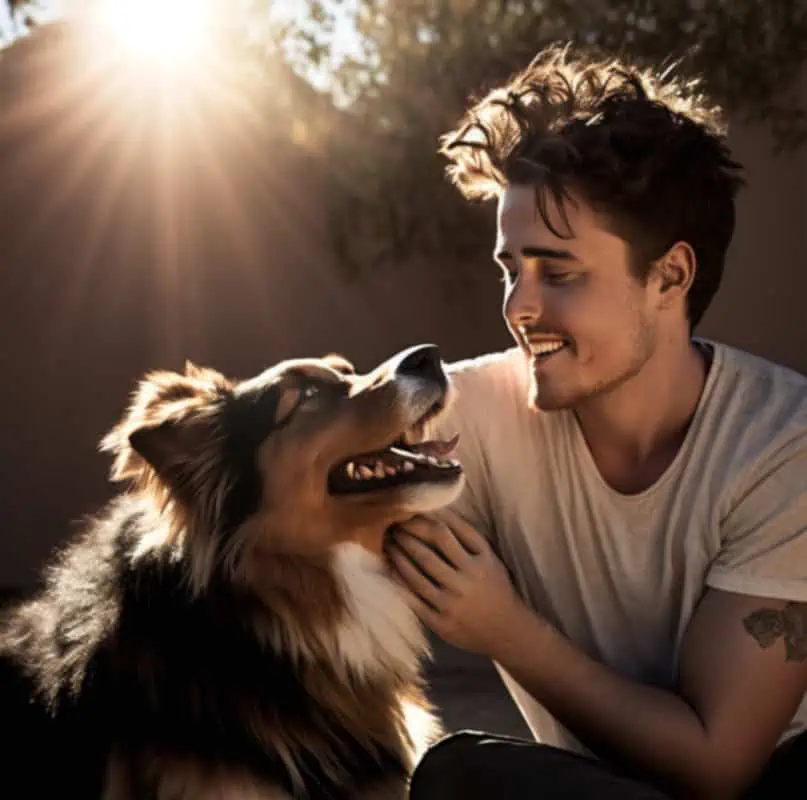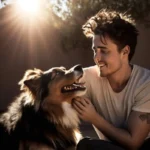 Family Dog Expert Author
Hi there! I'm Stuart, a devoted dog lover and family dog expert with over a decade of experience working with our furry companions. My passion for dogs drives me to share my knowledge and expertise, helping families build strong, loving bonds with their four-legged friends. When I'm not writing for SirDoggie, you'll find me hiking, playing with my beautiful dog, or studying music.