Best Gold Dog Collars | Top 3 Reviews
When it's time to walk your pooch, you will need a dog collar. But just because it's functional, doesn't mean it can't be cool and stylish.
Are you looking to buy a gold dog collar for your dog?
We are here to help you in selecting the best gold dog collar for your furry friend. Here are the best gold dog collars, all available for you to buy today.
If you haven't already done so, make sure you measure your dog's neck before looking at specific collars. This will help ensure you get the right size the first time.
Measure the widest point of your dog's head, wrapping under the chin and around the back of the head, right behind its ears.
Some of the links in this post are affiliate, and we may earn a commission.
Related Reading: Top Bark Collars For Dachshunds [REVIEWED]
Recommended Gold Dog Collars: Our Picks
Alright, let's take a closer look at 3 awesome yet budget-friendly gold dog collars. We hope this list helps you and your doggie get closer to finding the perfect collar.
1. Top Luxury Dog Collar Personalized Stainless Steel 
This ultra-strong, super stylish Abaxaca luxury dog collar will make your pooch the coolest pup around! It's absolutely not your typical, pet collar found in any pet store!
The strong stainless steel links are made extra wide for ultimate comfort. It is smooth and polished to prevent any wear and tear on your dog's coat. The premium quality non-tarnishing stainless steel is 100% irritation-free and will not fade. 
The top luxury dog gold collar is a show-stopper. This collar is made to last, it can be used as a fashion piece or as a collar. This dog gold collar is the perfect accessory to make your dog photo-worthy for any family photo.
Key Features
Pattern: Solid
Color: 18k Gold plated
Material: Stainless Steel
Brand: Abaxaca
Closure Type: Button, Buckle
Suitable for dog's neck size: 9.6″ – 11.5″
Size: Width 0.55inch, Length 12 inch,Weight 4.2oz
Pros
Beautiful 
Does not fade
Close-knit chain links don't jam up with one another 
After-sales service 
High quality and handmade
Easy to put on
Severe reduction in pulling
Cons
Tag loop too small for a big dog leash
Not very durable 
2. Petoo Heavy Duty Gold Dog Collar Chain for Large Dog
We earn a commission if you make a purchase, at no additional cost to you.
Luxury isn't only for humans. For those of you who want to showcase their dog's beauty, you can never go wrong with Petoo gold dog collar chain. It is suitable for big breeds like Rottweiler, Pitbull, and Mastiffs.
This gold collar uses premium quality metal and ultra-strong links that make it stronger. The premium quality non-tarnishing stainless steel is 100% irritation-free and will not fade. It is durably made to withstand most weather conditions and rowdy puppy play dates. 
This collar chain is suitable for pets as daily wear, photo props, and show and performance wear. Make your dog the star of the show with this cool gold chain from Petoo.
Key Features
Pattern: Solid
Color: 18k Gold plated
Material: 316L Stainless Steel
Brand: Petoo
Closure Type: Snap
Wide: 19mm
Solid steel chain
Super Hip Hop style
Pros
Ultra-strong and durable chain
Comfortable, stylish, and easy to use 
Good training tool and reduces pulling
No pressure on throat
No fur damage or irritation 
Strong steel metal links for big breeds
Lifetime Guarantee
Cons
It may irritate your dog's neck if used incorrectly 
3. W/W Lifetime Custom Gold Plated Slip Chain Dog Collar 
It's big, bold, and is definitely going to make your dog look like a movie star. W/W Lifetime 18k gold plated slip chain dog collar is durable and it's super easy to put on. The smooth, comfortable links won't damage or pull out fur.
While training, let the dog have the style of hip-hop and rap and become the focus of the street. With this chain training collar, training your dog is easy. The premium quality non-tarnishing stainless steel is 100% irritation-free and will not fade. 
The strong and heavy-duty design of this collar is an awesome look for a large dog. This collar is suitable for pit bulls, bulldogs, and mastiff breeds.
Key Features
Size: 20″(Fits Dog Neck 16″ to 18″)
Colour: 18K Gold Plated
Brand: W/W Lifetime
Material: 316L stainless steel
Lead free and nickel free
Pattern: O Clasp
Miami Cuban link chain
19mm strong
Pros
Lightweight construction 
Rust resistant 
Durable  and ultra-strong 
Easy to put on your dog
Can be used as a collar for walks or for style
Smooth and comfortable links
Cons
It may irritate your dog's neck if used incorrectly 
Pro Tip: Do not leave the dog gold collar on your pet for more than a few hours a day.
---
Gold Dog Collar Buying Considerations
A collar is likely the only accessory your pooch will wear every day. You should put a lot of thought into picking one that looks just perfect. With so many options available, it's hard to know which collar to choose for your pup! 
There are lots of things to consider, like their size, the durability of the collar, price, and material. Below are some of the points highlighting what should be taken into consideration before you buy a gold collar for your furry pal.
Fit
Dog gold collars come in multiple sizes that start from small sizes for toy breeds and pups and go to large sizes for large and giant breeds. You must measure your dog's neck and size before you buy a collar for him. A collar that is too large can slip off, and a collar that is too small can choke your dog or damage his skin.
Material
Dog gold collar should be sturdy and durable, yet comfortable. The material used in the dog collar should be easy to clean and washable. It should be able to withstand some gnawing in case your dog chews on it.
Type
There are several types of collars and you will need to choose one that matches what you want to use it for. If you have a professional trainer, ask his or her opinion on the type of collar you should use for training sessions. If you don't, a martingale collar is generally the safest option.
Design
Dog collars and chains are designed with different purposes in mind. It is recommended to know what you need before you buy the collar for your dog.
Cost
There's a lot of variety when it comes to dog gold collars and that means a lot of price variation. Investing in a good dog collar saves you a lot of money in the long run. 
Pet Parent Tip: Puppies grow quickly, especially large dog breeds. Check your growing puppy's collar often!
Final Thoughts
By now, you must have a good idea of the essential features to look for when considering the best dog gold collar. These fashion-forward gold dog collars will show the world just how much of a superstar your pup is! 
With that information, you're now better equipped to find the right collar for your pooch. Depending on your budget, pick the right one for your needs.
Your dogs deserve only the best! 
If you have any comments, please do let us know. We would be happy to hear from you.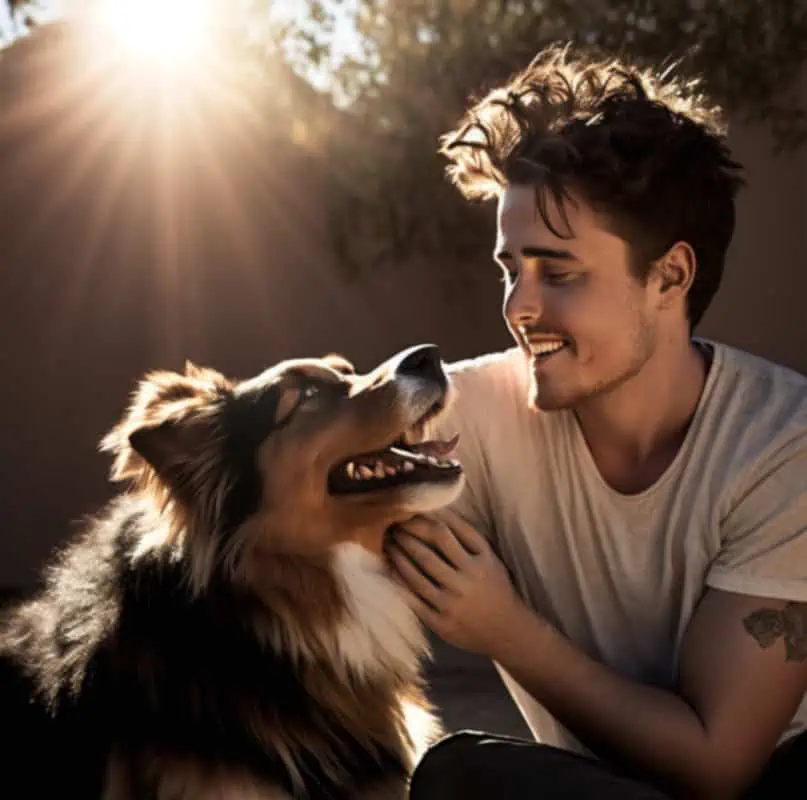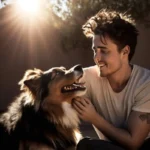 Family Dog Expert Author
Hi there! I'm Stuart, a devoted dog lover and family dog expert with over a decade of experience working with our furry companions. My passion for dogs drives me to share my knowledge and expertise, helping families build strong, loving bonds with their four-legged friends. When I'm not writing for SirDoggie, you'll find me hiking, playing with my beautiful dog, or studying music.