The Best Pet Stairs for Large Dogs [REVIEWED]
Just as people do, our dogs need some assistance sometimes getting up to higher surfaces. Older pups with stiff joints, and dogs with injuries or disabilities, sometimes require the assistance of doggy stairs.
This simple yet immensely helpful tool can be easily pushed against furniture or other such surfaces to help your pup access tough to reach places.
Searching for the best dog stairs can be overwhelming. Our list of the 5 best dog stairs for large dogs includes the best overall steps, the most aesthetically pleasing, the most cost-effective, the best foldable steps, and the best ramp for larger pups.
Best Pet Stairs for Large Dogs: Our Picks
We hope this list will provide you with the knowledge you need to make the best purchase for your furry friend! Getting your large dog some stairs can do wonders for their overall well-being and health. It also helps give them a bit more freedom to explore places they can't access on their own. It also gives you a break from always having to assist them.
Large dogs can be more susceptible to joint damage when getting up, but especially off, of heights. Once in a while is fine, but when this motion is part of their daily routine (over and over and over) it can start to bring about unnecessary damage to their joints.
Just like we humans are susceptible to repetitive stress injuries (my wrists are starting to hurt already writing this!) dogs are at risk as well.
A set of stairs made specifically for your large dog is a great way to practice preventative healthcare!
Some of the links in this post are affiliate, and we may earn a commission.
Related Reading: Best Dog Pools for Large Dogs
Recommended Pet Stairs for Large Dogs
1. Pet Gear Easy Step II
We earn a commission if you make a purchase, at no additional cost to you.
This particular dog stair set gets an overall 4.5 out of 5-star rating from customers. It is sturdy yet easy to move around. The Easy Step II has a wider and deeper set of steps to allow for larger dogs to roam up the stairs comfortably.
The stairs contain two large steps that ultimately measure 22 x 16 x 16 inches.
We love that this set of stairs contains rubber grippers on the bottom so that the steps won't slip and slide as your dog attempts to climb up. The other feature we're obsessed with is the removable carpet tread.
So many pet stairs are made entirely of carpet, making it incredibly difficult to clean. These removable carpet treads can be easily popped into your washer or shampooed quickly with a pet-shampoo vacuum.
The price is very affordable for dog stairs. If, however, your dog weighs more than 150 pounds and you need a staircase to accommodate a pup up to 200 lbs, you can invest in this sturdier version of the Easy Step II (but it will be a bit more expensive).
If your pup requires more than two steps, Pet Gear makes Easy Steps in two stairs, three stairs, and four.
2. Best Pet Supplies Linen Stairs
We earn a commission if you make a purchase, at no additional cost to you.
Getting a functional set of dog stairs for your large pup is important. To some, making sure the steps aren't a huge eyesore is also important. The below product had tremendously high customer ratings and is aesthetically pleasing.
These steps made by Best Pet Supply are made in the USA and are 100% CertiPUR-US certified foam (meaning, they will last you a lifetime.) This staircase is sturdy, yet lightweight, making it easy to move.
This doggy staircase comes in three different sizes (3, 4, and 5 steps).  You have many different patterns to choose from so that you can get your large dog the assistance they need, while also choosing an esthetic that matches your home furniture.
What we love about this product, aside from the versatility and attractiveness, is how soft these stairs are. They are made to relieve stress and support joint health, which is why they are made of durable foam. The foam is mattress grade, providing cushioning to relieve pressure on achy joints.
And if you want to go extra soft, check out the model that uses white lambswool (fits in well with children's rooms):
The stair cover designs are also removable, which is a HUGE plus. They are machine washable, making the process of keeping your pup's stairs clean and sanitary year-round.
These stairs are not necessarily the most cost-effective choice. Depending on the number of steps and the pattern, these steps run between $40-$70. Some customers wished the stairs were slightly wider, but many owners of large dogs said it worked great.
3. Furhaven Pet Stairs
We earn a commission if you make a purchase, at no additional cost to you.
The following product rated 4.5 out of 5 stars and comes in as the most cost-effective option for large dog stairs on the market. If you are looking for an affordable pet-step option, the Furhaven staircase runs fairly inexpensively. 
Not only that but it is highly rated and reviewed and made to relieve the stress on your furry friend's joints. These stairs come in 3-step and 4-step options, as well as three different colours (brown, cream, and grey.)
We love that these steps run high enough to allow your larger pup to climb up to your high bed or other such hard to reach surfaces. We also like the snuggly fabric that is super soft to the touch. These Furhaven stairs are made from plush faux fur materials that cover every inch of their surface. 
The manufacturer states these stairs are easy to clean, however, the faux fur is not removable, which means you'll need to vacuum through the nooks and crannies between the stabilizing pools and will need some sort of pet shampoo vacuum to use a few times a year.
Of course, what we love most is how affordable this staircase is. Owning a pup is expensive enough as is, so we're grateful Furhaven made this cost-effective dog-step option.
4. PetSafe Solvit PupSTEP X-Large
We earn a commission if you make a purchase, at no additional cost to you.
These steps are good for large pets and come in both a standard and X-Large option. They are also retractable, so you don't have to keep them up all the time.
This is by far one of the most convenient pet-stair options on the market. It is lightweight (weighing in at about 5 pounds) but strong enough to hold up to 150 pounds, (or 200 if you buy the XL version!)  The steps measure 28 X 18 X 25.
The best feature of this pet staircase is, of course, that it folds down and can be easily stored away when it is not in use.
It accommodates all size of pets and each of its steps contain nonskid tread to prevent your already achy or injured pup from slipping when climbing these stairs. It is easy to use and there's no assembly required.
We also like the PetSafe brand (formerly Solvit Brand) and its quality guarantees. They have excellent customer service that is US-based and many customers who purchased these stairs were pleasantly surprised by how helpful PetSafe customer service was if an issue was encountered.
These stairs are convenient, but they are not aesthetically pleasing. Fortunately, they are easy to stow away.
These pet-steps are also not particularly "cozy".
They are made of hard plastic, so if you are seeking a staircase that is plusher, this may not be the staircase for you. It is not the most cost-effective staircase either, running between $40-$60.
However, customers and pups love these steps (and they've certainly got the reviews to prove it).
5. PetSafe Happy Ride Folding Pet Ramp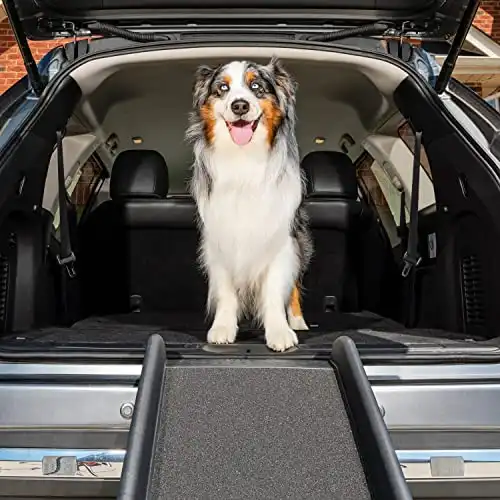 We earn a commission if you make a purchase, at no additional cost to you.
We'd be remiss not to include the best ramp option for large dogs, as larger dogs need assistance getting into vehicles and other such surfaces. This ramp is highly rated and supports up to 150 pounds.
PetSafe presents yet another stellar pup-assist product in the form of an outdoor folding ramp for larger pets. This ramp is easy to use and travel with. It is lightweight (weighing only 10 pounds) and folds and locks into place safely and effortlessly. The ramp measures 62 X 16 X 4.
This ramp is ideal for getting your large furry friend into your vehicle. It is durable and made for outdoor conditions. It also contains high-traction tread on the ramp surface to prevent slippage as your pup ascends the ramp.
While this product is a great tool to assist your large pup, it does run around $70. However, it's hard to put a price on helping our furry friends.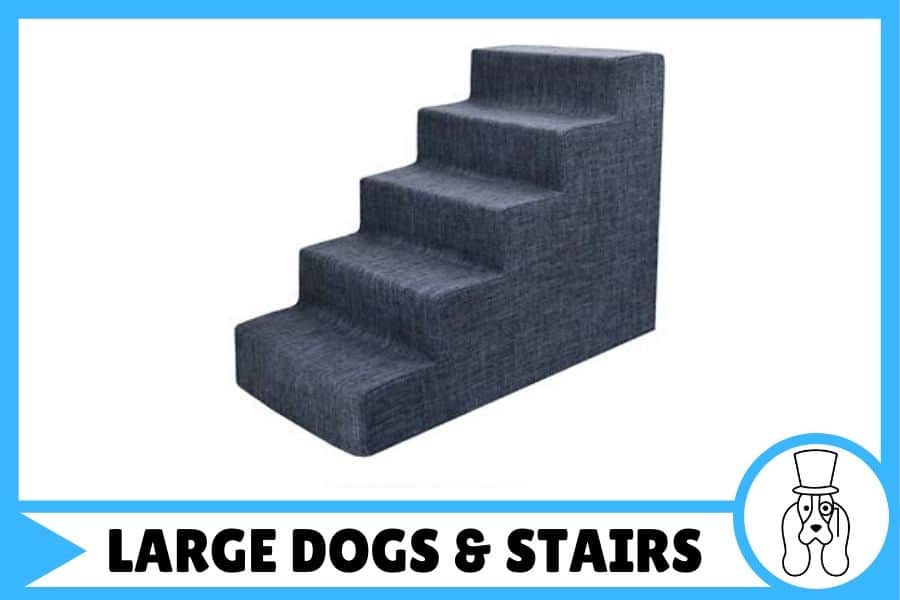 Related Reading: Are Stairs or Ramps Better for Dogs? [FIND OUT!]
Final Thoughts
There are many excellent products on the market to assist your larger pup, and we feel these pet-stair products are among the very best. Now you'll be able to make the best and most educated decision when purchasing steps for your larger pup, taking into consideration both their needs and yours.
This list of the 5 best dog stairs for large dogs included the best overall steps, the most aesthetically pleasing, the most cost-effective, the best foldable steps, and the best ramp for larger pups. We hope this list provided you with the knowledge you need to make the best purchase for your furry friend!
Stairs are an excellent way to cut down on wear and tear for your doggie's joints so if your dog is jumping up and down a lot throughout the day, consider getting them one of these stairs to help improve their overall health and well-being.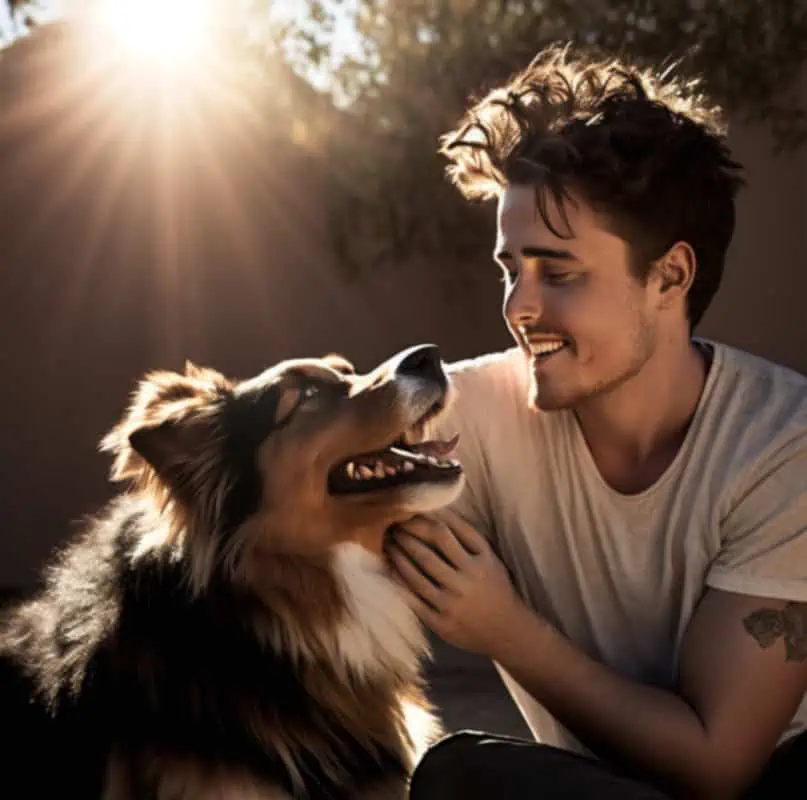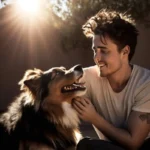 Family Dog Expert Author
Hi there! I'm Stuart, a devoted dog lover and family dog expert with over a decade of experience working with our furry companions. My passion for dogs drives me to share my knowledge and expertise, helping families build strong, loving bonds with their four-legged friends. When I'm not writing for SirDoggie, you'll find me hiking, playing with my beautiful dog, or studying music.