4 Best Dog Leashes for Camping for 2023
As bringing dogs along for camping trips grows in popularity, so too does interest in canine-related gear to help with the outdoor experiences. Perhaps a key item to start with is what you'll need to keep your pet "grounded" while camping, so to speak: the leash.
Since you always need at least one for trips, let's explore the best dog leash for camping. Dog leashes today are definitely not the relatively short, and thin, chains of yesterday. Now they come in an assortment of styles, often with newfangled features, some of which really lend themselves well to campouts.
Quick Summary
Who Should Get Dog Leashes Good for Camping?
As stated above, everyone will need to bring at least one leash to camp with a canine. The real question probably is, How many leashes? Perhaps followed by, What type of leashes?
Dog leashes come in a great range of lengths, strengths, and various features to make it easier for canine owners to manage their pooch outside the home. So before camping, think about the situations where you would need a leash. It's probably breakable into 2 main categories:
When idling around the campsite; or
While walking or hiking.
Those situations call for different types of dog leashes, mainly in terms of length. Out on walks or hikes, you want a decent length, but not too long as to allow a dog to get the leash all tangled in brush or around trees.
At the campsite, however, the longer the better is almost always appropriate. You might want to keep your dog chained for its own protection, but to give it a long leash to still wander out and about the camping site as it pleases, and for exercise.
Who would want one or more of the leashes recommended below? Anyone planning to bring a canine along to camp, whether for the first time or not. Additionally, it might be wise to invest in 2 different lengths of dog leashes to camp, just to provide options.
Remember, once you're out in the wild, it's not like a pet store or sporting goods shop will be right around the corner. As with all camping excursions, it's always best to play it safe and plan for every possible scenario.
What to Consider for Camping-Friendly Dog Leashes
Length
Think ahead to your camping trip and think about the perimeter around the campsite. Are there trees or bushes that might get in the way of a really long leash, and cause tangles not only hard to fix, but also annoying if at night? Is the length okay for both staking at the campsite, and walking or hiking?
Material
Is the leash material strong, and not prone to grabbing fur or pinching a neck? Old-school thin chain-link leashes are probably not the best choice for camping with canines. Many chains can rust with time, and cotton leashes are not advised for camping as they don't tend to last well. Think weight, too, as few campers want to carry along very heavy gear overall.
Control/Comfort Features
Does the leash have a comfortable handle, and/or maybe an auto-coil mechanism to avoid knots or tangles? Is there coverage or padding to avoid getting stuck in a dog's fur? Think of the dog's comfort also when searching for leashes for broad outdoor use.
Best Dog Leashes for Camping: Our Choices & Our Reasons
Oftentimes, user ratings can say a lot about a product, and those who have used the Pet Tie Out Cable for Dogs, by BV, are not shy in their compliments. For an acceptable mid-range price, dog owners can choose this strong leash at 25 or 30 feet in length; and which model depends on the size of the canine.
For camping, a first consideration for almost everything is weight, and this leash is lightweight. Yet, the all-steel cable and clips are plenty strong, with reflective material for nighttime safety, and also a vinyl covering to prevent rust over repeated uses.
It has all the basics that campers with dogs will appreciate, like ease of use with the crimps, and swivel clip covers, for strength at the ends and protection from moisture. For newcomers to camping with dogs, expect to get wet on your trip, whether it's from rain or your pet's tromp through a creek or into a pond.
What We Like:
Options for length and strength according to dog weight.
Light at 1.2 lbs.
Well-established with model released in 2016.
Moderate-level pricing.
Quality guarantee and 1-year limited product warranty.
Not So Much:
No stake included; yet, the manufacturer touts the multiple configurations available by looping around trees or posts.
[maxbutton id="1″ url="https://www.amazon.com/dp/B01K5YWLZ2/?tag=dogplayoutdoors01-20″ text="Check Price Now" ]
---
New to camping with dogs, and unsure whether you, or the pet(s), will like it? Then perhaps go no further than the Obedience Dog Training Leash by Hi Kiss (see Amazon). With a choice of lengths ranging from 15 to 100 feet, plus a multitude of colors to choose from, you should be quite happy with this as a starter camping leash.
You seem to get more length for your buck, no matter how long you go with. It's also multi-use, so besides camping these are still solid for use in training, play, hiking, or in the back yard. The ¾-inch all-vinyl cord is plenty strong, and the easy-coil design helps with ease of use and to avoid tangling (always a frustration with very active dogs!).
A heavy-duty snap at the end provides peace of mind for safety, and this leash even floats in water! It's an excellent check cord known to assist well with training.
What We Like:
Very lightweight (less than 1 lb.).
Clip swivels to prevent cord twisting.
Known as a superb dog-training leash.
Low pricing, for a variety of lengths.
Not So Much:
[maxbutton id="1″ url="https://www.amazon.com/Hi-Kiss-Obedience-Training-Agility/dp/B0824HXCYX/?tag=dogplayoutdoors01-20″ text="Check Price Now" ]
---
We like this product because in reality, it's a 3-in-1 package. For those who want everything they'll need to camp with a dog ~ leash, tie-out, stake ~ this is for you. Moderately priced for providing such versatility, it runs normally at a 20-foot length; and add another dollar for each 5 additional feet you want to add up to 40 feet.
While the lengths might not approach the 50 to 100 feet noted above, this Snagle Paw product is strong enough for medium to large dogs (up to 125 lbs.) and is designed for camping or garden use.
It doesn't take much instruction on how to use it, once you see the handle on the corkscrew contraption that will serve as the stake. Just twist that into the ground, attach the tie-out and leash, and gain peace of mind that your pooch won't wander off in the night.
What We Like:
Complete (3-in-1) package.
Rust-proof clip for durability.
Rust- and bite-resistant, reflective cable.
Free oxford carry bag for transport and storage.
"Lifetime Customer Service"; promise of satisfaction guaranteed.
Not So Much
Uncertain the corkscrew style is suitable for very rocky (or very cold) soils.
[maxbutton id="1″ url="https://www.amazon.com/Cable-Stake-Medium-Camping-Garden/dp/B07VSPY82T/?tag=dogplayoutdoors01-20″ text="Check Price Now" ]
Of all the leashes we reviewed, this offering by Petbobi was one of the few to tout features to keep the dog happy. While the pricing is at the upper end of this product/s spectrum, note that the manufacturer was sure to add design elements favorable to dogs while camping.
The steel-cable leash is protected by a weather-resistant poly-vinyl coating, making it rust-proof and plenty strong, but also designed not to catch in your dog's fur. The collar buckle is stainless steel and is designed for adaptation to variously sized collars, with an eye on protecting a dog's neck area.
The stake is a tad longer than others in its class, and the added 4-inch spring is a nice touch for the comfort and control for both you and your dog in the outdoors.
What We Like:
Design elements to protect a dog's fur and neck area.
Significant spring for added comfort and control.
High-tensile strength and elements for corrosion resistance.
Not So Much:
Higher end of the pricing scale.
[maxbutton id="1″ url="https://www.amazon.com/HaveGet-Durable-Training-Reflective-Backyard/dp/B07CXJGZY5/?tag=dogplayoutdoors01-20″ text="Check Price Now" ]
See Also:
How Long Can a Dog Survive in the Woods?
12 Ways to Keep Dogs Warm While Camping
How to Get Dog to Eat While Camping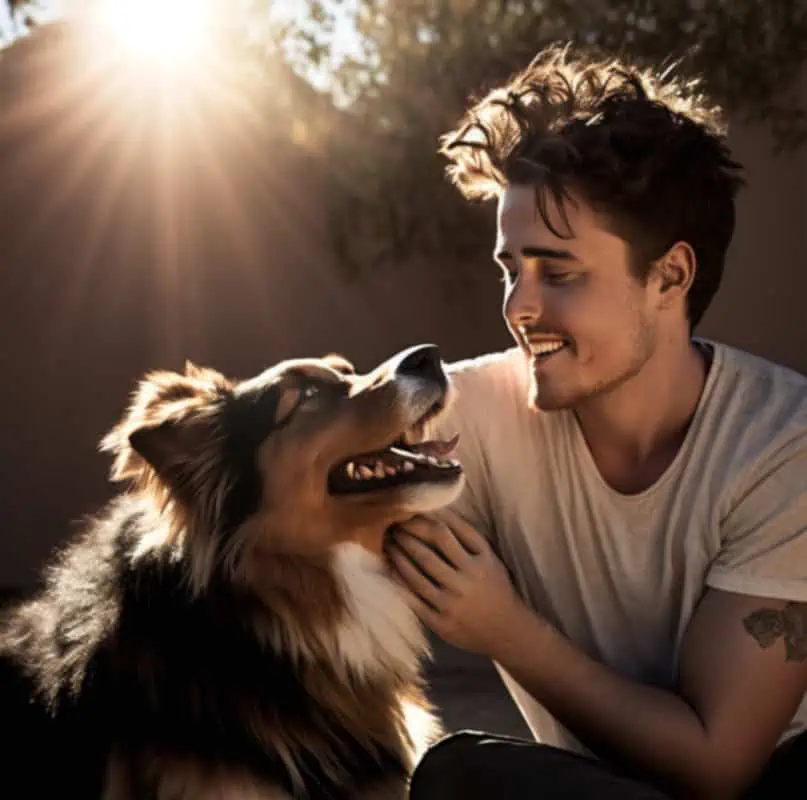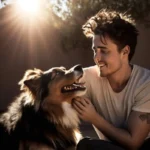 Family Dog Expert Author
Hi there! I'm Stuart, a devoted dog lover and family dog expert with over a decade of experience working with our furry companions. My passion for dogs drives me to share my knowledge and expertise, helping families build strong, loving bonds with their four-legged friends. When I'm not writing for SirDoggie, you'll find me hiking, playing with my beautiful dog, or studying music.