7 Reasons Your Dog Is ANXIOUS At Night
Have you ever noticed your dog getting agitated when you are getting ready for bed? Is this anxiety because of letting your dog sleep in bed with you?
Well, there is no evidence to suggest that letting your dog sleep with you will trigger separation anxiety. 
Keeping your dog too close to you the entire time can build an intense familiarity and strong bond. This makes them happy but really hard for them to be separated from you.
Part of the difficulty is that dogs don't quite understand what is happening when they are left alone. Try to imagine being in a place where you don't speak the language others are speaking, and then suddenly everyone gets up and leaves.
So if you're dealing with a dog that gets anxious every time you leave or want to know if you should really let them sleep in your bed, continue reading because we break all of it down in this post.
Related Reading: Why Does My Dog Get Hyper Before Bed?
Does A Dog Sleeping In Bed Cause Separation Anxiety?
Many people have the misconception that if a dog feels anxious at night, it is due to sleeping in bed with you. For a healthy dog, sleeping in your bed will delight your dog, comfort you, and enhance the mutual bond.
Here are some outcomes of letting your dog sleep in your bed with you:
Sleeping with your dog can become a hard habit to break. This is especially true if your anxious dog doesn't have a bed of their own. Separating them may even cause some tension between you and your pooch.
Co-sleeping with your dog can ease anxiety and provide a feeling of safety and security to your furry pal.
If you are allergic to dogs, then it's not a good idea to sleep with them. Your little friend may carry allergens that can give you a stuffy nose, cough, or skin allergies.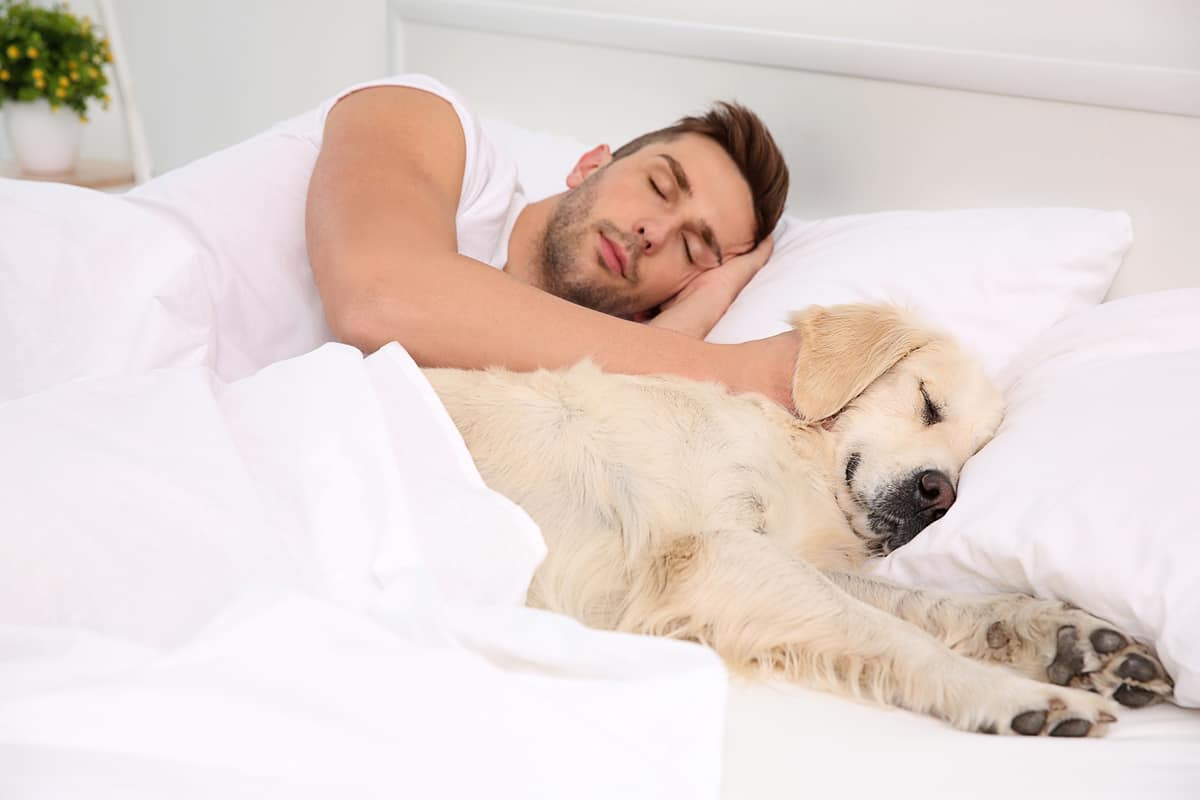 Why does my dog become anxious at night?
Dogs are social animals, it takes them time to adapt to being alone at night. There are many reasons why a dog becomes anxious at night. 
1. Your dog has separation anxiety
If your dog follows you from room to room, becomes anxious when you are leaving, and indulges in destructive behaviour when you are away, the chances are that they may be dealing with separation anxiety.
This would be more likely when you are going to bed in a different room.
2. Your dog hears other animals outside
If you have seen or heard other animals at night in your backyard, that may be a concern for your pooch. When your dog hears voices in the backyard, they may become anxious.
3. Your dog needs to pee
Another possible reason your dog tends to get anxious is that they need to pee. This would be more likely if it is a puppy who needs to pee in the evenings.
4. Your dog has an issue with the room they sleep in
Your dog may not like their sleeping area. The room might be too hot, too bright, too noisy, or there might not be enough space for them to lie down. They may start getting anxious at night due to the layout of the room they sleep in.
5. Your dog gets bored at night
Dogs need sufficient exercise and mental stimulation to stay happy and relaxed.  When they do not get enough exercise, it can cause them to behave abnormally and show a lot of extra energy at night.
The right amount of daily exercise will reduce their destructive behaviour and anxiety.
6. Fearfulness
Some dogs may get fearful at night. They may get anxious more on certain nights such as when it is raining or very windy outside.
7. There is some issue with their diet
Diet is a significant point that contributes to the overall health and satisfaction of your dog. Your dog may have been eating too late at night, they are overeating, not getting enough nutrients in their diet, or they might be eating things they shouldn't be.
If you want your dog to be stress-free and in good physical condition, it is essential to feed them properly. 
Signs of dog anxiety at night
Your dog may show any of the following symptoms if they develop anxiety at night:
Your dog tries to get into your room by pawing and scratching at doors.
He may even scratch at windows if you are keeping them outdoors.
Whining, howling, or excessive barking.
Running and pacing through the house endlessly.
Urinating and defecating in random places.
Chewing or biting furniture and other items.
Scratching at their face with their claws or biting their tail.
Anxiety in Senior Dogs
Older dogs have a higher chance of high anxiety levels at night.  As the dogs grow older, they feel a decline in their functioning of memory, learning, and senses.
Many problems in senior dogs developed due to aging can be treated. So it's important to monitor the dog regularly. 
How do you help a dog with separation anxiety at night? 
If your dog is getting anxious at night, there are many ways to calm them. Let's get down to the steps that you can take to help your dog with separation anxiety at night:
Ensure that your dog had enough exercise and mental stimulation
You must make sure that your pooch gets enough exercise and mental stimulation. The best thing you can do is to exercise with your dog more often. This could help your pet get through the stress and anxiety, and it could potentially help them get rid of the excess energy that it has. 
Take them out for a long walk in the afternoon or evening before they go to bed. 
Spend time playing brain games and doing obedience training with them. 
You can encourage your dog's playful nature through activities like fetch, swimming, and agility exercises. 
Ensure that your dog is getting the right diet
A high-nutrient balanced diet is essential for your furry pal. The ideal food for your dog is the one that ensures all the nutrients your cat needs for growth and development.
You should give them cat foods that are tailored to meet their needs. 
Give them a calming bedtime routine
In order to calm an anxious dog, give a consistent bedtime routine to let your dog enjoy a restful night's sleep. Here are a few tips for a calming bedtime routine:
Give them a tasty treat
Giving your dog a treat at bedtime will give them something special to look forward to every night. They will associate sleep time with a delicious snack.
Give them a good place to sleep
You must provide a warm and quiet place for their sleeping. This enhances their feeling of security and lessens the intensity of their anxiousness at night. Make their bedtime fun to cope with their anxiety. 
Give them your favorite toys
Dogs can also find security from a special dog toy. Give them dispensing toys to decrease their nervous energy and to make them feel more at home.
Ease them with a bedtime scent
Some scents can have a calming effect on your tail-wagging friends. Spraying your dog's bed or bedtime toys with a calming blend of essential oils is a great way to ease their anxiety and make them ready to sleep through the night.
You must provide a special bonding time for your dog as well. With a calming bedtime routine, you can ease the day's anxiety and tuck your pup into bed ready to doze off and enjoy those sweet, happy doggie dreams!
Some of the links in this post are affiliate, and we may earn a commission.
Final Thoughts
Moving your dog's bed suddenly away from you after letting them sleep close to you is a bad idea. Make a slow transition of keeping them out of your bed at night.
Your dog's level of emotions greatly depends upon their environment, their socialization, and how their human companion treats them.
Hope you enjoyed reading this article! Did you find this article helpful? Feel free to share your thoughts with us.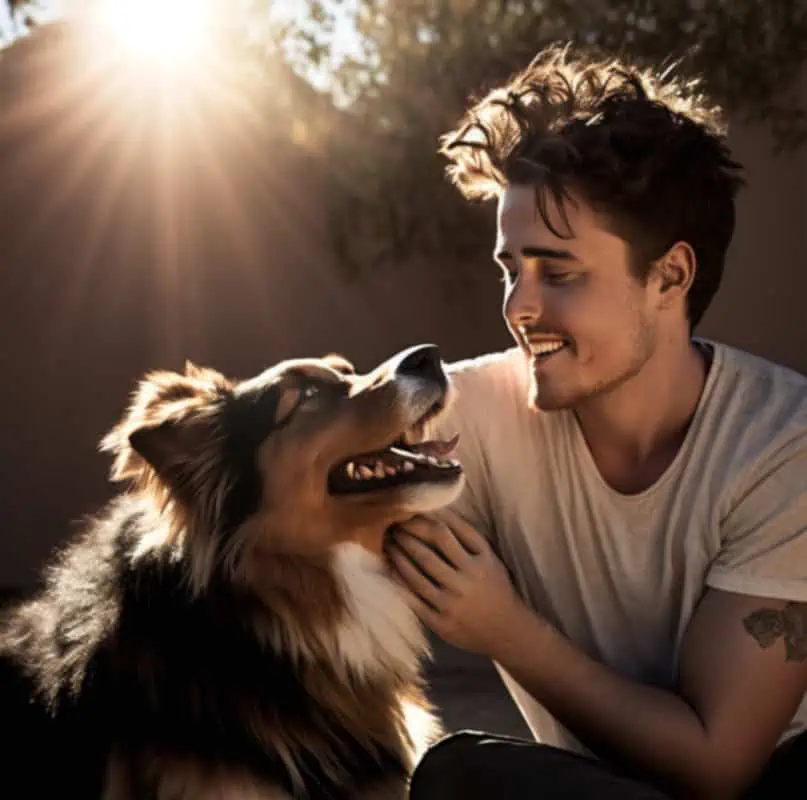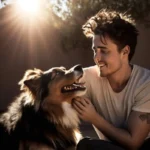 Family Dog Expert Author
Hi there! I'm Stuart, a devoted dog lover and family dog expert with over a decade of experience working with our furry companions. My passion for dogs drives me to share my knowledge and expertise, helping families build strong, loving bonds with their four-legged friends. When I'm not writing for SirDoggie, you'll find me hiking, playing with my beautiful dog, or studying music.