Clickit Harnesses: Sport vs. Terrain
If you have never given much thought to safety dog harnesses before, you may be missing out on some great benefits. Harnesses are frequently associated with misbehaving dogs, but the truth is that this small piece of equipment can also be transformed into an effective teaching tool.
Do you have a dog that refuses to quit pulling while you're out on a walk? Using a harness can not only prevent this from happening, but it can also teach him (or her) how to walk correctly in the long run.
If you're looking to get a new harness for your puppy or adult dog—or if you're just looking to replace an old one that's worn out—it's vital to realize that there are several harnesses available that are each designed to work for various dogs in different situations.
This article compares two of the best dog safety harnesses—the Clickit Sport harness and Clickit Terrain harness—to see the differences plus the strong points of each.
As both dog enthusiasts and pet parents, we love both of these harnesses equally because they have different uses and functions and match well for each of those sole purposes. However, we choose to recommend the Clickit Sport harness over the Terrain harness in most situations due to its easy assembly, variety of colors, and multiple sizes available to fit plenty of different dog breeds.
Please keep in mind though that both of these harnesses have their own pros and cons, and either of these two may work best for your canine companion depending upon a variety of factors.
Now, let's have a thorough look at both of these dog safety harnesses.
Features of the Clickit Sport vs. the Clickit Terrain
| | |
| --- | --- |
| Clickit Sport | Clickit Terrain |
| Best for sports activities & training | Best for hiking, climbing, and other outdoor activity purposes |
| Energy-absorbing neoprene padding for protection during intense impacts.     | Strength and durability were evaluated for usage as a walking harness. |
| Does not include any additional packs or attachments. | It is equipped with loops for connecting and disconnecting the optional 'Terrain Pack' quickly. |
| Broad, cushioned, energy-absorbing vest.   | Shock absorbing sleeves.   |
| The dog's entire torso is secured by a three-point system when used in the rear passenger seat. | Three-point contact design.   |
| Double D-ring connection for leashing.   | High-strength, metal slide buckles.   |
| Quick connection and release.   | Also features a quick connection and release when used as a seat belt. |
| Certified by the Center for Pet Safety.   | It has undergone crash testing for use as a car seat belt. |
| Reflective strips and logo add improved visibility at night. | Rear reflective patches are removable for user convenience, yet the reflective patch on the front of the terrain harness is fixed (non-removable). |
| Colors Available in 6 colors: CharcoalJet BlackFirst BlushRobin Egg BlueStrawberry RedOliveOrange Dream | Colors Available in 3 colors: Jet BlackRobin Egg BlueOrange Dream |
1. The Clickit Sport Dog Travel Harness
The Clickit Sport Harness(see Amazon) is equipped with modern technology that makes it both lighter and easier to use without sacrificing its level of safety. With its big cushioned vest and the revolutionary Infinity Loop webbing design of the harness, this Sleepypod brand product ensures that any of the forces that may cause injury during an accident are both more equally dispersed as well as decreased overall. This harness has been shown to be one of the safest dog safety harnesses in both the accident test labs as well as real-world scenarios, making it one of the most popular choices for those concerned about travelling with their furry loved ones.
When the dog is not riding in the car, users can easily attach a leash thanks to the twin D-rings on the harness.
Sizing Chart for the Clickit Sport 
Clickit Sport sizes are calculated by measuring the diameter of a canine's chest, just beside the forelegs and around the rib cage. The appropriate sizing options are listed below.
Extra Large (34.5"-40" diameter)
Large (28.5"-34" diameter)
Medium (22.5"-28" diameter)
Small (16.5"-22" diameter)
Clickit Sport Safety Harness Benefits
Clickit Sport is a simple yet effective harness that is easy to clean and maintain. With a moist towel, gently clean the exterior of the vest. Simply vacuum the dog hair off from the neoprene portions of the harness to finish up the job.
The Clickit Sport safety harness can also be highly adjusted to provide a secure fit for your canine companion, and it additionally has D-rings located near the neck for leashing convenience. The Clickit Sport harness can be used as a doggy seat belt and also as a walking harness, and the usage is interchangeable depending upon your needs.
Your dog will be much more visible at night thanks to the harness's reflective stripes.
The Clickit Sport harness has been put through a rigorous testing process featuring the same dynamic safety checks that are used to evaluate child safety restraints. The Center for Pet Safety has also certified the Clickit Sport harness as being an incredibly safe harness and given it a five-star rating, making it the only one on the market to receive full safety certification.
The Infinity Loop technology, which is also very simple to use, decreases the number of extra attachment and detachment processes. Having three points of contact in case of an accident or sudden halt helps to limit the amount of forward and lateral movement.
2. Clickit Terrain Safety Harness
Designed for high-performance dogs, the Clickit Terrain (see Amazon) is a car/automobile safety harness that combines modern, up-to-date, travel safety designs and technology with additional comfort and super easy control features that are suitable for daily use.
Sizing Chart for the Clickit Terrain
Just like the Clickit Sport harness, the sizing for the Clickit Terrain harness is calculated by measuring the diameter of your canine's chest, just below the forelegs and around the rib cage. Measurements for each size are listed below.
Extra Large (31.5″-39.5″ diameter)
Large (26″-32″ diameter)
Medium (21.5"-27.5" diameter)
Small (17.5"-22" diameter)
Clickit Terrain Harness Benefits
Especially for everyday walking, the Clickit Terrain is comfortable with its shock-absorbing webbing sleeves.
These unique sleeves on the Terrain harness operate in conjunction with a large, padded vest and a distinctive loop design to provide the best possible security and safety for your pup in your vehicle.
Reflective patches on the back of the dog harness may also be swapped out for service patches for working dogs, if necessary.
It is lightweight and simple to operate without compromising on safety.
See Also:
Ruffwear vs. Embark: Which Harness is Better?
4 Best Dog Harness for Camping
4 Best Camping Windbreaks for Dogs
Can Dogs Catch Fish? (A Detailed Explanation)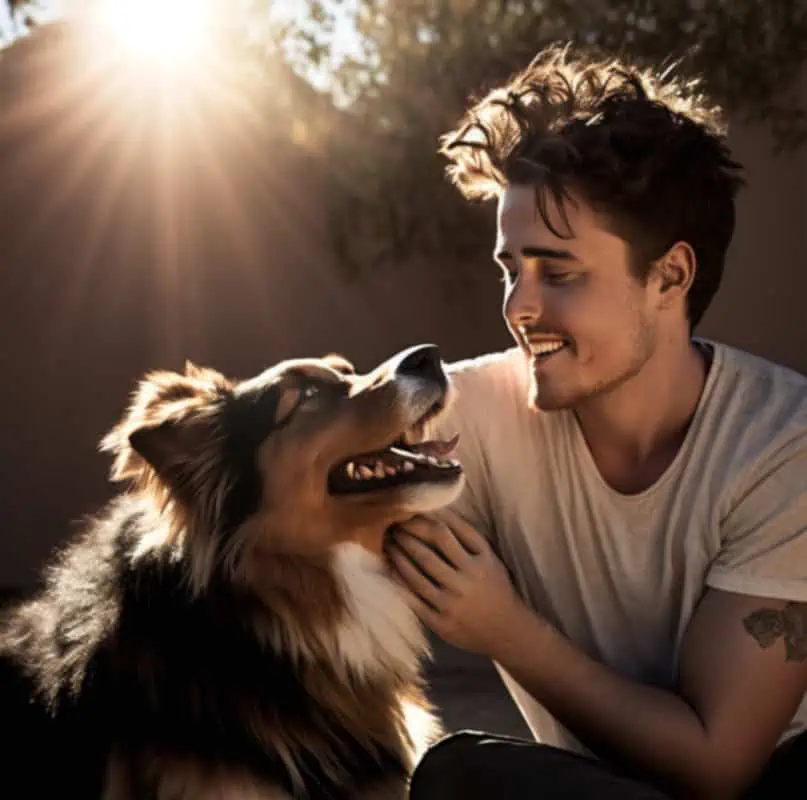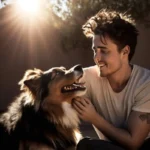 Family Dog Expert Author
Hi there! I'm Stuart, a devoted dog lover and family dog expert with over a decade of experience working with our furry companions. My passion for dogs drives me to share my knowledge and expertise, helping families build strong, loving bonds with their four-legged friends. When I'm not writing for SirDoggie, you'll find me hiking, playing with my beautiful dog, or studying music.