6 Best Dog Pools for Large Dogs for 2023
As the temperatures soar and the days get warmer, our pups also want to cool off and relax outside. As a thoughtful pet owner of a larger breed, you simply cannot deny your sweet fur baby the best dog pool for large dogs to splash around and have hours of outdoor summer fun while you enjoy the outdoors with your friends, too.
Large dogs like German Shepherds and Mastiffs need sturdy and well-made pools that can withstand their weight and those pesky habits like chewing and biting. If you have multiple dogs, you'll need to look for a pool that is strong enough to accommodate all of them, too.
Besides the capacity and ability to accommodate either one large dog or multiple bigger pups, you may also want to check whether or not they are portable enough to carry on camping trips or when traveling. With that being said, some of the factors you should consider when looking for a dog pool are the size, shape, any additional features, the material, and the pool's overall durability.
So, if you are looking for a suitable product for your large dog's needs, you can expect to feel confused by the plethora of brands and models available. To make your task easier, our team has reviewed more than a dozen products and compared them with each other to find the perfect one to suit your needs.
Read on to find the complete and extensive reviews of each product we think can be a perfect fit for pet parents of large breed dogs. If you are in a hurry, we simply suggest that you opt for the editor's choice: the Jasonwell foldable dog pet bath pool, which requires no inflation, so it can be set up in no time. It is slip-resistant and perfect for small, medium, and also large dogs to have hours of outdoor fun.
The first product on our list is the Jasonwell foldable dog pet bath pool, an easily foldable and portable dog pool that can be assembled and set up anywhere you desire. This multipurpose pool can be used as a dog pool, a dog bath (for pups who are too large for indoor bathtubs at home), a kiddie pool, and more.
What we like best about this product is that it is simple and easy to set up and drain, and it comes without the need for any inflation. With easy bottom and side drain panels, it is easy to drain as well as fill up the pool with fresh water. It serves as the perfect plastic pool to use in the backyard.
There are three super-durable, laminated vinyl layers with a polyester mesh. These are puncture-resistant and help to avoid the walls of the dog pool from collapsing outward, adding sturdiness to the pool. Made from environmentally friendly and slip-resistant material, this pool is not only safe for your adult dogs but also big enough and safe enough to accommodate puppies and breeds that are small, medium, and large.
Product features and specifications
Measurements: 71 inch.D x 11.8inch.H
Weight: 18.03 lbs.
Environment-friendly material
Portable and foldable pool
Simple to set up and drain
Extra hose connector included
3 super durable layers
Puncture-resistant and prevents collapse
User/Customer Reviews
Several users have said that the Jasonwell foldable dog pool is a durable and well-designed product made from puncture-resistant material. Some people have commented that the drain is nice and well-made, but it takes time to fully drain the pool. A few customers have also mentioned that getting in and out of the pool is super easy for both puppies and large dogs.
Conclusion
The Jasonwell foldable dog pool is a well-constructed pool that can be set up pretty easily and folded for storage when not in use. It is sturdy and looks great when assembled in the yard; plus, it can easily accommodate one or two large dogs for a fun summer day out. Overall, this product is a good value for the money.
[maxbutton id="1″ url="https://www.amazon.com/Jasonwell-Foldable-Collapsible-Bathing-Kiddie/dp/B0B15C549C/?tag=dogplayoutdoors01-20″ text="Check Price Now" ]
---
This outdoor swimming pool from KOPEKS Store stands second on our list, promising to make your dog's bath or fun outdoor pool day easier than ever. The pool is easy to use as there is no need to inflate any part of it. You can simply fill it up with water and allow your dog to have fun anytime you like.
Draining is also a no-brainer! Just twist off the cap, and the pool drains in no time. The pool itself is made from heavy-duty and sturdy industrial-strength PVC. Besides being easy to set up, the pool can also be folded up easily for storage or to take it out on camping trips.
This foldable, no-hassle pool can be used by both dogs and kids to bathe, swim, or simply dabble around outdoors. It has thicker material at the bottom, too, for protection against damage by dog nails and any other possible sharp objects that could easily pop or damage the standard inflatable pool. It is also incredibly easy to drain out all water and clean the pool after use, so you won't have to worry about dealing with a hassle once your pool day is over.
Product features and specifications
Measurements: 63in. x 63in. x 12in.
Weight: 10.14 lbs.
Round, heavy-duty, PVC outdoor pool
Portable and foldable
Made of extra-tough PVC
Has a thicker material on the bottom
Easy to inflate and set up
User/Customer Reviews
Most people are extremely happy with their purchase as the size is perfect for their large dog, and even two dogs can have fun inside of this huge pool together. Users have also mentioned that they left the pool filled with water for quite a while and there were no leaks, proving how durable it was. A few customers have warned that the side panels warped after a few months, but the pool lasted longer than they had expected.
Conclusion
The KOPEKS outdoor swimming pool (shop now) is one of the most well-built and sturdy portable pools you can invest in for your dogs and kids to enjoy outdoors during the summertime. Even after one or two large dogs are inside the pool, there is still room left for them to splash around in the water. Overall, we feel that this swimming pool is worth your hard-earned money.
[maxbutton id="1″ url="https://www.amazon.com/dp/B01NAYWVC6/?tag=dogplayoutdoors01-20″ text="Check Price Now" ]
---
The third product on our list is the V-HANVER foldable dog pool. It's both collapsible and heavy-duty, and it's great for large dogs or a few puppies to enjoy some splash time together. Made of extremely tough PVC, this pool has a thicker slip-resistant material on the bottom as well to protect the pool from any damage.
This portable pool features a convenient fold-down design which makes it easy to fold up and store when not in use. It comes with an EVA bag making it easier to organize and store the pool as well. There is a built-in drainage hole to enable the dirty water to drain out fast for a quick refill.
This pool can be used as a multipurpose dog pool, a dog bathtub, a small fishpond, a kiddie pool, a baby bathtub, an outdoor water pond, and even more. We were impressed to learn that the manufacturer stands behind the product with a 1-year warranty and a responsive customer support system, too.
Product features and specifications
Measurements: 62.99in. x 62.99in. x 11.81in.
Weight: 14.7 lbs.
Foldable design
Thick, high-density fiberboard
Made of extra-tough PVC
Equipped with a storage bag
Convenient fold-down design
1-year warranty
User/Customer Reviews
Most people who have bought this pool have said that this is well worth the money, especially as their dogs loved getting in and out of it throughout the day. People have also mentioned that the pool is easy to set up and has sturdy walls, so there is no fear of water leaking. Users have also mentioned that putting it back up and storing it for the next warm season is also a hassle-free experience.
Conclusion
The V-HANVER foldable dog pool (shop now) is a well-built and sturdy pool that can accommodate a large dog or two medium-sized dogs with ease. It is so big that your large dogs can bathe and have fun getting in and out with ease. Overall, this product is worth the investment.
[maxbutton id="1″ url="https://www.amazon.com/V-HANVER-Foldable-Collapsible-XLarge-Puppies/dp/B07XY8YB7Z/?tag=dogplayoutdoors01-20″ text="Check Price Now" ]
---
When you love your pooch so much that you would do anything to see him or her have a great day, you definitely need to check out the TNELTUEB sprinkler pool for large dogs. It has a nice and collapsible design, so you'll never have to worry about needing to inflate it, and it is very easy for users to carry.
This pool is able to be easily unfolded and folded back up in just a few seconds, even collapsing into a small enough size that it can fit inside a drawer within your home. We love this enjoyable summer pool that also functions as a fun splash pad for pets and people of all ages. You can simply attach a water hose to the pool, and it's easy to control the amount of the water pressure as well as the sprinkler's spray height during use.
The part of the pool that functions as a splash pad features an inward design that allows the water jets to shoot towards the middle of the pool and not spill out everywhere else. Made of 0.5 cm-thick, high-density material, this large dog pool is both durable and sturdy. The bottom side is made of non-slip material as well to allow both pets as well as people to have a fun time in the summer without the risk of any accidents.
Product features and specifications
Measurements: 79″x79″x12″ 
Weight: 12.84 lbs.
Non-slip pet swimming pool
Multifunctional, folding pet pool
hard PVC pool
Suitable for children, cats, and dogs
User/Customer Reviews
People call this one of the best pools for large dogs, as it's capable of holding two large canines without any leaks or holes being torn into it. Users have also said that it is easy to set up, but folding it back up and storing it may take some practice at first. Customers have also been happy that this dog pool comes with a warranty, which very few pools in this price bracket have.
Conclusion
The TNELTUEB sprinkler pool for large dogs is the ultimate pool for your dog to have fun throughout the day. Your large dogs can beat the heat and have hours of fun safely jumping in and out of this pool. It is made of sturdy material and also comes backed by a warranty. Overall, this product gives you a good value for the money.
[maxbutton id="1″ url="https://www.amazon.com/TNELTUEB-Swimming-Collapsible-Foldable-Plastic/dp/B09PYXJKT2/?tag=dogplayoutdoors01-20″ text="Check Price Now" ]
---
The fifth product on our list is the Timoo foldable dog pool for large dogs, and this one is made of sturdy and strong PVC material as well. It has good scratch resistance and abrasion resistance; hence, it is perfectly suitable for extra-large dogs, large dogs, small dogs, and even other pets, too.
This dog pool is incredibly portable as you can fold and unfold it quickly for your convenience, and you can store it in a drawer or storage box when not needed thanks to its compact design. It does not take up a lot of space when it's stored either, and you can also conveniently carry it to any location for camping or other events.
As the bottom part of the pool is covered with an anti-slip texture, it works great in both dry and wet conditions. Your dogs can play or walk with ease inside the pool. There is also a large drainage port that helps you to quickly drain the water in the pool after a fun day, so it's guaranteed to give you a hassle-free cleanup.
Product features and specifications
Measurements: 63 inches.
Weight: 11.29 lbs.
Made of thick and strong PVC
Foldable and portable
Large drainage port
Screw-sealed lid
Excellent anti-slip texture
User/Customer Reviews
Most owners of large dogs have approved of this pool and said that it's big enough to accommodate their pooch and can be drained and collapsed easily. People have also mentioned that this product is sturdier and much nicer than they expected. A few customers have said that the drain hole is located slightly higher than what would be ideal, but there is nothing much to worry about.
Conclusion
The Timoo foldable dog pool for large dogs is a sturdy and well-made pool that can be set up and folded easily for storage. It is big enough for dogs to play or even take a bath inside of it, and draining out the water is also easy. It lasts longer than most users have expected and does not get damaged easily either. Overall, we feel that this dog pool offers a good price-to-performance ratio.
[maxbutton id="1″ url="https://www.amazon.com/Timoo-Foldable-Slip-Resistant-Collapsible-Swimming/dp/B09TZVYJ56/?tag=dogplayoutdoors01-20″ text="Check Price Now" ]
---
If you have two dogs—or a dog and a cat—and want to get separate pools for them, this particular product is a great item worth checking out. There are special compartments for two different pets to call "their own zone" and relax as they please. Getting in and out of the pool is also easy for nearly all breeds.
This pool has a PVC-laminated 300D Oxford fabric outer layer and a whole piece of PVC sheet as its inner layer that protects the pool and adds sturdiness to it. It only requires a slight push with one finger on the edge to help drain any dirty water quickly. It is lighter than other swimming pools in this category yet has a strong and sturdy frame despite its decreased weight.
This super portable swimming pool is easy to set up and can be easily folded to store away compactly when not in use. You can carry this lightweight pool with you for a quick pet spa or some well-deserved splash time outdoors. It can also be used as a mini swimming pool, a fishpond, or a kiddie pool.
Product features and specifications
Measurements: 63in. x 35in. x 12in.
Weight: 5 lbs.
Versatile
Safe materials
Instant pop-up assembly and storage
Meets ASTM and CPSIA standards
Innovative design
No tearing
User/Customer Reviews
Those who have bought this outdoor dog pool are full of praise for the product as it provides hours of safe playtime for their furry friends. Users are happy that this pool is half the price of other foldable pools in the market without the quality being compromised. Customers have also mentioned that there is enough space for large dogs like a German Shepherd or a Husky to relax and enjoy as well.
Conclusion
The Alvantor double swimming pool tub is a great quality pool made of thick material for a solid and durable construction. It can be set up easily and looks great in your garden or backyard. The size is perfect for a large dog and holds up well to their nails. Overall, we feel that this dog pool is well worth the money you'll spend on it.
[maxbutton id="1″ url="https://www.amazon.com/Alvantor-Swimming-Bathing-Foldable-Portable/dp/B09QPHZPJT/?tag=dogplayoutdoors01-20″ text="Check Price Now" ]
Buying Guide: Best Pools for Large Dogs
While all the dog pools reviewed and mentioned above have been handpicked carefully by our team, you may still need to narrow down your search. Here are a few things that you need to consider when looking for the best pool for your large dog to relax in the summer.
#1: Safety
The first and most important thing you'll want to consider is the safety of your dogs as well as your kids if they will be using the pool, too. So, look for safety features such as an anti-slip base, durable materials, the functionality of accessories, and so on.
#2: Size
You want your dog to make the most out of the outdoor pool, so pay attention to the size as these pools come in different sizes. If you have a canine in the family or more than one dog, they will want to join in the fun too, so there will need to be enough room for everyone to move about freely and have a great time inside the pool.
Assembly and Storage
No matter how big the dog pool is, it needs to be easy to put together and assemble in your backyard, garden, or any outdoor space where you plan on using it. After the fun is over, you should also be able to drain the pool properly and fold it back up with ease. You may even want to choose a collapsible pool for easy storage.
#3: Durability
Don't forget that these pools are meant for dogs, so there is sure to be some rough handling with canine claws and teeth. Our dogs love nothing more than digging and chewing up most things they can get their mouths on. You need to make sure that the pool is made of strong and durable materials that can withstand dog nails and rough usage. It should be able to survive considerable external force to minimize the damage that will occur due to an excited dog.
#4: Portability
How portable is your dog pool? If you like to go on camping trips often, you may want to carry your dog pool with you. Check out the portability factor when choosing the best dog pool for your large dog. The most convenient dog pools do not need to be inflated as you can simply prop them up and fill them with water to get your splash time going.
#5: Style
While style may not be the most important factor to consider, you may still want to think about making your space look pretty with the pool being added to it. These pools come in a variety of colors and lovely patterns that can brighten up the space and make your doggy pool party more fun.
Related Questions
Is swimming good for dogs?
Yes. Swimming is an excellent exercise that provides muscle strengthening and a good cardiovascular workout for your dogs. It is also a great way to help them vent out that extra energy, and it provides you a good time for bonding with your furry friend and seeing him have a lot of outdoor fun.
How do you keep your dog safe in the pool?
When you are using a new dog pool, we suggest that you keep your dog supervised at all times. Teach your canine how to get in and out of the pool with ease. If it's a big size pool based on your dog's size, consider teaching him how to swim inside of it. Most large dogs in the aforementioned dog pools will simply be able to splash and roll to their heart's content. You can also add some pool toys to make the outdoor time more enjoyable for them, too.
What are dog pools with sprinklers?
The pool-and-sprinkler combination is an amazing hybrid invention that children and dogs love to enjoy. The fun of having both of these features built into one item makes the storage, cleanup, and usage super simple compared to having to set up multiple outdoor waterplay items. Pooches love it when water shoots up from the pool, and they will try to bite and attack it, making the whole experience fun to view.
How do you take care of a plastic dog pool?
After a fun summer season, make sure you clean the dog pool well before putting it back into storage until next year. To clean the dog pool, you can use a solution of gentle dish soap and water. We would suggest that you go easy with the dish soap and always mix it with some water first before application. Simply soak a rag in the solution and wipe the pool clean. If you purchase an outdoor dog pool that comes with specific instructions regarding cleaning an maintenance, be sure to follow those closely instead.
See Also:
Can Dogs Get Ear Infections From Swimming
13 Reasons Why Your Dog Pees After a Bath
How Long Can a Dog Swim Before Drowning?
Do Australian Shepherds Like to Swim? Read This First!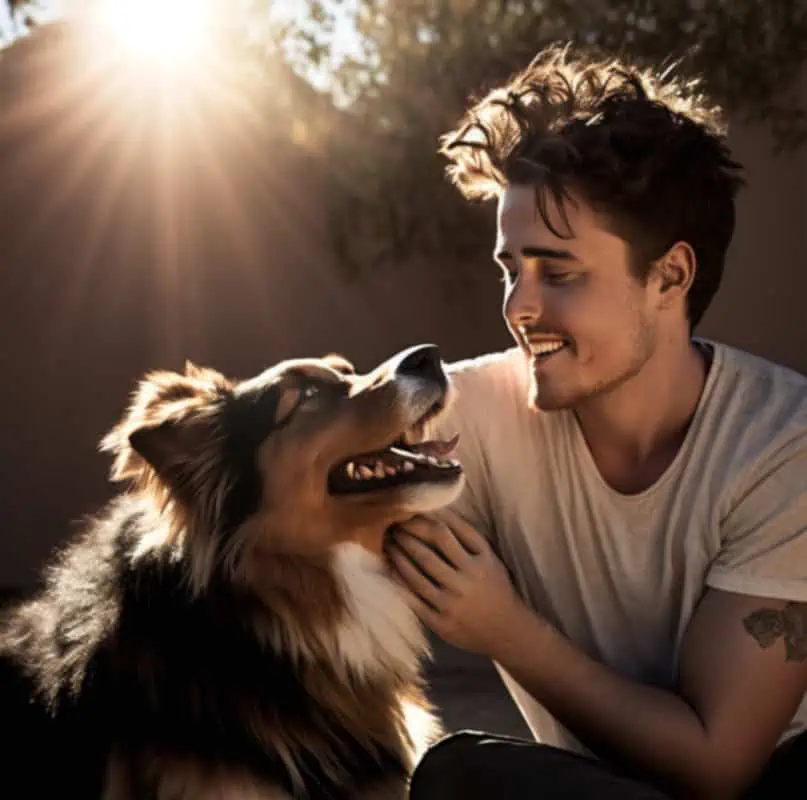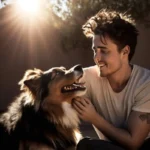 Family Dog Expert Author
Hi there! I'm Stuart, a devoted dog lover and family dog expert with over a decade of experience working with our furry companions. My passion for dogs drives me to share my knowledge and expertise, helping families build strong, loving bonds with their four-legged friends. When I'm not writing for SirDoggie, you'll find me hiking, playing with my beautiful dog, or studying music.