3 Best Above Ground Pool Dog Ramp [REVIEWED]
A summer of fun in your above ground pool won't feel quite right until you also have a way for your dog right there to join you. There are some great options out there for dog ramps that will help your beloved pup make it into and out of the pool safely.
What are the best above ground pool dog ramps? Here are our top picks:
When purchasing a dog ramp for your pool, you will want to consider aspects like the size of your dog, their comfort level with the pool, and how easy the ramp will be to use. Here are a few great options for an above ground pool ramp:
Ramps will always be the easiest way for a dog to get in and out of an above ground pool. They will typically be set up outside of the pool, allowing them access from the ground up into the pool, but there are also in-water options available that are great if you have a deck attached.
Some of the links in this post are affiliate, and we may earn a commission.
Related Reading: Ramp Training For Dogs Made Easy
1. PetSTEP Portable Folding Dog Ramp
We earn a commission if you make a purchase, at no additional cost to you.
This folding dog ramp is a great resource for your dog to get in and out of the pool but will also help them get into a large truck or SUV that may be too high for them, in case you're travelling to your above ground pool.
It has a rigid, non-slip rubber surface, and the grooves are designed to help your dog's paws gain traction. It is meant for dry and wet interactions that will reduce the chances of them slipping. The ramp weighs 18.5 pounds and is great for larger dogs who need a sturdy ramp that can handle them.
Since your doggie will likely be wet at some point when using an above ground pool ramp making sure it can keep its traction during wetness is key to your dog staying safe and continuing to use the ramp.
Some of the best features of this ramp are:
It's very sturdy
folds up easy
easy to carry (although it's not light)
rubber treads
can be used for other ramp needs
And if you're the pet parent of a large dog this ramp can hold up well as some pet parents say their 90 lb Lab can use it with no issues.
2. Skamper Ramp Escape Ramp
We earn a commission if you make a purchase, at no additional cost to you.
This ramp is ideal for inside the pool to help your dog in and out if you have a deck attached. It latches onto the side of the pool or the deck and offers help for them to get in and out of the water. 
It's certainly worth considering a dog ramp like this for an above ground pool since your doggie won't have many options once in the water for getting back out. 
Setting this ramp to then meet an outside ramp that goes to the ground would be ideal for their safety and well-being. Plus, this way, they can come and go as they please!
They will be able to grasp onto the ramp, which is equipped with small holes that they will be able to grasp onto with their paws. From there, they can climb up and out of the water and onto the deck. This ramp also comes in two sizes:
Large: 40 x 13 x 6.5 inches
Regular: 25 x 13 x 6.5 inches
Many ramp options for above ground pools are meant to stay out of the pool and help them back down to the ground. But this is a unique option that is excellent for any above ground pools that have a dog ramp on the outside or are attached to a deck of any kind.
Some of the key benefits of this ramp include:
The perfect escape ramp if a pet falls into your pool or spa.
The lightweight, ribbed plastic ramp floats atop the water until needed,
Chemical and UV resistant. Will not yellow or crack.
Safe for vinyl or concrete pools, in or above ground—also great for bulkheads, boats, floating docks, etc.
Simply keep ramp tied to the side of your pool with the included hardware and rope.
Additionally, the Skamper Ramp Escape Ramp includes:
1 Skramper-Ramp with sidewalls
2 Ramp support bars
Component bag with:

2 D-ring clips
2 nylon washers
6′ of 1/4″ nylon rope
Some of the downsides of this ramp include some pet parents finding it difficult to train their doggies to use it. Being in the water can be challenging enough for some dogs and figuring out how to use this ramp whilst staying afloat can be a challenge.
Additionally, some pet parents find this ramp unsuitable for smaller dogs. So, depending on the size of your doggie, you may want to consider passing on this one.
 3. Pet Gear Reflective Extra Wide Pet Ramp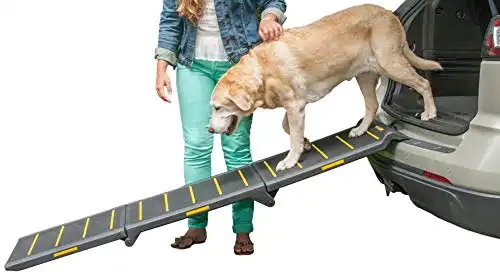 We earn a commission if you make a purchase, at no additional cost to you.
This dog ramp is one that is typically intended for help getting in and out of a car but can be used as a pool ramp. It is wide, long, and extremely durable, so it is great for larger dogs.
The ramp has reflective aids to help your dog navigate the ramp as well as a slip-resistant surface so they will have an easy time gripping it with their paws. Rubber grippers on the bottom of the ramp help keep the ramp itself in place as well.
Even when wet, this surface is meant to help your dog hold on tight and will help prevent any slips that could lead to an injury.
Some of the key benefits of this dog ramp include:
High-visibility reflective material aids in guiding your pet up and down the ramp.
Side safety reflectors allow for maximum visibility when the ramp is in use.
Slip-resistant surface provides sure-footing and rubber grippers on bottom help keep ramp steady.
Designed with a built-in handle for easy portability.
Can be folded up for compact storage or travel.
Weighs 26 lbs.
Can support 200 lbs.
Another great aspect of this ramp is that it is extra wide. Often, dogs can be reluctant to using a new dog ramp because it's too narrow. Think about it, for them, it's almost like walking a tight rope. Plus, having a wider ramp means having a sturdier ramp, which is great for larger dogs.
 What Makes a Good Dog Ramp For an Above Ground Pool?
Making sure you find safe options is equally as important if your dog is an avid swimmer ready to impress your friends with their fetching and swimming skills in the pool or if they are a timid pup, nervous around water.
Safety should always be your top priority.
A ramp will be the best way to help them get into the pool at their own pace and on their schedule. Once you are already in the water, they can choose to wander up the ramp and join you if they feel the urge for a quick dip with their favourite human.
Some dogs may be able to master the ladders on above ground pools, but don't count on it. Even if they can pull it off, it's not the safest option for them.
If your above ground pool is a standalone pool with no deck or anything attached to it, you should investigate your options for ramp or stairs that will help them in and out. Even if it is attached to a deck, it's not a bad idea. This will allow them multiple entry points that they will appreciate, and there are some ramps specifically designed with that in mind.
Dog Ramp Buyer's Guide:
| | |
| --- | --- |
| Durability and Sturdiness | Always read the guidelines from the manufacturer regarding weight capacity and any other pertinent information having to do with the stability of the ramp. If you have a 6-pound Yorkie, this may not be as important as it will be for someone with a 75-pound retriever. |
| Traction | Since your pup's paws will be wet, you want to make sure it is a ramp that offers some sort of traction. This can be small holes or grooves that a dog can grasp onto or actual treading that is meant to be able to help prevent slipping. Just be sure that it is not a smooth, hard, flat surface that offers no help when it comes to gaining traction. |
| Size | Not only is the size important to be sure it will accommodate your dog and their size, but you also need to make sure it will properly reach the lip of your pool so it can be attached accordingly. Find a length that won't make it too steep for them either. If it is too harsh of an angle, it will defeat the purpose of ease and safety. |
You want your dog to feel safe and confident using this ramp. So, catering it to their size and abilities will help you decide on the best ramp. If they are shy around water or have some mobility issues, the traction and length become even more important.
Pet Parent Tip: Gluing outdoor carpet onto a dog ramp can significantly improve its traction. Keep this in mind if you end up with a ramp that is perfect except for the traction. Outdoor carpet is a great choice for an above ground pool dog ramp as the wetness won't interfere significantly with the traction.
Safety Tips for Your Pup and Your Pool
When considering a ramp for your dog take the same type of precautions you would leave for a child. They will need this accessibility to help to get in and out of an above ground pool safely.
While many different breeds are excellent swimmers, they can all struggle to a degree when it comes to getting in and out of a pool that does not have the proper safety precautions in place for them. Dogs can swim for long periods when they are in good health and can get used to the activity.
But even the strongest swimmers can tire easily after a swim when they can't find a way to get out of the pool right away.
So, buying the right ramp that will be safe and easy for your dog to use is important, but so is making sure they know how to use it.
Train them to know the ramp, understand where it is, and how they need to use it. Use treats, positive reinforcement, and be patient with them to make sure they are fully confident in their ability to use it and know where it is.
And hopefully, this goes without saying but never have humans use dog ramps. This can put both the human at risk but also the integrity of the ramp at risk.
Sometimes it can be easy to forget that these ramps are meant for dogs as they become a part of everyday life, but do your best to avoid having a dog ramp bear any of your weight.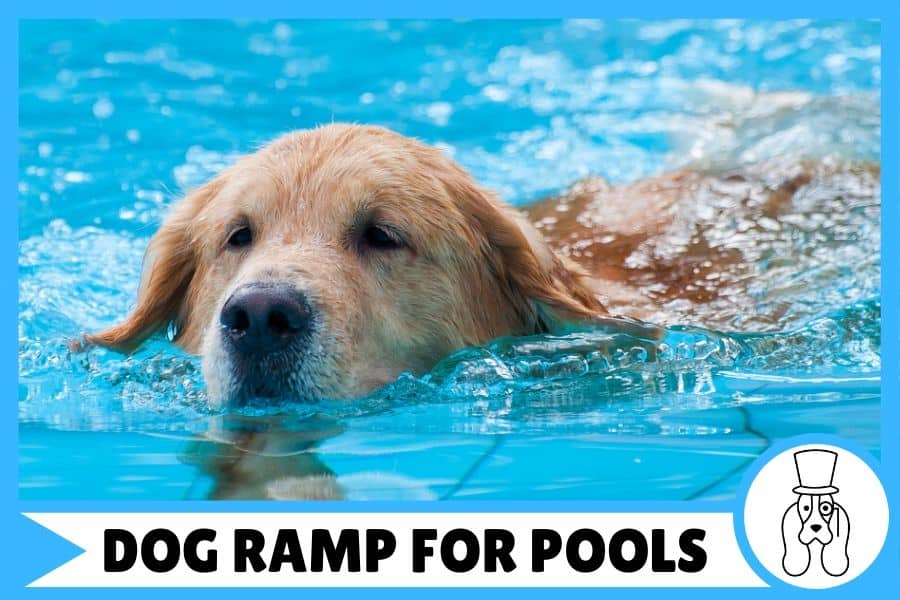 Final Thoughts
Ramps will always be the easiest way for a dog to get in and out of an above ground pool. They will typically be set up outside of the pool, allowing them access from the ground up into the pool, but there are also in-water options available that are great if you have a deck attached.
Take into consideration the size of your pool and your dog. Think about the type of ramp that will make it easiest and safest for them to get in and out of the pool and be sure that there is ample traction for them when their paws and the ramp get wet.
Once you find the best option to meet all your needs, train your dog to use it and make sure they are comfortable with it before you allow them to use it freely. Buying a ramp such as this will make your summer by the pool with your doggie(s) that much better!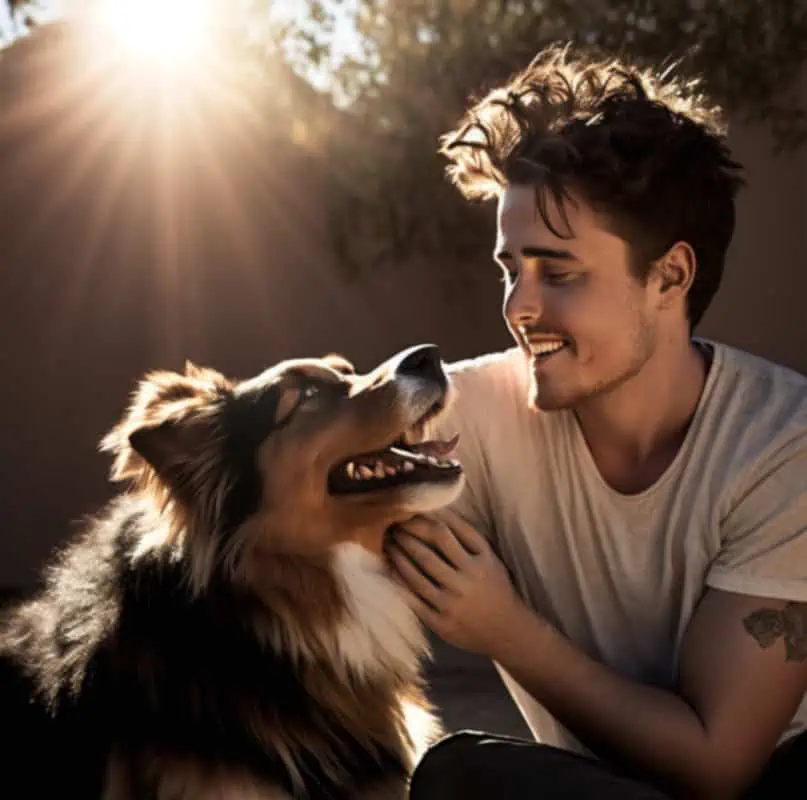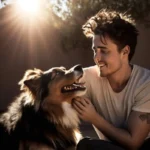 Family Dog Expert Author
Hi there! I'm Stuart, a devoted dog lover and family dog expert with over a decade of experience working with our furry companions. My passion for dogs drives me to share my knowledge and expertise, helping families build strong, loving bonds with their four-legged friends. When I'm not writing for SirDoggie, you'll find me hiking, playing with my beautiful dog, or studying music.