The 5 Best Chew Toys for German Shepherd Puppies
One common habit in German Shepherd puppies is their passion to chew. Let's be honest, this is most puppies' passion. They chew everything from slippers to carpets and furniture.
And there are so many chew toys and companies out there that claim to be the best. You know, the claim, "This toy can survive every natural disaster and then some". Ok, maybe the claim it's quite that bold.
Pet parents take to Google in an effort to find a solution to their cute but destructive little one. If you are a pet parent wondering how they can save some of their household belongings and give their German Shepherd puppy something else to chew on, this post should help.
So what are the best chew toys for German Shepherd Puppies?
Some of the links in this post are affiliate, and we may earn a commission.
The following are 6 recommended chew toys for German Shepherd Puppies. There is no "one toy fits all" when it comes to chewing toys for puppies.
Just remember, you know your dog(s) best, so consider these products carefully and with your German Shepherd puppy in mind (and on your lap!)
There is a wide variety of interactive chew toys made from different materials for puppies.
Unfortunately, certain types of toys can be quite damaging to dogs, especially puppies who have small and still growing teeth. It is always best practice to know what materials you should use and which ones to avoid.
Take a look at our top 5 best chew toys for German Shepherd puppies to find the perfect one. Or, spoil your little one, and get all 5!
Related Reading: Are German Shepherds Hypoallergenic Dogs?
The 5 Best Chew Toys for German Shepherd Puppies
Alright, let's take a closer look at these best chew toys. In case you want to cut to the chase, you can check out where to get our top 5 recommendations near the bottom of the post.
1. KONG Air Dog Squeakair Birthday Balls Dog Toy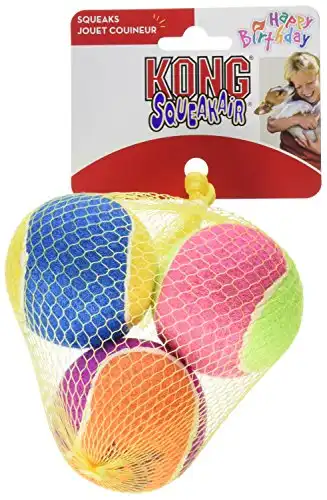 We earn a commission if you make a purchase, at no additional cost to you.
These KONG Squeakair Balls come in a fabric that won't wear down your puppy's teeth. They're made of rubber but covered in a tennis ball like fabric to ensure your puppy stays safe during all the excitement.
A lot of buyers have mentioned these toys' success in puppy training. Additionally, the balls offer a great bounce that can travel long distances, ensuring plenty of activity for your little one.
Grabbing a pack of these will hopefully ensure some toys last as your pup grows up. Having a consistent toy throughout life can be a real comfort for some dogs.
2. Outward Hound Puzzle Dog Toy
We earn a commission if you make a purchase, at no additional cost to you.
With so much concern placed on the physical health of dogs, their mental health can get easily sidelined. Dogs, like us, require mental stimulation, especially the German Shepherd breed.
Outward Hound produces some awesome dog puzzles that reward success with treats (they're fairly physical too!).
These dog puzzles help teach your puppy problem-solving skills that can be advanced with more challenging puzzles.
We recommend starting with the Dog Tornado. A lot of trainers utilize the Outward Hound puzzles for their obedience classes due to the great results they can produce. Your German Shepherd puppy is sure to enjoy this, and you might get some kicks out of it yourself as you watch them try and solve it!
If you're a pet parent that likes to get your loved one a gift for a birthday, Christmas, or whatever (and aren't afraid to admit it!), Outward Hounds' Hide-A-Squirrel Puzzle Plush Squeaking Toys Dogs make a perfect gift. Puppies can get some serious kicks out of this toy.
3. oneisall Dog Toys for Aggressive Chewers
We earn a commission if you make a purchase, at no additional cost to you.
This great bone looks like has a bacon scent which makes it irresistible to dogs.
It's safe to chew on and practically indestructible. And the best part? It helps clean their teeth while they chew on it. Although, it's still recommended to brush your dog's teeth.
With thousands of reviews on Amazon and an affordable price, this is a must-have puppy chew toy for any new or experienced pet parent.
4. Planet Dog Orbee-Tuff Squeak
We earn a commission if you make a purchase, at no additional cost to you.
Planet Dog is a great "values-based" company. They pride themselves on offering nontoxic and recyclable toys made in the U.S.
These toys are the end of the road for pet parents that are sick of replacing toys every week for their dogs. Planet Dog makes tough, really tough toys that put other "indestructible" toys to shame.
This ball has great bounce and is non-toxic, BPA and phthalate-free. It also comes infused with natural mint oil to keep it fresh.
If your German Shepherd puppy is more into "tug-of-war" toys, Planet Dog also makes the Orbee Tuff Tug War. If your little one is still really little, the sides of this toy are quite slim.
Don't let the size fool you, this is one of the most durable tug-of-war toys for dogs. The softer material ensures your puppy won't damage their teeth, but will allow them to chew their heart out.
5. West Paw Zogoflex Qwizl Interactive
We earn a commission if you make a purchase, at no additional cost to you.
West Paw places a large focus on environmentally friendly production in their dog toys. The Zogoflex is a proprietary material that is both tough and flexible.
West Paw's Zogoflex is proud to have toys that are free of any known sources of lead, cadmium, mercury, latex, natural rubber, phthalates, hormones, Bisphenol A, or asbestos. We cover things to avoid in dog toys on a list down below.
The Qwizl Interactive Treat Dispenser offers a great toy for your puppy to chew on and has the ability to dispense treats as your puppy plays with it, ensuring an exciting and extended playtime.
With treats hidden inside, your puppy is sure to chew until they're satisfied.
Why Do Puppies Chew?
There are a bunch of causes, and it can be difficult to narrow down the reasons why your puppy is chewing various objects, but here are some possible ideas:
Puppyhood
Puppies love to explore with all their senses, it's how they start to understand their environment around them. It's really not that strange if you've ever been around human babies/toddlers who can't seem to keep random bits of anything out of their mouths.
Separation Anxiety
This can be common for new puppies whose pet parents both leave the home for work during the day. A puppy that suddenly finds themselves alone and isolated can become anxious, and chewing is one way to address their anxiety.
Boredom
Some dogs need more stimulation than others, both physical and mental. German Shepherds are quite intelligent and if they feel understimulated, they may resort to benign behaviours like chewing random objects for either entertainment or just to spite their parents.
Instinct
We shouldn't condemn dogs, especially puppies, for chewing. It's in their blood. It's best to find more appropriate objects for puppies to chew on, and that's where the following top 5 list comes in handy.
Medical issues
Some nutritional deficiencies can lead to pica, which is the instinct to eat non-food items. If your dogs/puppies chewing behaviour seems to have come "out of nowhere", it may be worth visiting your vet to rule out medical issues.
What Chew Toys to Choose
It's always best practice to use interactive toys that are made of 'safe-for-dogs' materials. It's best not to cheap out in this area, as these things will spend a lot of time in your dog's mouth, and small parts of it may even be ingested. Toys made of hard plastic are typically not very recommended since these toys can become damaged and the broken pieces can be swallowed by the dog, causing various health complications.
Here's a general list of things you don't want anywhere near your dog toys. And remember, just because something is "made in the US", it doesn't guarantee that it's safe:
lead
cadmium
mercury
latex
natural rubber
phthalates
hormones
Bisphenol A
asbestos
Final Thoughts
It often feels as new pet parents that the things that seem most appealing to a dog, and especially a puppy, are the most dangerous things for them. You're probably having to hide strings, ribbons, rubber rings, toys of children, tights, or anything else in the house that can be swallowed by your little one.
Just remember, there's almost always a solution for unwanted behaviours from your dog(s). This is within reason of course, as any sane pet parent wouldn't expect their dog to stop chewing, it's in their blood.
Since we can't directly communicate with our loved ones, it can often just take patience and experimentation to find what works best for our unique and special little ones.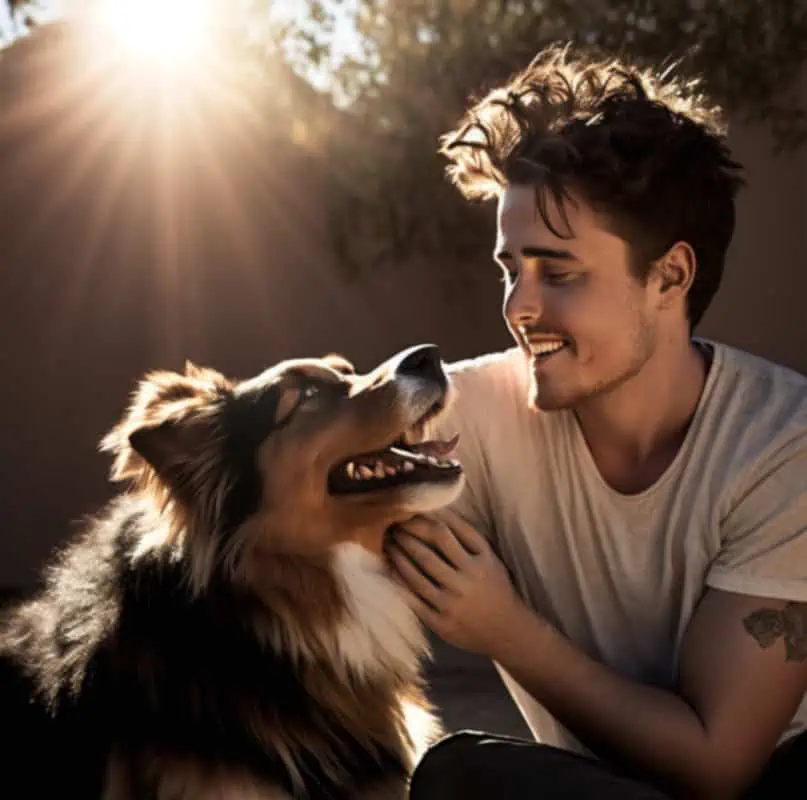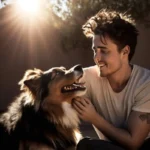 Family Dog Expert Author
Hi there! I'm Stuart, a devoted dog lover and family dog expert with over a decade of experience working with our furry companions. My passion for dogs drives me to share my knowledge and expertise, helping families build strong, loving bonds with their four-legged friends. When I'm not writing for SirDoggie, you'll find me hiking, playing with my beautiful dog, or studying music.