Is It Safe to Take Dogs Camping?
Your pup is a beloved part of the family who enjoys spending time in the great outdoors. As a result, it just makes sense to bring your furry companion out on your family camping adventure, too!
However, is it safe to take your dog with you while camping?
Well, it depends. If your pup remains under consistent supervision and has proper canine outdoor safety gear, it should be perfectly safe to take them with you during a camping trip. The other factors that matter when making this decision are the dog's breed, the dog's size, and whether there will be compatible weather conditions while outdoors.
The fact that dogs can adapt easily to new sleeping conditions also favors you taking your dogs with you during a camping trip, but you'll need to go over a few things before 100% deciding on how safe bringing your pup on such a trip may be.
The Joy of Camping with Your Canine Buddy
Any dog would like the opportunity to run free in nature as well as poke its head out of the vehicle's window on the way to the campsite. The pleasure of camping with a dog has got to be one of the most enjoyable activities you can have with your four-legged companion.
The experience of traveling and camping with your dog helps you to connect with nature and also to each other. It provides your dog with the opportunity to explore new surroundings, and ones with sights or sounds it may not be familiar with. If you feel that your dog grins when you simply take them out for a walk, just wait until you see his or her reaction when you take them out hiking!
On the other hand, dog owners must be prepared for such trips aside from simply being excited alongside their pups. As is the case with any pet trip, there are precautions to be taken as well as laws to follow at times. Pet owners should ensure that they make their camps courteous and pet-friendly while also understanding and respecting each animals' limitations.
Some Precautions While Camping with Dogs
Dogs love romping around in the great outdoors, and your dog buddy would most likely be utterly delighted if you invited him or her along on your next camping adventure. However, before you pack your bags and head out onto the trails, be sure that you and your dog are prepared for anything.
Know Your Dog's Camping Capabilities/Personality 
Make a clear analysis of your dog's personality, and make travel arrangements appropriately. If your dog is fearless and adventurous in new environments, you will plan a much different vacation than if you have a cautious dog that needs some encouragement to explore new things and places. If you're not sure how your dog will react to camping, consider bringing him or her on a few day outings and picnics before committing to a longer camping vacation.
Look for Dog-Friendly Campgrounds
There's nothing more annoying than traveling with your four-legged companion only to arrive at the destination and discover a "No Dogs Allowed" sign on the property. When planning a camping vacation, make sure to phone ahead or do some internet research to identify dog-friendly campsites and hiking trails before you leave home.
Visit Your Veterinarian
Ask your veterinarian to give a complete medical assessment of your dog before you proceed on a tough hiking or camping journey. The veterinarian will examine your dog and verify that they are doing well, along with ensuring he or she has any necessary vaccines and/or preventative drugs that may be essential before being outdoors for an extended period of time.
Pack the Necessities for Your Dog
Do not forget the essentials required for your pup's health and comfort, including items such as food, water, bowls, sealed containers, and trash/poop bags. It's preferable to carry dry food over canned food in these situations, if possible. All of your pet's food and treats should be stored in waterproof and airtight containers to avoid attracting wild animals. 
Pet First Aid Materials Should Be in Your Bag
Dogs should be treated with a parasite preventative at all times of the year, but it is especially preferable to give parasite preventive medications before taking your dog out to camp or hike. There are numerous parasites (including fleas, ticks, and mosquitoes that may transmit heartworm) and many parasite preventive solutions available, so consult with your veterinarian early on to determine the best option for your dog's specific needs and circumstances.
Tags and Microchips 
There are many risks associated with camping with your dog in faraway destinations. The most crucial among them is them getting lost (for any reason). If they become separated from you or run away, they will have no idea where they are, and the only way they will be able to return to you is if someone has located them and searched you out.
Therefore, it is essential that your dog wear some sort of identification—ideally, more than one type of identification. Your dog should always have a collar around its neck with an ID tag that is up-to-date so that if someone finds your dog, they can contact you. Getting your dog microchipped is also a smart idea since it's a simple and cost-effective way to have your dog identified and returned if they go missing at any point.
Training
A dog may become rather excited about a variety of things when camping. Before you leave, practice a few key behaviors with your dog to ensure that he does not immediately run away or act inappropriately. A leash should never be removed from your dog's collar while out in a new environment, and many campgrounds require you to keep your dog on a leash of a specific length at all times. Preparing your dog for a camping vacation should include getting him used to relaxing in a portable kennel or play area so you have the means to keep him both near and fully safe when you are busy setting up your camp, cooking, or doing other camping-related activities.
Prepare Your Dog for Outdoor Sleeping
Although we humans may be eager to get the tent set up and settle in for a good night's sleep, your dog may not be so excited about rest when in such a new place with so much going on. It's a good idea to get them used to sleeping in a tent before taking them out camping with you. Usually, dogs are quite adaptable when it comes to sleeping in new or different areas. To be on the safe side, though, allow your pet to spend some time in your sleeping tent before actually going camping.
FAQs
Are all camping sites dog-friendly?
No. All campsites are not dog-friendly. Before you go to any campsite, you should always check their rules and regulations regarding pets and any other concerns.
What do you do to keep your dog entertained when you're camping?
You can use some dog-safe gadgets or play games with your canine companion to keep them entertained while camping. A slow feeder or treat-rewarding toy is also a great option to keep them happy and occupied.
See Also:
How to Protect Your Air Mattress from Dog Damage
Do Dogs Get Sore Muscles After Exercise?
4 Best Dog Harness for Camping
12 Ways to Keep Dogs Warm While Camping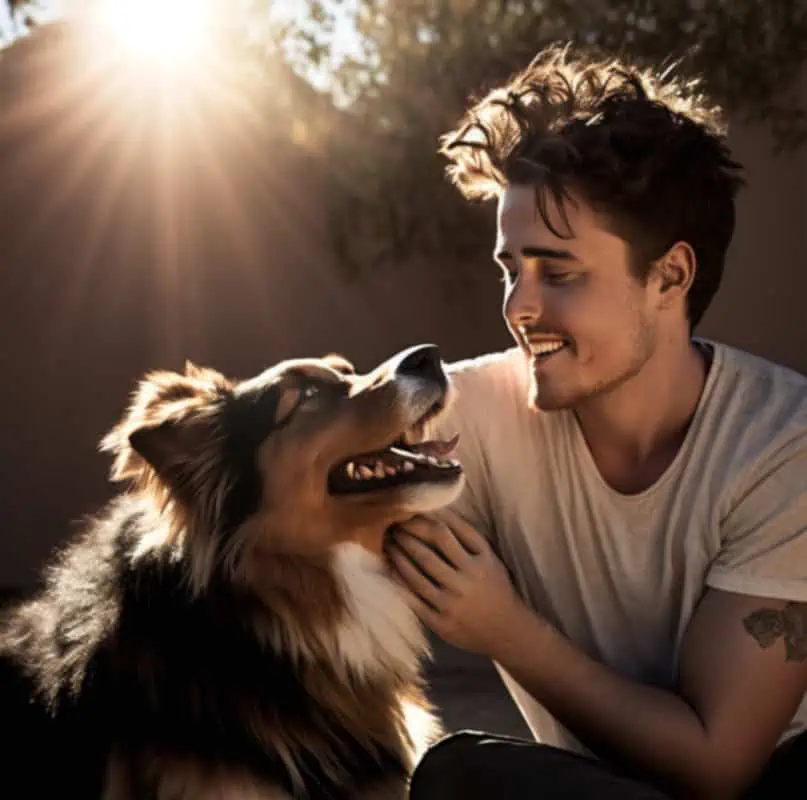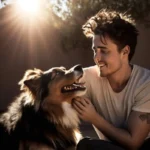 Family Dog Expert Author
Hi there! I'm Stuart, a devoted dog lover and family dog expert with over a decade of experience working with our furry companions. My passion for dogs drives me to share my knowledge and expertise, helping families build strong, loving bonds with their four-legged friends. When I'm not writing for SirDoggie, you'll find me hiking, playing with my beautiful dog, or studying music.