How to Make a Dog Ramp for a Pontoon Boat
Pontoon boating with your dog is an amazing experience that every pet parent should try if they have the opportunity. Maybe that's why so many pet parents love to bring their doggie along for their journeys on the "high seas".
Of course, getting your dog onto a boat safely isn't always easy, especially if it's a pontoon. You'll need a ramp. 
How do you make a dog ramp for a pontoon boat?
Use an old kid's slide treated with rubber matting
Use a rubber drainage mat with bungee cords
Or just outfit an old ladder with some plywood
Buy a prefabricated ramp
It all depends on how crafty you want to be about it. 
The key thing you want to remember while making your dog ramp for a pontoon boat is to give your dog a stable surface that easily connects to the boat. Thankfully, getting this to happen is far easier than most pet parents would believe. 
And while I discuss some DIY options in this post, I also review some dog ramps and ladders available for purchase at the end in case you want to save some time or find that more convenient.
How Do You Make A Dog Ramp For A Pontoon Boat?
This is one of those situations where many different options can yield good results. It's all about what you have at your disposal. That being said, there's a small checklist of things that you should always do and consider before you start packing supplies. 
Measure the distance to your boat. If you're looking to make a ramp for a specific part of the shore you usually dock at, it's a good idea to get a measurement. If you're unsure, a ramp that's at least three to five feet will be a good starting point. 
Figure out where you'll store the ramp. Not all pontoons are big enough to hold a large ramp. Having your storage method put together is a smart choice. 
Know your dog's size. A small dog won't have an issue with an old kid's slide. A very large one might. Choose your method wisely. 
Figure out how involved you want to be in the ramp creation. New ramps can be bought relatively cheaply. But, if you have some basic tool knowledge, you'll be alright with using some scraps around the yard to make your ramp.
Decide on your method. You can't really make a dog ramp without knowing what you want to do. If you're still on the fence, this article will give you a little more advice.
Once you have a good idea of what you need out of your dog ramp you can start making it yourself. 
The Old Kid's Slide Method – Dog Ramp DIY
If you have a treehouse that has fallen into disrepair, you might be able to get a good ramp out of your old kid's slide. Doing this will require some heavy cutting, sanding, and a lot of glue. However, it's relatively easy to do. 
Grab a plastic slide that is small enough to work with your dog's size. A cheap, plastic three-foot slide will do the trick. If the slide is a bit too thick, you can just cut the thickness in half and sand it down. 
Get some rubber matting from your local hardware store. Durable and grippy matting is ideal. 
Cut the rubber matting to fit the interior of the slide. You want the matting to fit snugly inside the slide. 
Glue the matting to the slide. Cement glue or rubber glue is ideal. 
If you need to add hooks, drill holes into the top of the slide and use metal hooks for your material. Metal will keep the ramp in place while your dog gets on and off the boat, while plastic will keep the ramp afloat. 
How Heavy Is a Dog Ramp Made From A Kid's Slide?
Though it might seem hefty when you first look at it, most boaters find these ramps to be incredibly lightweight. The bigger issue with these ramps is storage, but even then, they can be remarkably compact. 
The Drainage Mat With Bungee Cord Method – Dog Ramp DIY
Not all pontoon ramps are made to be solid planks. A drainage mat has holes that are small enough for dogs to use as a climbing aid but also floppy enough to comfortably hang off the side of a pontoon without much issue. 
A drainage mat works well if you are looking for a ramp that'll let your dog swim near the boat with ease. To make a drainage mat into a pontoon ramp, you'll need to do this:
Attach bungee cords to the top of the drainage mat. You will tie the other end of the bungee cords to your pontoon. 
If you want a little more buoyancy, tie pool noodles to the mat using zip ties. The noodles naturally float, which will give your doggie a better way to get a grip and climb onto the boat.
The Old Ladder Method – Dog Ramp DIY
A lot of pontoon owners have a place they enjoy docking or just prefer to have their dogs use a regular ramp. Old ladders are phenomenal as a base for pontoon ramps. Sometimes, they're even used to create ramps for people, too. 
Old ladders provide a level of sturdiness and balance that most other ramps can't. That's why they're a classic pick among boaters who bring their dogs along for the ride. If you want to use an old ladder, here's how you can make the most of your work:
Start by grabbing a stable metal ladder and a sheet of plywood. Plywood and an old pool ladder are the best options. Pool ladders work particularly well because they can be hung off the side of your boat and also branch out on your docking area for extra stability.
Cut the pool ladder down to size using proper machinery if you need to. You might need to sand down the end of the ladder, but in most cases, cutting your pool ladder won't be necessary. 
Cut your plywood down and install it between the ladder steps. You can secure it using glue, foam adhesive, or by actually drilling it into place. How you do it is up to you. 
Add a cut pool noodle to the pool ladder's top and bottom, near the top and bottom ladder rungs. You can tie the noodle to the rungs using zip ties. This acts as a bumper and adds a little float to your ladder. 
Near the end of the post, I also review some dog ramps that can be purchased and there's a dog ladder built specifically for pontoon boats included.
How Heavy Are Ramps Made From An Old Pool Ladder?
In terms of bulkiness, these ramps are definitely the bigger ones that boaters can choose. They are heavier than the other options on this list, but even so, they aren't overly cumbersome. In most cases, they fit comfortably on the side of the boat when they're not in use. 
The longer the ramp, the more likely it is that you'll find a ladder ramp to be convenient in terms of storage and preparation time. If you want to store them on your pontoon's railings, adding some hooks to the side of your boat will make it easy to do. What can we say? It's a classic for a reason. 
Dog Training Tips for Using a Ramp
Don't expect your dog to obediently use a ramp as soon as you set it up on your pontoon boat. Some dogs are a bit nervous or skeptical when approaching a ramp for the first time, so it's a good idea to get them used to it beforehand. Here are some tips for warming your doggie up to a ramp for your pontoon boat:
Start with the ramp on flat ground in a familiar area like your backyard or dog park
Have treats on hand and use them to reward behaviour like the first time their paw touches the ramp
Place treats on the ramp to incentivize your dog to progress further onto the ramp
If your dog jumps off the ramp at any time, move them back to the beginning to start over
Consider having your dog on its leash during this process as you walk beside them
Practice patience and don't expect this to be a quick and easy process
Once your dog gains a bit of confidence, practice consistently. This is a good time to block off alternative routes of the ramp and call them to come to you
Repeat this process with the ramp attached to your pontoon boat. It may be worthwhile having a few sessions of this to really cement the behaviour
Buying A Prefabricated Ramp For a Pontoon Boat
If you're looking for a quick and easy solution for your dog's boat entry, the best way to do it is to buy a premade ramp. Premade ramps might cost more than a DIY approach, but they look better, are convenient, and can work just as well (if not better). Here are a few options that may work for you and your doggie:
Related Reading: Best Above Ground Pool Dog Ramp [REVIEWED]
PetSafe Happy Ride Extra Long Telescoping Dog Ramp
We earn a commission if you make a purchase, at no additional cost to you.
This is probably the best all-around dog ramp to use in various settings. The PetSafe dog ramp is extra-long and can extend to just over 7 ft. It's almost 2 ft. wide so it will accommodate most dogs (well, that depends on their overall balance and coordination).
Some of the links in this post are affiliate, and we may earn a commission.
It's made out of aluminum materials which is great for constant contact with a pontoon boat. It can also support up to 300 lbs., but I would recommend keeping this ramp for dog use only.
Surprisingly, this ramp still weighs just under 20 lbs., which makes storage and travel easy (it actually slides up into what looks like a suitcase).
It also has a high-traction surface to prevent slipping, and if your doggie likes to be in and out of the water, this is a great addition as they'll be bringing water onto the ramp.
Cons: Some of the downsides to this ramp, according to other pet parents, is that it wears out kind of quickly. This is likely
So if you're looking for an easy-to-use and fairly inexpensive ramp that will likely get the job done for your doggie getting onto and off of a pontoon boat then consider this ramp.
Pet Gear Travel Lite Ramp with supertraX Surface
We earn a commission if you make a purchase, at no additional cost to you.
This is an excellent ramp for pet parents worried about their dogs slipping when boarding or leaving their pontoon boat. I know the picture shows a dog ramp for SUVs, but a dog is far more likely to be wet when using it for pontoon boat access.
The mat surface on this mat acts to protect your doggie's paws and can be removed easily for cleaning (although, if you boating, you could probably get away with dunking it to minimize more intense future cleaning).
The mat is also pressure activated and will sink in a bit when your doggie takes each step. This will allow your dog to grip the ramp and increase their confidence when using it. If you do get one for your pontoon boat, I would recommend going with the largest size: 71″ L x 19.5″ W.
Con: As you can see in the picture, the surface does not extend completely to the edges. Some pet parents have found that their dog will sometimes catch these edges and slip, which is an even bigger issue when using it with boating.
This dog ramp works well with pontoon boats. It can allow dogs to board from the shore or the dock, although to the shore will likely be a bit steeper.
What I like about it is the convenience. Since it folds in half, it can be stored easily on a pontoon boat and will only take a few seconds each time your dog is boarding or getting off.
WaterDog Adventure Gear Dog Ladder for Pontoon Boat
We earn a commission if you make a purchase, at no additional cost to you.
Here's a dog ramp (well, ladder) that is specifically designed for dogs boarding pontoon boats. As you can see in the picture, it's ideal for dogs that are active and comfortable enough to already be swimming. So if your doggie likes to jump off the dock and swim aboard, this may work for you.
It's designed to mount the deck of a pontoon boat and uses flush-mount threaded inserts and male knobs (provided). It's made with non-corrosive materials, so you won't have to worry that your investment will be short-lived.
Con: This ladder is expensive, coming close to $500. It's definitely a luxury and not suitable for all doggies.
Here's some product information from the manufacturer:
The unit attaches to the deck using male knobs that are threaded into flush-mount inserts installed in the deck (included). It weighs 21 pounds and uses a 10-step design which provides for 36″ of vertical rise from the bottom step to the top step shipped partially assembled.
How Much Does A Prefabricated Dog Ramp Cost?
Depending on the model and the size of the ramp, it can cost anywhere from $30 to $500. Some might be slightly more expensive, but they're usually pretty high-tech like an automatic ladder system that attaches to the boat.
The last pontoon boat ladder I review is on the more expensive side. Like with all dog products, more expensive does not always mean better, it often means increased luxury and/or convenience.
Final Thoughts
There you have it. With a bit of creativity and time, it's fairly easy to figure out a way to make boarding the pontoon easier for your dog. You'll also be reducing some unnecessary wear and tear on your dog's joints over time, especially if they're boating often.
I hope this saves you time in the long run that can be better spent with the wind blowing through you and your doggie's hair.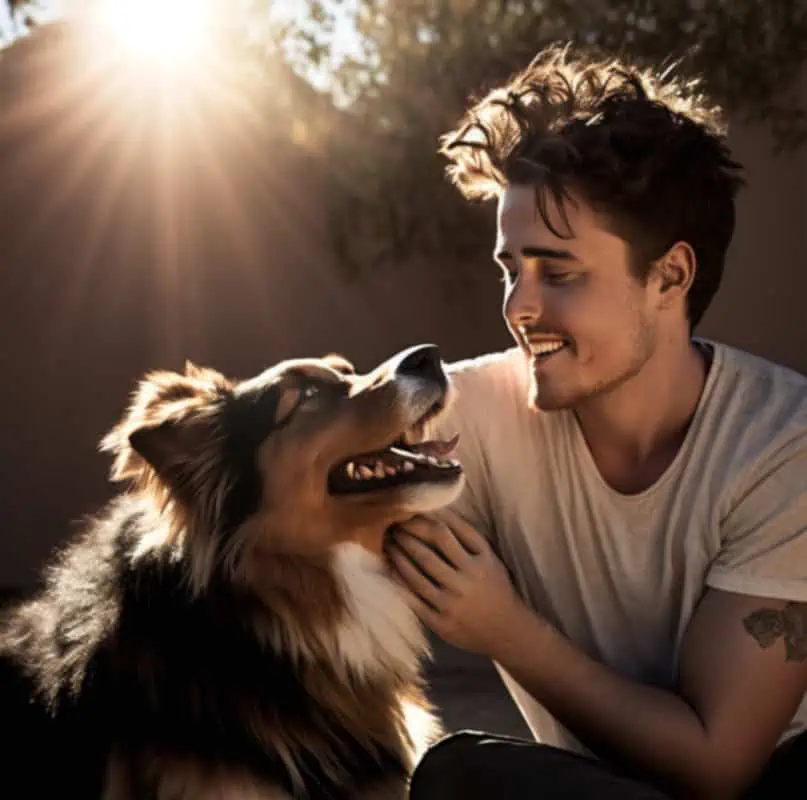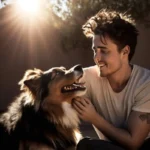 Family Dog Expert Author
Hi there! I'm Stuart, a devoted dog lover and family dog expert with over a decade of experience working with our furry companions. My passion for dogs drives me to share my knowledge and expertise, helping families build strong, loving bonds with their four-legged friends. When I'm not writing for SirDoggie, you'll find me hiking, playing with my beautiful dog, or studying music.