Have you ever been to a restaurant where the chairs and tables just don't quite line up, causing you to be uncomfortable throughout your entire dining experience? Perhaps the table is too low down, or too high up. Either way, it's annoying and frustrating (welcome to the reality of being a dog!).
No pet knows the struggles of food bowls like flat-faced dogs. Pet parents unaware bring home a new generic bowl and place it in front of their Frenchie only to see them spilling food all over and breathing heavily.
Food bowls for French Bulldogs are either too deep, too short, and not high enough. Frenchies are known for tipping over their bowls when they're almost done just to get those last few kibbles.
Our top 5 recommended food bowls for French Bulldogs:
Super Design Mess Free 15 Degree Slanted Bowl
Ourpets Company Tilt-A-Bowl
iBard Dual Purpose Slanted Bowl
YMAXGO Dog Feeding Bowl
Enhanced Pet Food Bowl
The best food bowls for French Bulldogs help to improve their posture while eating, make their food easier to access, make their stance and position more comfortable and alleviate any strain on their necks and backs.
Top Pick At A Glance
SUPER DESIGN Mess Free
Slanted Dog Bowl – Ergonomic 15 Degree Tilted design makes the food concentrate on the bottom and makes your pet easy to empty the food, as well as reduces the risk of "bloat" and indigestion
As an Amazon associate we earn from qualifying purchases, thanks for supporting our work!
As a Frenchie parent, there are things you can do to help your dog live a more convenient life such as providing the best food bowls for them to take the struggle out of mealtimes.
This post has 5 recommended dog food bowls for French Bulldogs. Finding the right food bowl for your Frenchie can make a world of difference for your loved one.
But remember, you know your doggie best, so consider these products carefully with your dog in mind (or on your lap!).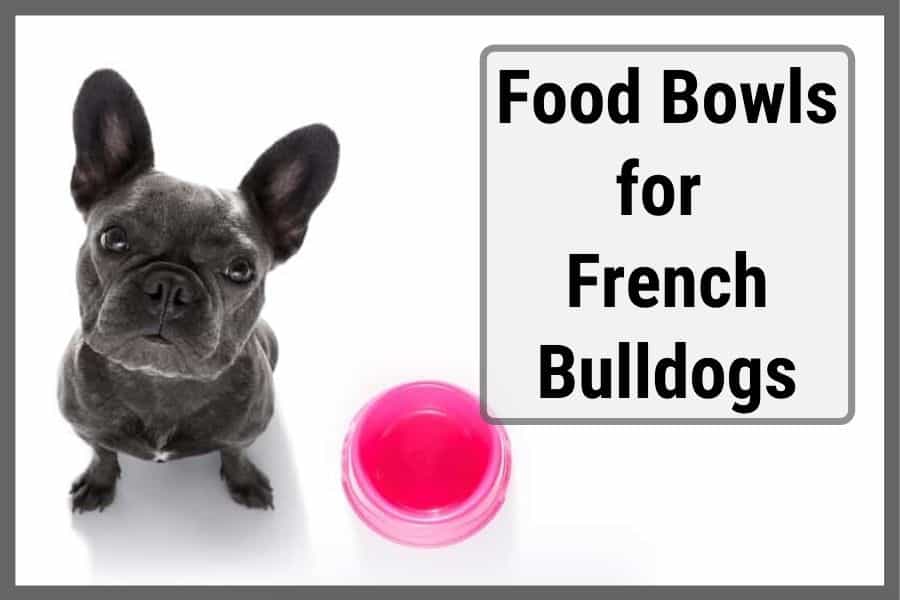 Top Recommended Food Bowls for French Bulldogs
Alright, let's take a closer look at the best food bowls for French Bulldogs. Not every bowl is going to work for your individual French Bulldog, but we hope this list helps you get closer to picking the perfect one for both you and your Frenchie.
1. Super Design Mess Free 15 Degree Slanted Bowl for Dogs
The Super Design Mess Free Slanted Bowl will keep both you and your French Bulldog happy. This bowl is affordable and comes in a collection of colours to fit your dog's personality.
The bowl is made of high-quality materials and goes through five final tests before hitting the market. This bowl is slanted 15 degrees to release pressure from your French Bulldog's neck.
Super Design
Non-Spill Dog Bowl – Dogs tend to stack food to the edge, higher round arc design makes food not easy to overflow the edge
Stable and Non-slip – Hard to turn over, heavy-duty stand with non-slip feet
Easy to Clean – Both Melamine Stand and Stainless Steel Bowl are Dishwasher Safe, super easy to clean and wipe
Dimensions – For medium and large dogs between 19. 8-39. 6 lbs, hold around 3 Cup particle Food; SS bowl: diameter – 6. 75″, depth – 3. 5″, melamine base: diameter – 7. 5″, highest height – 5. 5″
The bowl is built with non-slip feet so that the bowl remains steady even with a messy eater. The melamine stand and stainless steel bowl are super easy to clean, making your life a little bit easier.
You can even put them in the dishwasher if you're in a rush.
---
2. Ourpets Company Tilt-A-Bowl Stainless Steel
The Ourpets Company Tilt-A-Bowl is made with a sloping style that makes eating a breeze for your French Bulldog. This bowl is made of stainless steel for easy cleaning and has a rubber bonded ring on the bottom to keep the bowl in place and prevent messes.
The bowl is on the small side, which means you'll need to feed your French Bulldog small amounts at a time.
The affordable bowl will become a staple in your feeding routine, if not the primary bowl for your French Bulldog. It's a great way to cautiously test out if a slanted bowl will work better for your Frenchie. 
You can also keep one or two of these as back ups or for road trips. Having back ups of food bowls comes in handy in case one breaks or gets stain/rust.
It'll be a lot nicer for your Frenchie to have to use this bowl instead of one of your cereal or soup bowls!
---
3. iBard Dual Purpose Slanted Dog Food Bowl 
The iBard Dual Purpose Bowl is ideal for flat-faced dogs like the French Bulldog. This bowl is divided into two parts, the bowl, and the base. What makes this bowl unique is the 360-degree free-tilt design.
You can observe your French Bulldog's eating style and adjust the tilt to fit their custom needs. This makes it ideal for use from your Bulldog's puppy months to adult years.
iBard
Divided into two parts. Food bowl and the bottom base
Quality 360 degree free tilt design, uniquely designed in a way for allowing the pet owner to ADJUST the bowl position freely for best feeding posture
Special raised bowl that prevents food and drinks from spilling by the Food falling towards the center
Best way to easily feed your pets comfortably and hygienically
Made with 100% quality food grade BPA-free PP material, safety, resistant and easy to clean
The bowl is made from 100% resin for hygienic feedings and easy cleaning. You can put it in the dishwasher, as well.
The bowl may move slightly while your French Bulldog eats, but not enough to knock the food over. Keep in mind that this bowl comes in light pink!
---
4. YMAXGO Dog Feeding Bowl
The Ymaxgo Pet Food Bowl is made of high-quality ceramic and is another solid option for making mealtimes more comfortable for your French Bulldog.
YMAXGO
Anti-spill design for Dry Kibble or Wet Food Treat, less gas, makes it easier for dog to eat. Especially suitable for flat face & short nose breeds
The dining table is made of environmentally friendly plastic, and the bowl is made of ceramic bowl
The table and the bowl are equipped with anti-slip mats to prevent the table and food bowl from being moved when the dog is eating
This bowl is made with an arc design which provides a slight tilt, making it ideal for all fat-faced breeds. The bowl comes in black or white to suit your aesthetic preferences.
This bowl will help your French Bulldog eat slower and improve their overall digestion. They will be more relaxed as they will not need to strain to reach their food. The bowl is sturdy and will stay put while your dog is eating. It even comes with a French Bulldog shaped mat!
---
5. Enhanced Pet Bowl – Stainless Steel
The Enhanced Pet Products Pet Bowl is another good option for your French Bulldog. This bowl is made of high-quality stainless steel, so it's easy to clean.
The bowl is specifically designed for fat-faced breeds. The bowl is quite big but allows your French Bulldog to eat comfortably without making a big mess.
Enhanced Pet Bowl
The Enhanced Pet Bowl is Designed for Flat Faced Breeds. Made Over Size, It Looks Huge but it Delivers Great Results!
The Ridge in the Bowl Acts Like a Tool For Your Pet and Leads to Less Mess, Gas and Better Digestion!
RECOMMENDED BREEDS: French Bulldogs, Pugs, Boston Terrier and Similar Breeds. Do not see your breed listed here? Please check the large and small bowl recommendations before ordering.
The bowl is designed with a ridge that your French Bulldog will use as a tool to bring the food to their mouth more easily. You can choose one of three sizes of the bowl. If you're not sure which size to choose, Enhanced Pet Products customer service can help you figure it out.
---
Do French Bulldogs really need special bowls?
The reason it's important to find the best food bowls for french bulldogs is that they're not built to work with the standard bowls on the market. French bulldogs are built very close to the ground with thick necks.
It's difficult for them to fully extend their head while eating. It is more comfortable for french bulldogs to hover over their food, as they would in the wild. That way, they don't strain their necks and if they need to adjust their position over the food, they simply move forward or backward.
Using a bowl that is specifically made to help dogs built like french bulldogs will encourage your dog to build better eating habits like ingesting food more slowly and chewing more.
The benefits of using a special dog bowl for your french bulldog include:
Improved posture while eating.
Easier access to their food.
More comfortable stance while eating.
Less strain on their neck.
What to Look for in a Food Bowl for French Bulldogs
So, when you start to search for the right bowl for your French Bulldog, there are a few specific characteristics to keep a lookout for:
Elevation: 
Bowls that are specifically designed for french bulldogs are often created with an elevated bottom. This means that your dog will not need to strain their neck to reach the food at the bottom of the bowl, which can also help with French Bulldog drooling.
Arc Design: 
In addition to elevation, many bowls are made with an arc. One side comes up all the way to the top of the bowl so the food is right at the tip of your dog's reach.
Circular Shape: 
Yes most bowls are circular, but making sure that you get a truly round bowl will help your french bulldog have an easier time of eating. French Bulldogs have round heads and they will fit more comfortably into a circular bowl.
Deep Bowl: 
The purpose of choosing a deeper bowl is to minimize the mess while your French Bulldogs eat. They are notoriously messy eaters, so this will make your life easier for cleanup time.
Now that you know more about specialized food bowls for french bulldogs you'll be that much closer to finding the perfect fit for your Frenchie.
Final Thoughts
French Bulldogs have all sorts of their own unique needs. For example, they love being outdoors but don't coat have the capacity to stay warm when it's cold so they really benefit from a coat made for dogs.
One of the main difficulties for French Bulldogs, however, is finding food bowls that make mealtime relaxing and easy. Rather than allowing your dog to struggle with standard food bowls, invest in one that is designed for their cute, flat face.
Eating from a tilted bowl can help your French Bulldog's digestion and mood so they can get back to spending quality time with you.