Can I Use Dove Soap On My Dog?
Does your dog need a bath, but you ran out of dog shampoo? Read this before you grab a bar of Dove Soap.
As any dog lover can attest, our canines love to get dirty. While getting outside and running around is much needed for every dog, getting them their daily exercise and playtime, the dirt they carry in on their fur and bodies is often a chore to deal with.
Leaving them as is after some rough play in the yard or park can result in a smelly and dirt-tracking pooch.
Try as we might, such as wiping their paws when they come in from outside, dogs usually require a deeper cleaning with a bath every few weeks. 
If we do not do this, it could cause contamination and illness in the household as dogs often drag in bacteria such as salmonella and listeria, both of which can infect humans as well.
Some of the links in this post are affiliate, and we may earn a commission.
Related Reading: Is It Safe to Use Head and Shoulders On Your Dog?
What Will Happen if I Use Dove Soap On My Dog?
Since dogs have a higher p.H. balance than humans, using Dove soap could harm your dog in the following ways: 
Removes essential oils
Causes itching
Could be harmful if ingested
Could be too moisturizing and difficult if not impossible to remove
Strips oils from fur causing dry skin
Possible allergic reaction
So, It's OK for Puppies But Not Adult Dogs?
Newborns believe it or not, also have a lower p.H. balance than dogs.
What if I do not have any dog shampoo around?
Well, you are in luck because there are several options for washing your dog that require simple household products most of us keep on hand.  Here are the best ones.
Wondering if a Gentle Soap like Dove is OK to Use?
Dove soap, especially Dove for sensitive skin, may seem gentle enough to use on your pup.  After all, the Dove website states, "Made with nourishing, gentle formulas that contain no dyes, parabens, phthalates or sulfates, so you can count on Dove Sensitive Moisture to be safe for your newborn first bath" (link)
Surely if it is safe for a newborn it must be safe for rugged old' Rufus, right?  Not necessarily…
Because Ingredients Matter
To determine whether a household product is ok to use on your pet, you must look at the ingredients and if you cannot find them, then err on the side of caution.  With Dove Sensitive Skin soap, the website lists the following ingredients: S.
Sodium Lauryl Isethionate
Stearic Acid
Sodium Tallowate 
Or Sodium Palmitate
Lauric Acid
Sodium Isethionate
Water
Sodium Stearate
Cocamidopropyl Betaine
Sodium Cocoate 
Or Sodium Palm Kernelate
Fragrance
Sodium Chloride
Tetrasodium Edta
Tetrasodium Etidronate
Titanium Dioxide (Ci 77891)
What Are All These Ingredients?
Did you recognize all those ingredients? No? That is understandable.
There are 16 ingredients in Dove Sensitive Skin soap. And most of them are foreign. Ingredients you have never heard of or cannot pronounce are usually a bad sign in an ingredient list.
And while many or all of them may be fine for most humans, they might not be fine for a dog. Let us compare this with a natural goat milk soap to see the difference:
Raw Goat Milk
Extra Virgin Olive Oil
See the difference?  The natural soap has two ingredients, and both are simple items you know very well. The comparison made here is not to suggest you should go out to buy goat's milk soap to bathe your dog, but rather to show how even a gentle and mild soap can contain some not-so-gentle ingredients.
So, can you use Dove soap to wash your dog? In a word, no.  There is one very simple reason for this: Dove and other soaps are created for humans who have a lower p.H. balance than dogs.
What is p.H. Balance?
P.H. balance also referred to as acid-base balance, is a measure of the levels of acids and bases in the blood and the level at which your body operates best.  On a scale from 0-14, a normal PH balance for a human is 5.5 but for dogs, a normal p.H. balance is around 7.5 and could be as high as 9.5.
What does p.H. balance have to do with bathing my dog?
Dogs, because they have a higher p.H. balance than humans, have more alkaline in their blood.
When you use a household soap like Dove, which is formulated for humans and their lower p.H. levels, it could be harmful because dogs have less acid in their blood and more alkaline, so adding a formulation with a high amount of alkaline throws their p.H. out of balance and results in a dog with very sensitive skin.
Bath Time For Dogs
Some dogs love their bath time while others will need you to chase them all around the house before they succumb. Either way, a sudsy bath is usually the fastest and easiest way to get Fido clean and smelling great.
Lining up all your essentials is best done before Fido is wet and slippery from the water, so get your shampoo, towels, toothbrush, and dog brush out before you start.
If you find yourself without dog shampoo when your dog needs a bath, you may wonder if some common household soaps will do in a pinch. 
Common Household Products You Can Bathe Your Dog With
Brushing. Often, all that is needed to remove dirt from your dog after a routine dog walk or some time outside is a good dog brush. Take a few minutes to brush your dog's fur or hair and be sure to rinse out the brush when you are done. No water is needed!
Oatmeal
Yes! Oatmeal! Just prepare it as you would for yourself, except let it cool before using it. Once at room temperature, rub it into your pet's fur and then rinse it out. Be sure to really rinse until all the oatmeal is gone or your dog could be itchy later.
Dish Soap
Dish soap, but not just any dish soap, can be used to bathe your dog. Dawn dish soap is used by wildlife experts to clean oil off fowl who have been affected by oil spills, so it is very gentle, but you still cannot use it without diluting it. Use 2 cups of water, ¼ cup dawn, and ½ cup white vinegar for a great dog shampoo substitute.
Baking Soda
Is there anything baking soda cannot do? Add dog shampoo to its list of uses. Simply sprinkle it all over your pooch and brush it out. No water is necessary.
Corn Starch
Corn starch acts similarly to baking soda, and after you rub it in, just brush it out for a cleaner-smelling pooch.
Baby Wipes
Baby wipes are typically fine for a quick wipe in a pinch. Use gentle formulations.
Final Thoughts
Dove soap is a gentle and popular soap and can be found in homes across the nation, but it is not a good choice for bathing your dog. The reason for this is a simple one but requires a little information about p.H. balance and how it affects humans and dogs.
Humans have a lower p.H. level than dogs, which means that a dog's blood is more alkaline than a human's.  Using a product like Dove, which is formulated for humans with higher p.H. levels, could result in harmful effects on your pet.  These include irritation, itchiness, stripping of essential oils from skin and fur, and possible ingestion which could cause further effects.
But that does not mean you have to run out of the house to try and find a pet store that is open when you need dog shampoo. Instead, in a pinch, there are options.
Check your cabinets for some routine products most people have on hand, and which are not dangerous. These include Dawn dish soap, Baking Soda, Corn Starch, baby wipes, or even a good brushing without the need for water.
Using these to bathe your dog will not only result in a fresh-smelling and clean pooch but also a healthy one.
We, humans, love our dogs to the moon and back. There is almost nothing we will not do to keep them happy and that includes giving them long walks in the park, muddy romps in the yard, and energetic playtime at the dog park.
While they love this outdoor time and the exercise is needed, they will likely be dirty when they come inside and will need a bath. Enjoy this one-on-one time sudsing up and getting your dog clean, but do not take any chances by using Dove soap to bathe him.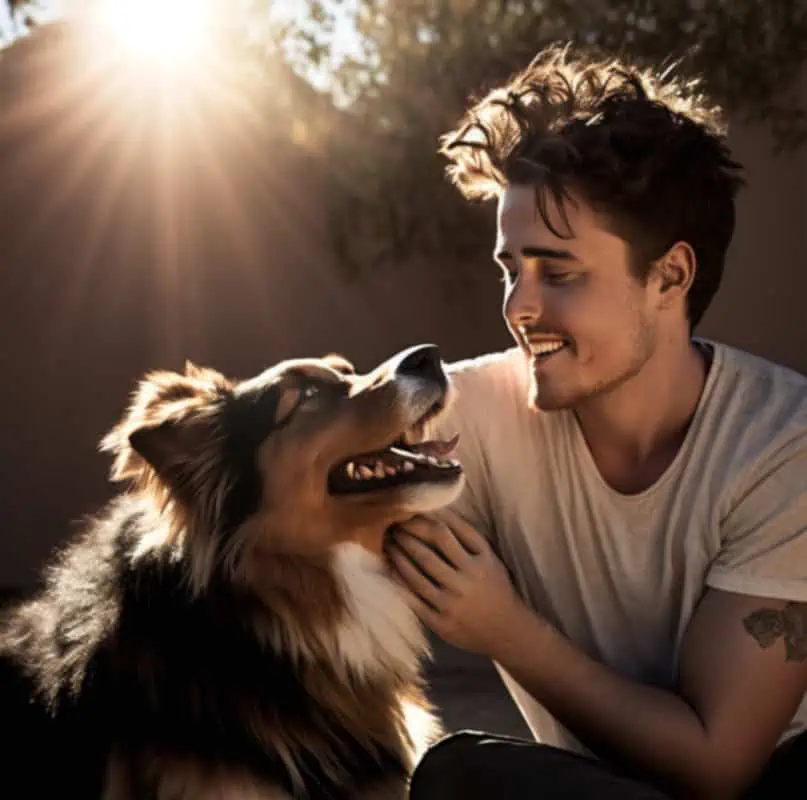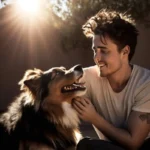 Family Dog Expert Author
Hi there! I'm Stuart, a devoted dog lover and family dog expert with over a decade of experience working with our furry companions. My passion for dogs drives me to share my knowledge and expertise, helping families build strong, loving bonds with their four-legged friends. When I'm not writing for SirDoggie, you'll find me hiking, playing with my beautiful dog, or studying music.