5 Best Tents for Camping With Large Dogs for 2023
If you're an outdoors person, camping is one of the best ways to spend your free time outdoors.  If you love camping and love spending time with your dog, there's no better companion for your outdoor adventures.  Most dogs love the opportunity to spend a few days roughing it in the wilderness.  They get the opportunity to explore, chase squirrels, run free, and zoom around.
Before you grab your dog and hit the great outdoors, you'll need to be prepared so that everyone enjoys themselves.  There's a list of things you'll need to prepare, but one of them is your tent.  Your tent needs to work well for both you and your dog.  If you have a large dog, you'll need to plan carefully.
In order to help you find the best tent for camping with a large dog, we'll discuss the features you want to look for in a tent and review five of the best options on the market.
Quick picks for the best tent for camping with a large dog
Here are our top picks for the best tents.  We'll cover each of them in more detail later in the article.
Best for quick setup: Coleman Cabin Tent with Instant setup
Best for large Family (6 -8 person): Coleman Dome Tent with Screen Room
Best for medium Family (3-4 Person): Kazoo Family Camping Waterproof Pop Up Tent
Best durable Tent: Kazoo Outdoor Camping Tent
Best for you and your dog (2 Person): Mountainsmith Morrison 2 Person Tent
What to look for in a dog-friendly tent
While there aren't any tents on the market designed specifically for dogs, there are a few with dog-friendly features.  Some of the most important features to look for when sharing a tent with your dog are:
Rugged materials – A dog's claws can tear through flimsy materials, so you want to look for a tent made of durable material that stands up to wear and tear.
Vestibules or auxiliary rooms – Screened rooms that attach to your tent can be invaluable when camping with your dog.  Your dog can sleep in the vestibule, but it also gives you a safe place to allow your dog to rest while you are cooking or doing anything that requires your attention to be away from your dog.  The screen allows your dog to see you, so most dogs are happy to rest in their private den.
Larger size than you normally would need – If you are buying a tent to camp with your dog, buy a size larger than you think you need.  The extra space will be well worth it.
Models with two doors are more convenient – Tents with two doors avoid climbing over your dog or your gear to get in and out.
Five best tents for camping with a large dog
4, 6, or 10 person options
Darkroom technology
Weatherproof
Room divider
Less than one minute to set up
It fits 4 queen size air beds in the ten person model
The Cabin tent from Coleman is huge, giving you a ton of room for you and your dog (plus several friends).  While most large cabin tents require a lot of setups, this one comes with preattached poles that allow you to pitch the tent in under one minute.
The door is on hinges, allowing easy entry and exit, and there is a room divider to create separate bedrooms inside.
One unique feature of this tent is its darkroom technology that blocks out sunlight and heats 90% better than standard tents.  This is great if you are camping in the summer heat.
[maxbutton id="1″ url="https://www.amazon.com/Coleman-Cabin-Instant-Camping-Seconds/dp/B07GX54QFL/?tag=dogplayoutdoors01-20″ text="Check Price Now" ]
---
Fully weatherproof with welded corners and inverted seams
Sets up in 15 minutes
10×5 fully screened room for bug-free relaxation
Roomy interior that can fit up to 2 queens sized air beds
6, or 8 person options
This tent is made from polyester taffeta, which makes it rugged enough to stand up to weekend camping trips with your dog. The WeatherTec technology from Coleman keeps you dry and out of the rain.  It's a super easy tent to set up and takes about 15 minutes, according to the manufacturer.
Screened viewing windows maintain airflow through this single-door tent, while the rainfly allows you to keep the screens open in the rain. This tent is a six-person tent and weighs about 21 pounds.
[maxbutton id="1″ url="https://www.amazon.com/Coleman-Screen-Evanston-Camping-Screened/dp/B07CXT5L5P/?tag=dogplayoutdoors01-20″ text="Check Price Now" ]
---
Three person tent
Pop-up design for under one minute set up
Waterproof double lining
Tent porch for maximum ventilation
Sleeping Capacity:3/4 person
This tent stands out for its quality.  The double-layer construction makes it durable enough that your dog can't damage it.  The instant setup means you won't have to spend a bunch of time pitching your tent.
This double-doored tent also has two screened windows and a vestibule.
[maxbutton id="1″ url="https://www.amazon.com/KAZOO-Camping-Waterproof-Automatic-Aluminum/dp/B08QCJM5CW/?tag=dogplayoutdoors01-20″ text="Check Price Now" ]
---
Two doors
Under 3 minute set up
Rip-stop polyester material
Sleeping Capacity:3 person
This tent has the same quality construction as the other Kazoo tent in this review.  This one, however, is made from rip-stop polyester and is rated as a 3 season tent.
It still has two doors and two windows, along with ceiling vents for maximum comfort and ventilation.
[maxbutton id="1″ url="https://www.amazon.com/KAZOO-Outdoor-Durable-Lightweight-Waterproof/dp/B08261X2CC/?tag=dogplayoutdoors01-20″ text="Check Price Now" ]
---
This tent is a fantastic option for those who are not car camping but are backpacking out to camp in the backcountry.  If you're hiking to your campsite, this one is smaller than the other tents on this list but has enough space for you and your dog.
Two doors and two vestibules
Freestanding
Fly ventilation windows
Sleeping Capacity: 2 person
This tent doesn't have a lot of bells and whistles but is designed for portability.  There are some features. However, that lends it to be being dog-friendly.
Two doors allow you and your dog to enter or exit from either side, and the rainfly provides two screened-in vestibules, one by each door, giving your dog his own space to relax.
This two-person tent weighs a little over 4 lbs, making it perfect for carrying while hiking.
[maxbutton id="1″ url="https://www.amazon.com/dp/B00452C2IC/?tag=dogplayoutdoors01-20″ text="Check Price Now" ]
---
What to expect when camping with your dog
Before you head out, it's important to have a good understanding of what to expect when you go camping with your dog.  If you're an experienced camper with lots of camping trips under your belt, it's still a little different when your canine companion tags along.  All dogs react differently on camping trips, but there are a few general principles that apply.
Dogs can be easily overstimulated or overwhelmed by the camping experience
If your dog is used to running around in the backyard or the occasional trip to the dog park, being out in the wilderness is a whole lot different than what they're used to.  The sights smells, and sounds of your dog will cause them to react in a way you don't expect.
Some dogs become clingy to their owners and won't leave your side, while others take off unexpectedly to explore their new surroundings.  If your dog hasn't been camping before, be prepared for their possible reaction.  Usually, they will settle down after the first couple of days and act more like themselves.
It's common for dogs to have digestive upset
More than likely, your dog will sniff the ground, drink water from puddles, and pick up tasty objects off the ground.  While doing this, your dog ingests bacteria and pathogens they aren't used to digesting.  In turn, your dog is likely to experience some digestive upset and poop a lot more than usual.  This is rarely a cause for concern, but do your best to limit the amount of stuff your dog eats on the ground.  Offering water multiple times a day can help as well.
Dogs are unpredictable around unfamiliar wildlife
Your dog has probably come in contact with small wildlife, such as squirrels, throughout his life and reacts in a predictable way.  However, if you're an urban dweller, you likely don't know what your dog's reaction will be to a bear, a skunk, or a deer.  Some dogs run away and hide, while others react defensively and aggressively.
Regardless of the animal, wildlife poses a threat to your dog.  While some, like bears or coyotes, are obviously life-threatening, even mice carry the potential for spreading diseases.  For this reason, it's best to keep your dog leashed while out in the woods unless you're 100% confident in their ability to recall.  If you don't want to restrict your dog's freedom but aren't certain about their recall capabilities, use a long line leash, so they have room to roam, but you can pull them back if necessary.
Feeding your dog looks different
While you are camping, your dog's feeding schedule might look a little different, just like yours does.  Plan ahead for packing your dog's meals.  Abrupt changes in their diet can upset their stomach, so don't share food with them.  It can be wise to pre-package your dog's food in meal-sized portions before you set out.
Final thoughts
Once you've chosen the best tent for camping with your large dog, it's time to hit the road.  Enjoying the wilderness with your canine companion is a fantastic way to spend time together.  Chances are, your dog will be as excited to go camping as you are!
See Also:
Where Can I Bring My Dog Inside If Camping in the Rain?
4 Best Dog Harness for Camping
4 Best Dog Leashes for Camping
Can German Shepherds Survive In The Wild?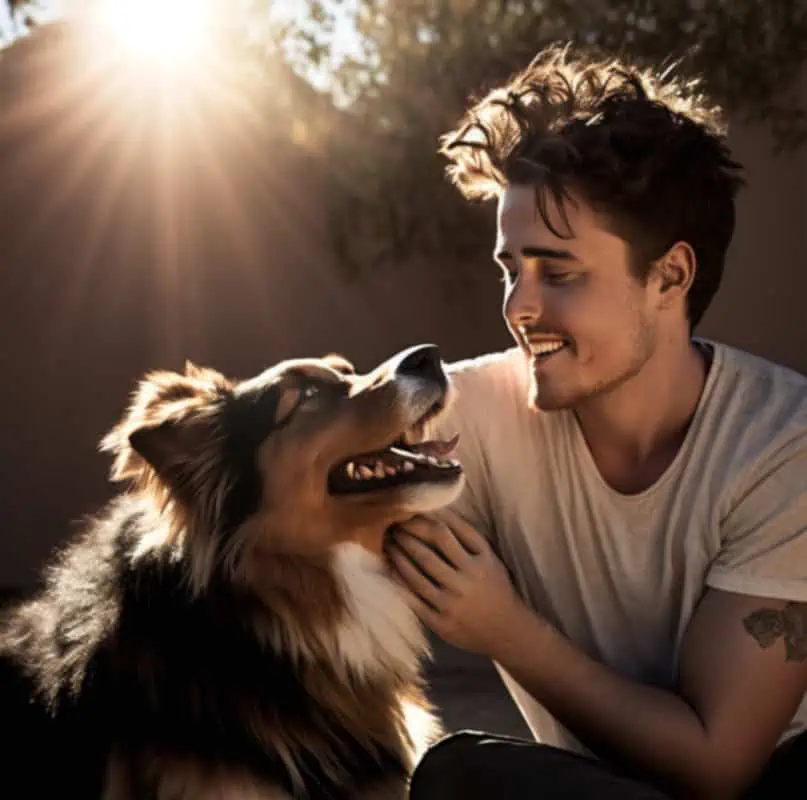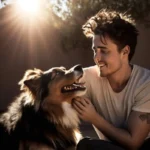 Family Dog Expert Author
Hi there! I'm Stuart, a devoted dog lover and family dog expert with over a decade of experience working with our furry companions. My passion for dogs drives me to share my knowledge and expertise, helping families build strong, loving bonds with their four-legged friends. When I'm not writing for SirDoggie, you'll find me hiking, playing with my beautiful dog, or studying music.