How to Make Stairs Easier for Dogs
How can you make stairs easier for dogs? One of the best ways to make stairs easier for dogs is to use a dog ramp. Adding carpet to stairs can also make them easier for dogs, along with improving the visibility of the stairs for dogs.
It is disturbing to see your dog struggle up the stairs. This can be a worrying problem. 
No pet parent wants to see his dog struggle going up or down the stairs, or worse, fall off.  Does this mean your dog can never master a set of stairs? 
Depending on your dog's health and age, the kind of stairs that need to be navigated, and other variables, not all these solutions will work for you.  we'll explore each of them in more detail so that you can decide which will work best for you.   
Let's get started!
Some of the links in this post are affiliate, and we may earn a commission.
Related Reading: Stairs vs Ramps for Dogs, Which One Is Best?
How a Ramp Can Make Stairs Easier for Dogs
Installing a ramp in your house might signal the end of watching your doggie struggling to go up or down the stairs, especially if you have a short staircase. 
Pet ramps often feature a non-slippery surface that prevents dogs from sliding back down. This helps them climb or go down the stairs easily.
We earn a commission if you make a purchase, at no additional cost to you.
The ramp is easy to install—once you lay it over your stairs, your dog is ready to climb up and down them with no risk of falling off.
If you have wide stairs, you can allow the ramp to remain permanently over that position of the stairs, but if your stairs are not wide enough to keep other space, you should remove the ramp after use. This means you have to monitor your dog and put up the ramp whenever it is required.
"While dog ramps aren't practical for long flights of stairs, they might be useful if you have a couple of steps up to your porch or between rooms."
Source: John Gilpatrick at PetMD
Although there are plenty of dog ramps available, most are designed to be used outdoors, to help a dog climb in and out of trucks and SUVs.  
If you want something that looks less "industrial," we recommend these two products:
Pet Gear Travel Lite Ramp: It is fairly lightweight which lets pet parents travel with it easily. It's also packed with unique features for excellent traction and other functions. 
You can also choose various lengths and widths with this ramp. It has raised edges that help prevent your doggie from slipping or falling off the sides.
What's really great is that it can support up to 200lbs., although it is not recommended that humans use it (just in case you were getting some ideas).
Some pet parents found that this ramp wasn't as sturdy as they would have liked. So a word of caution is that it may be a better fit for smaller dogs. Once you get into the medium and large size it may be a bit too lightweight for your doggie.
Trixie Ramp, 3-Way & Foldable: I like the triple-folding feature, which makes it easier to transport and store.  It also has a TPR surface which prevents slippage even during a rainy day.
And if you have an active doggie this ramp is pretty easy to clean. Just hose it down in the backyard and that should take care of it.
Another word of caution: some pet parents found this ramp a bit too soft for their bigger dogs.
We earn a commission if you make a purchase, at no additional cost to you.
Using a Carpet to Make Stairs Easier for Your Dogs
If you have linoleum, tile, or hardwood steps, there is a high chance that your dog falls off or struggles to use the stairs often. This is because these materials have slippery surfaces that your dog can't always prepare for.
So, in this case, getting a carpet can help you evade the stress on your dog—by covering it on the steps to rid the slippery surface.
With this, even if your dog is scampering up and down at high speed, it reduces the chances of sliding off the steps. You can either have the entire stairs carpeted or have a carpenter install carpet runners.
If you don't want to cover your stairs up with a carpet, you can opt for non-slip stair treads. This also helps your dog get traction on the stairs. There are many options for attractive anti-slip strips, such as these: Anti-Slip Tape (click to view on Amazon).
Improve the Visibility of Your Stairs to Make Them Easier for Dogs
If you have your stairs in an area with less visibility, you want to consider improving the visibility of the area. Your dog can possibly fall off if he can't see the stairs.
Improving the visibility of your stairs depends on your dog and where your stairs are located. If your stairs are located in a slightly dark area, you should light up the place. More so, some dogs have poor eyesight. If your dog is one, you should improve the visibility to match the sight of your dog.
Also, for poor eyesight, you can consider getting tape that will make it easier for your dog to see individual treads.  I recommend Teegan Tapes Anti-Slip Tape (opens new Amazon tab) because the white strips improve visibility and the tape also provides improved traction.
Carry Your Dog to Make Stairs Easier
Sometimes you might not have any other choice except to carry your dog up some stairs, especially if your dog is not capable of going upstairs due to advanced age or other mobility issues.   
When a dog climbs stairs, its body weight is placed on its hindquarters, which means a dog with joint or ligament problems will find going up and down stairs painful. And as a result, your canine friend may want to avoid using the stairs.
Luckily, you can help this situation by using a dog's sling.  This supports the dog's back and keeps weight off the inflamed hips and joints when using the stairs.  
We earn a commission if you make a purchase, at no additional cost to you.
"For bigger dogs who can't be carried up and down repeatedly, it's best to avoid the stairs when possible. Make sure everything your dog needs and enjoys is located on the main floor of your house. Block off the stairs when you're not home or when you will be on a different floor than the dog for an extended period."
Source: John Gilpatrick at PetMD
Also, if you have a puppy, you should keep carrying him until he gets fully matured. Allowing your puppy to use the stairs—which involves running up and down the stairs, can result in stunted growth, as this damages the puppy's growth plates.
Dog is Still Struggling With Stairs?
If your dog is not able to use the stairs easily after trying the above tips, the problem may not be your stairs. It would be best to take your dog to a vet to have them checked out.
Your dog may develop health conditions that need to be examined and treated. Dogs can develop medical issues such as:
Hip and hind leg problems
Arthritis
Nerves impairment 
Joint issues, etc. 
Such health conditions can halt a dog's mobility, making it difficult to go up or down the stairs. You may not spot the symptoms of other activities of your dog, but climbing the stairs can help you detect your dog's health condition.
Don't make the mistake of putting the blame on your stairs while you keep on looking for other means to help your dog without seeking medical help. Watch your dog closely while using the stairs to identify possible signs of failing health. 
Some signs to watch for if your dog is struggling on the stairs:
Going up: If he hobbles while going up the stairs, this might mean a sign of a hip problem. 
Coming down: If your dog stumbles down the stairs, this suggests a joint problem.
Hugging the wall: This is a sign of vestibular disease. It affects the dog's balance.
Trouble keeping head up: If your dog keeps tilting his head, that could be a sign of imbalance.
If you notice any of these signs, quickly see a vet to have your canine friend diagnosed and treated.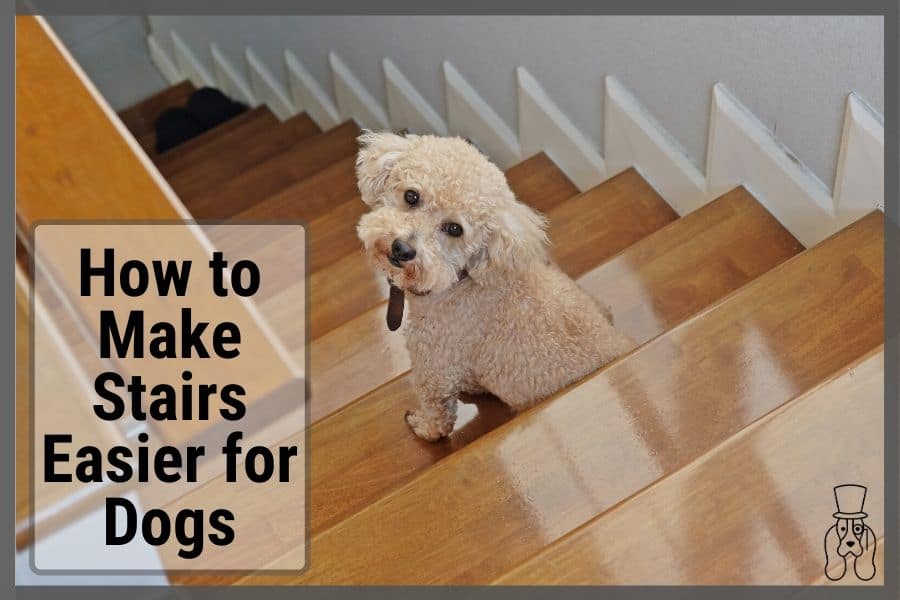 Final Thoughts
As you can see, helping your dog navigate the stairs easily is not a very difficult task, as some may think. However, it involves following the right steps and considering your dog's health care, as discussed in this post.
Most pet parents make the mistake of relying solely on solving problems with stairs without considering their dog's health. 
Ensure your dog is healthy while exploring other means of helping them use the stairs safely. If you notice any sign of difficulty even when you have a carpet or ramp, you should immediately seek medical intervention from a qualified veterinarian.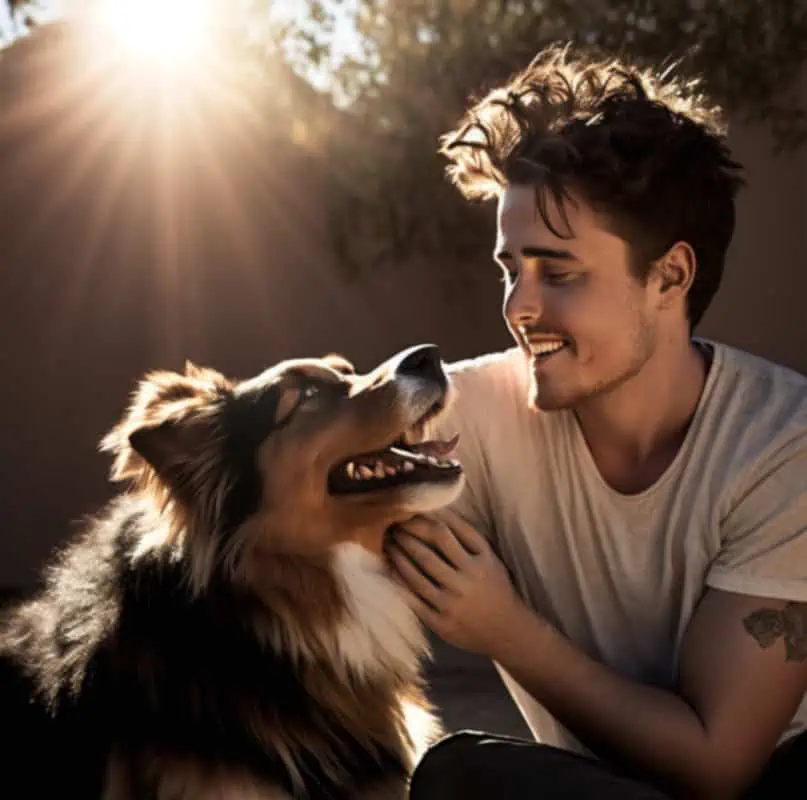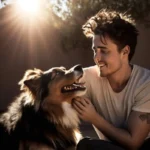 Family Dog Expert Author
Hi there! I'm Stuart, a devoted dog lover and family dog expert with over a decade of experience working with our furry companions. My passion for dogs drives me to share my knowledge and expertise, helping families build strong, loving bonds with their four-legged friends. When I'm not writing for SirDoggie, you'll find me hiking, playing with my beautiful dog, or studying music.