All pet parents know that having a dog in your family is amazing. Pet parents also know, however, that it can also be a source of both worry and frustration when your dog is becoming increasingly itchy from dry skin over time.
Whether it is the occasional shaking on the bed at 3 am when you have to get up early for work, or whether they are scratching themselves until they hurt end up themselves, it can be disconcerting, to say the least. Sometimes the simplest solution is a change in shampoo.
Recommended shampoos for dogs with dry skin: Our Picks
Earthbath Oatmeal and Aloe Shampoo
Nature's Miracle Extreme Odour Control
Pro Pet Works Natural Oatmeal Dog Shampoo
Buddy Wash by Cloud Star
All Natural Dog Shampoo by 4 Legger
Some of the best options when it comes to dogs with itchy or dry skin is to go with either oatmeal or aloe.
While you could go the route of letting your canine companion soak in a bath of oatmeal water for 15 minutes a night, this is unlikely to be feasible for most pet parents.
Let's be honest, if we have any extra time to spend with our doggies, there are plenty of other things we'd rather do than try to contain them in a bath full of water (unless they love it!).
Whether it's because your dog won't cooperate or you just don't have the time every night, there are other options available that you may want to consider.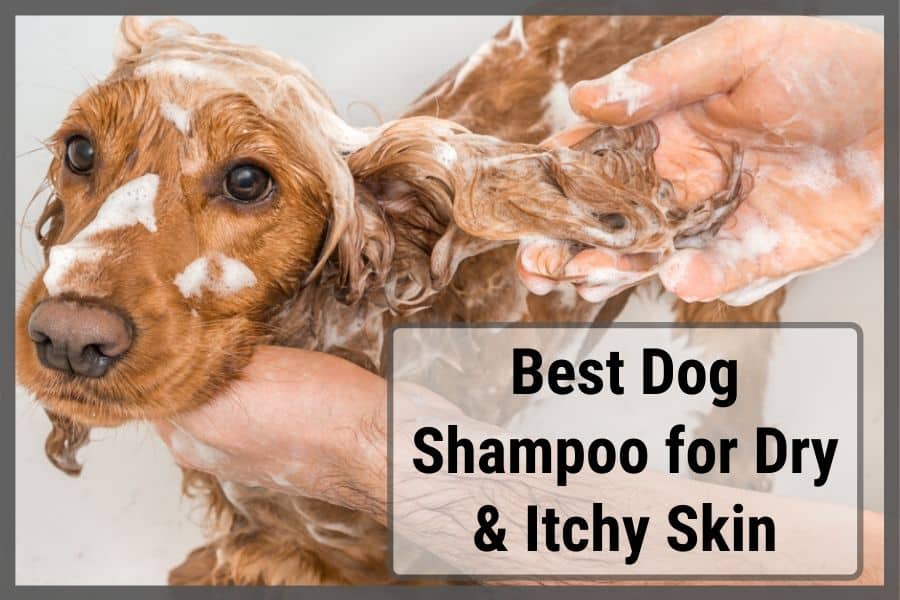 Some of the links in this post are affiliate, and we may earn a commission.
Related Reading: Can You Use Head and Shoulders On a Dog?
Best Shampoos for Dogs with Dry and Itchy Skin
Our recommended dog shampoos for dry and itchy dog skin fall into two categories. The first one is Oatmeal shampoos.
Oatmeal is known for helping with dry or itchy skin in humans. Read the back of your body soap or shampoo bottle next time you're in the shower and you'll likely find mention of oatmeal.
For many reasons, oatmeal is also a great option for your doggie. Not only is it all-natural, but it is also nontoxic, so if your doggie ends up licking at it (and there's a 99% chance they will!), there shouldn't be any issues.
Due to it's all-natural anti-itch properties and effectiveness, there are many commercial shampoos that include oatmeal in them.
Aloe is our second category of dog shampoos that we reviewed. Aloe is wonderful when it comes to dealing with dry skin for both humans and canines alike. It is a natural moisturizer and a go-to when it comes to burns, including sunburns.
With our Kenzie, aloe is a staple in our home to help for those long summer days or, more accurately, cold winter ones (we live in Canada), which could cause some small skin damage.
1. Earthbath Oatmeal and Aloe Shampoo
This shampoo's price range is about $8 to around $15, though Amazon does a good job of keeping it on the lower end. You can purchase it in bulk too, which lowers the per-ounce cost even more.
Whether you are dealing with a larger dog or a couple of smaller ones, being able to buy in bulk is always a great way to save money (just make sure it works for your doggie(s) before getting a year's supply!)
Earthbath is a great product because of its use of all-natural ingredients which are proven to help your pooch with its itchy, dry skin. Scented with vanilla and almond, it leaves your pet smelling like a little piece of heaven without stripping your dog of its natural oils.
This shampoo is pH balanced for a dog's skin to help keep it healthy and clean.
It's important to note that this shampoo is not considered tear-free, care should be taken to avoid the face area of your dog.
The all-natural ingredients in this shampoo are otherwise safe for your doggie. There are no artificial colors or ingredients in the Earthbath Oatmeal and Aloe shampoo.
---
2. Supreme Odor Control Dog Shampoo and Conditioner by Nature's Miracle
This shampoo uses oatmeal to help soothe your dog's itchy skin and incorporates honey with sage to help reduce the funky odors that dogs can (and almost always do) pick up.
All-natural ingredients are used to help clean your dog's fur right down to the skin and remove both dirt and bacteria that can make your dog smell.
For those dogs that like to make more than the occasional trip into the stink, you can feel comfortable washing your dog weekly with this product as it is designed with frequent bathing in mind.
---
3. All Natural Oatmeal Dog Shampoo by Pro Pet Works
This shampoo is a slight step up from the two previous shampoos on this list.
If you're concerned about the environment, you will love this company. Pro Pet Works is committed to reducing its carbon footprint during the production of its products, and they even made the bottle biodegradable.
Specially formulated for dogs with allergies, this product also contains no chemicals and is made to be tear-free as well.
The best practice is to still be careful around your dog's face and eyes, but if a little bit of soap accidentally gets in their face, you needn't worry (which is some great peace of mind if you're new to bathing your doggie).
If you've got a little bit extra for your doggie's budget then I highly recommend this shampoo.
Being made in the US by a company that goes the extra mile to reduce its carbon footprint is certainly worth the slight bump in price.
---
4. Buddy Wash by Cloud Star
The Rosemary and Mint Buddy Wash by Cloud Star is a 2-in-1 shampoo and conditioner for your doggie that will help to moisturize their skin and help to reverse damage from spending a lot of time outdoors.
Whether you are dealing with a bit of sunburn or a little bit of windburn, this shampoo can help to moisturize dry skin and help to bring some needed relief to your coat.
Perhaps what I love most about this shampoo is that everything on the label is words that I can pronounce, which brings a bit of peace of mind during bath time. It is even safe to use every couple of weeks for puppies as they acclimate to taking a bath.
I typically recommend this shampoo for new puppies getting used to bath time and for dogs that have an active outdoor life and are prone to some damage due to this.
---
5. All Natural Dog Shampoo by 4 Legger
The All Natural Dog Shampoo by 4 Legger is one of the few USDA certified dog shampoos on the market. This shampoo is priced a little higher than some of the others on this list and you can click here to view the exact price.
Created with plant-based, vegan, all-natural, organic, USDA-certified organic oils, the 4 Legger All Natural Dog Shampoo also contains aloe to help soothe dry, itchy skin.
With essential oils like lemongrass and olive to help soothe and fight doggie odors, this is also one of the few shampoos that use a more holistic approach for your doggie's hygiene needs.
We all love our pets, and if you prefer the holistic approach, you can use this product with confidence as it is both groomer and vet-approved.
The best part about the 4 Legger brand is that they also offer an unscented version of their All Natural Dog Shampoo as well for a similar price. This allows you to be able to offer your doggie soothing aloe and organic essential oils, even if you do not want a scented shampoo (or if your doggie is allergic to scents).
Tips for Dry & Itchy Dog Skin
While treating dogs at home for dry or itchy skin can be a great and feasible option, if you don't know the exact cause of it, it can go from being a mild nuisance to a very expensive and frustrating problem quickly.
One of the most important steps when dealing with your dog's dry, itchy skin is determining the cause, and this may require a trip to your vet.
Some dog breeds just naturally have more sensitive skin, but be sure to rule out any underlying issues as well and your veterinarian is probably the best one to do this.