Best Dog Seat Covers for Leather Seats [REVIEWED]
Do you love to take along your dog everywhere with you in the car? Does it make you concerned about the cleanliness of your car's leather seats?
You invest a lot of money into your car, and your gorgeous leather seats are an added expense. As a caring dog parent, you love your car and your dog, but you need to find a way to help both co-exist without damage and losses. 
If you're concerned about your car's protection and dog's safety, you're in luck! Dog seat covers are an excellent option and often the only item that will solve your dilemma.
Some of the links in this post are affiliate, and we may earn a commission.
Related Reading: Best Glass Door Protection For Dog Scratches
Our top picks at a glance:
Top 8 Dog Seat Covers For Leather Seats 
If you want your fur buddy to come on the road trip, you need to choose the right cover for your car seating. To facilitate you, we have carried out extensive research and identified the following to be the top seat cover options available: 
1. Plush Paws Products Hammock Waterproof Luxury Car Seat Cover with Pet Harnesses
If you have high-quality leather seats, you'll want to invest in a high-quality cover that will offer proper protection. The Plush Paws seat cover is loaded with amazing features that make it both easy to install and easy to use. They are quilted and diamond-stitched for comfort and durability.
We earn a commission if you make a purchase, at no additional cost to you.
The Plush Paws dog car seat cover is well designed and well made. It forms a hammock by attaching to both the back and front headrests in your car. A seat liner, two seat belt clips, and two harnesses help to keep your dog secure during rides.
Its heavy-duty, quilted polyester surface is padded for extra comfort while protecting your car from hair, drool, dirt, and dander. This cover is machine washable and is easy to vacuum. Plush Paws offers a lifetime warranty for all of its seat covers.
Key Features
Brand: Plush Paws Products
Colour: Black, Grey, Tan
Available in 2 sizes
Material: 600D PU Infused Oxford Fabric
Two waterproof layers
Thick layers of padding 
Non-slip silicone backing
Heavy-duty buckles
Diamond stitching
Adjustable straps
Includes pet harness
Pros
Durable and tear-resistant
Chemical-free fabric
Easy to install and remove 
Versatile 
Protect your rear leather seat from hair, dander, dirt, and drool 
Easy to clean; machine washable 
Lifetime warranty 
Comfortable and breathable
Cons
Some users complain about straps that frayed after washing
Buyers have mentioned that it is not completely waterproof
2. Kurgo Dog Hammock Car Seat Cover for Pets
Keep your dog safe while travelling in the car with Kurgo Dog Hammock Car Seat Cover. The cover protects your rear bench seat from muddy paws and slobber. The seat cover is water and stain resistant for your convenience.
We earn a commission if you make a purchase, at no additional cost to you.
It includes hook and loop openings to access your seatbelt and latch systems. It has attachment points for headrests and anchor points to slide between the seats. They also act as a soft barrier to prevent your pup's access to the front seat.
The Kurgo hammocks are made with a 2-in-1 purpose. You can either use them as a hammock, or you can remove the front attachments and use them as a regular bench seat cover. It includes storage pockets so you can keep your dog's favourite toys or accessories close.
Key Features
Brand: Kurgo
Available in multiple colours and 3 sizes
Material: Polyester
6 attachment points for a custom fit
Easy seat-belt and child latch access
Includes storage pocket
Pros
The waterproof and tear-resistant material
Easy to set up and takedown
Keeps mud and dirt from staining seats
Lightweight and portable
2-in-1 purpose; can be used as a hammock or bench seat cover
Effortless cleaning
Cons
Not suitable for trucks
Waterproofing does not safeguard against urine (accidents)
3. PetSafe Happy Ride Deluxe Car Seat Cover for Dogs
PetSafe Happy Ride Deluxe Car Seat Cover does a stellar job of keeping your car seats safe from all sorts of dog messes. Provides the ultimate ride for your dog that gives you peace of mind about their safety and yours.
We earn a commission if you make a purchase, at no additional cost to you.
It has a waterproof membrane as well as waterproof zippers to prevent dirt, hair, and liquids from passing through and damaging your leather seats.
The tan-coloured cover comes in standard and extra-wide versions. It is quilted with super-soft micro-suede fabric for comfort and warmth. The SmartFit system provides an improved fit for different vehicle types.
Key Features
Brand: PetSafe
Colour: Tan
Available in two sizes
Material: Polyester
Covered seat belt slits
SmartFit system
Pros
Luxurious, quilted construction
Aesthetically pleasing
Durable 
Fits most vehicle back seats
Seat belt slits are covered to better protect vehicle seat
Easy installation 
Easy to clean and machine washable
Cons
Not suitable for big and active dogs
4. 4Knines Front Seat Cover for Dogs
If your dog prefers to join you upfront during drives, you'll want to keep the passenger seat clean with 4Knines Front Seat Cover. It is loaded with additional features like a non-slip backing and sidewall flaps!
We earn a commission if you make a purchase, at no additional cost to you.
The quilted fabric is plush and comfortable. It comes in 3 different colours; black, grey and tan. The unique non-quilted non-slip layer is completely waterproof to prevent moisture from seeping through.
Not only does our 4Knines Front Seat Cover helps to keep our leather seats neat and tidy, but it looks great as well! While it is easy to take in and out, it looks classy and blends into the style of the car well.
Key Features
Brand: 4Knines
Colour: Black, Grey, Tan
Material: colourfast 600D polyester
Multilayer construction
Thick UV-coated straps
Durable nylon clips
Pros
Premium material and workmanship
Perfect coverage and fit for front seat
Great for dogs who love to be co-pilot
Easy to clean 
Protects front car seat from dog hair and dirt
Cons
5. AMZPET Dog Car Seat Covers for Pets
The Amzpet dog car seat cover protects your seats from claw scratches, spills, dirt, hair, drool, water and more! The cover allows you to unzip the middle panel to use the armrest or middle seat on a long car journey. 
We earn a commission if you make a purchase, at no additional cost to you.
The Amzpet dog car seat cover is made from several layers of material for comfort and durability. The seat incorporates a PVC waterproof layer to help prevent leaks and side flaps and protect the side and base of your seats. 
The non-slip backing and anchors will ensure that the cover stays firmly in place. The cover is easy to clean and can be placed in the washing machine.
Key Features
Brand: Amzpet
Colour: Black 
Waterproof, heavy-duty, padded and quilted material
Reinforced headrest straps
Anti-slip backside
1-year warranty 
Pros
Durable and scratch proof
Seat side protection
Quilted for comfort
Allows for rear armrest
Padded to add an extra layer of comfort and protection
Easy to clean
Cons
6. URPOWER Dog Seat Cover Car Seat Cover for Pets
This Urpower seat cover for cars can be used hammock-style or as a bench seat cover with side flaps. It features side flaps that protect your car from hair, scratches and other damage.
We earn a commission if you make a purchase, at no additional cost to you.
This durable dog seat cover is created with heavy-duty oxford fabric that's 100% waterproof. The non-slip surface is an added benefit and especially helpful when you are driving in high traffic areas. 
With three layers of padding, the Urpower seat cover is very comfortable for dogs. It's also easy to clean and installs within minutes. Now you can enjoy family trips with your furry friend without damaging your car!
Key Features
Brand: Urpower
Material: Oxford fabric
Available in 5 colours
Bench seat cover
Hammock convertible 
Anti-skid zipper
Seat belt velcro openings
Includes side flaps
Includes 4 adjustable clips
2 seat anchors
Size: 54″ W x 58″ L
Pros
Durable
6 security protection
Easy to wash and clean
Easy to install
100% Waterproof
Protects dogs from falling 
Large enough to cover your trunk 
Cons
7. URPOWER Pet Front Seat Cover for Cars
If you do decide to have your dog ride in the front passenger, then Urpower front seat covers are a great option. It is constructed from heavy-duty, waterproof polyester fabric. It is highly durable and ready to handle any mess your dog makes. The non-slip surface is an added benefit and especially helpful when you are driving in high traffic areas.
We earn a commission if you make a purchase, at no additional cost to you.
It also features a quick-release buckle and built-in non-slip backing that helps keep it in place. The seat cover is easy to clean, vacuum and spot clean with a damp cloth.
Key Features
Brand: Urpower
Colour: black
Material: polyester 
100% Waterproof
Non-slip design 
Snap buckles on the backrest
Pros
Perfect coverage and fit for front seat
Great for dogs who love to be co-pilot
Easy to install
Durable and scratch proof
Protects seat from pet hair and mud
Easy to clean and machine washable 
Cons
Some users have complained that it doesn't fit the bucket seat properly 
8. Doggie World Dog Car Seat Cover – Cars, Trucks and SUVs Luxury Full Protector
If you are looking for a durable and comfortable car seat cover, Doggie World offers one at a great price. This seat cover is made up of comfortable material and ensures your dog enjoys the ride. 
We earn a commission if you make a purchase, at no additional cost to you.
The seat cover is made up of a material that doesn't easily tear away. The non-slippery material reduces the risk of your dog slipping over during turns and bumps. This well-designed car seat cover from Doggie World is water-resistant and stain-resistant. 
It's also easy to clean and installs within minutes. The seat cover folds easily and can be stored in the luxury storage bag that comes with the seat covers. The Doggie World pet seat cover will definitely make your life and your dog's life better!
Key Features
Brand: Doggie World
Colour: black
Size: standard
Waterproof 
Non-slip system
Includes luxury storage bag
Pros
Seat side protection
Makes your dog happy, secure, and comfortable
Protect your leather seat from muddy claws, fur, drools, urine spots or slobber
Durable design
Easy to install
Easy to clean
Cons
Buyer's Guide
Choosing a dog car seat cover can be tricky. It depends on how your dog likes to travel and how you want to transport your dog. Make sure that the seat cover is made with a reliable material, and that the design meets your expectations. We've highlighted some important factors that you should consider when making a purchase.
Comfort 
Dog seat covers should provide ultimate comfort and good support to your fur buddy. They have varying levels of padding and comfort for your furry pal. Seat covers need a proper fit to provide comfort and protection. Quilted padding ensures your pup stays comfortable on a long drive.
Colour and Style 
Dog seat covers are usually available in a very limited array of colours and styles. Seat covers for cats come in a few primary styles, which are suited to different dog owners' needs and preferences. These seat cover styles include 
Bench style 
Hammock style 
Trunk style
Bucket seat cover
Durable
Your car seat cover needs to be durable and long-lasting. The seat cover should be able to handle paw scratches, dog hair, dirt, and any unintended mess.
Material
A quality dog seat cover should be very comfortable and also waterproof. Choose the material that is not bothersome for your dog. These have to deal with paws and slobber, so make sure they're rugged and tear-resistant too. The material used in the dog seat cover should be safe and free of harmful chemicals with side effects. 
Cleaning
Any dog seat covers you select must be easy to clean, wipe down, and easy to wash. Seat cover made using waterproof material are very easy to clean as it can be cleaned using a damp cloth. Fortunately enough, there are dog seat covers that can be washed using a washing machine.
Strong Straps 
The straps of seat covers need to be very strong if you want your seat cover to withstand pulling and staying fit. They should also be easy to adjust so you can get the required fit.
Tips On Travelling With Dogs
Your dog might be the cutest passenger in the car, but it's often the messiest one as well. Now that you are prepared to protect your car with seat covers, you need to think about the rest of the trip.
Keep your dog restrained during the ride. Controlling your dog's movement is important for your safety and those around you.
Before you take off on a long trip, take several short trips with your fur buddy to get them accustomed to travelling in the car.
Don't let your dog stick their head out of the window to get some fresh air. It looks cute but is very dangerous.
Choose the right spot in the car for your furry pal. It is important for successfully travelling with your dog.
Prepare your vehicle for your dog. Consider investing in car seats and floor covers that protect your car and add comfort for your dog.
Always plan rest stops so your dog can ease-out, drink water, take a walk, and eat. 
Before you hit the road, work on obedience and manners. It's best if your dog knows the basic commands, like "sit" and "stay".
To keep your fur buddy healthy as you travel, bring along a supply of its regular food. Don't forget to bring along bottled water for them.
If your dog is sick and requires medication, make sure you have enough for the entire road trip.
If you are taking your dog on a long journey, pack their favourite toys, blankets, and bed so that they don't feel anxious.
Be prepared for an emergency. Research vets or animal hospitals in the area you will be visiting in case of an emergency.
Always take into consideration your dog's health, anxiety level, size, and weight. 
By planning ahead and following these tips, you can ensure your journey is safe and comfortable for you and your furry member.
In Closing
So, travelling with your furry companion and protecting your leather car seats is possible with dog seat covers. The dog car seats we recommended in this post are all stylish, versatile, safe, durable and easy to clean.
Always keep your car clean and your dog safe. Protecting your leather seats is something you need to do regularly. Choose the right style dog seat cover that best suits your needs. 
Enjoy the journey with your dog!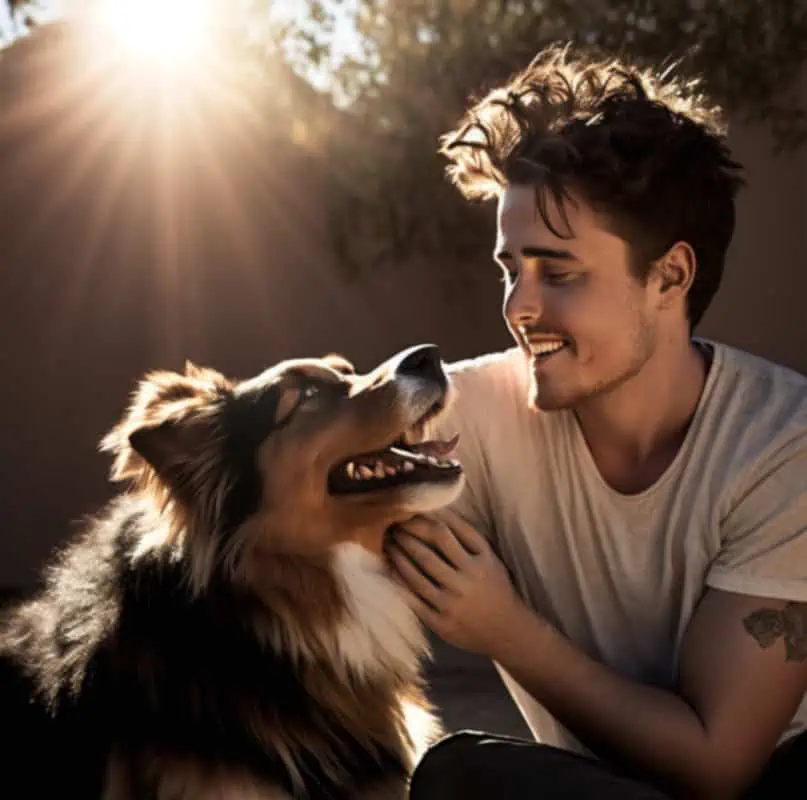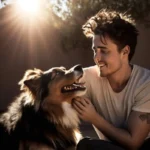 Family Dog Expert Author
Hi there! I'm Stuart, a devoted dog lover and family dog expert with over a decade of experience working with our furry companions. My passion for dogs drives me to share my knowledge and expertise, helping families build strong, loving bonds with their four-legged friends. When I'm not writing for SirDoggie, you'll find me hiking, playing with my beautiful dog, or studying music.