Cutting your dog's nails is vitally important. Not only will it save you and your furniture from painful scratches, but it will also keep their paws healthy and pain-free. 
But before you start trimming your dog's nails, you might want to consider getting a high-quality set of nail clippers. 
The best dog nail clippers: Our Picks
Hertzko Electric Pet Nail Grinder
CleanHouse Pets Dog and Cat Nail Clippers
Small Pets Combo Pack
Illuminated Pet Nail Clippers
Soft Claws Canine Nail Caps
To learn more about these clippers and how to properly trim your dog's nails, read on.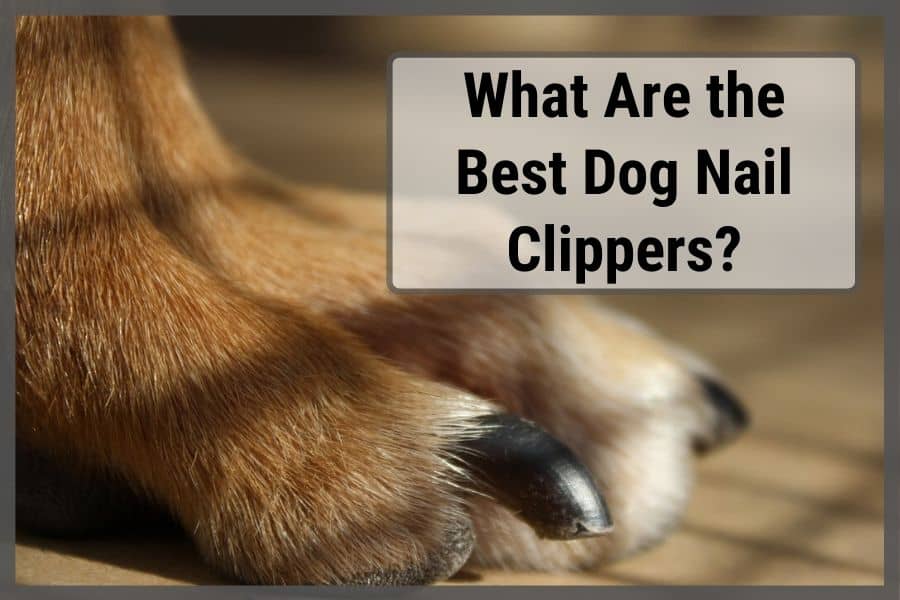 Recommended Clippers for Dogs
1. CleanHouse Pets Dog Nail Clippers
The CleanHouse Pets Dog and Cat Nail Clippers are one of the best choices for most dog parents. They're simple and effective – which is all that you really need from your dog clippers.
They come in two sizes – a 4.75″ Small pair or a 6.25″ Large pair.
Con: Require a bit more force than other clippers
An integrated safety guard ensures the cutters don't hurt anyone. And the sharp curved blades will lead to a clean cut on every snip. 
---
2. Hertzko Electric Pet Nail Grinder
The Hertzko Electric Pet Nail Grinder is a simple-to-use rechargeable nail grinder. Here's why we recommend it over regular clippers:
The Diamond Bit Grinder is a safe alternative to traditional nail cutters. Three differently-sized entry ports allow your dog's nails to be safely ground without the risk of slipping. 
A quiet motor ensures a calm experience that should put your dog at ease. 
The grinder can be quickly and easily cleaned thanks to a removable safety cover. 
USB charging ensures you will never have trouble finding a charger cable. 
Hertzko
Our Pet Nail Grinder is manufactured with Diamond Bit Grinder, which is safer and more effective than a nail clipper to trim pet nails, reducing the risk of clipping the claws too short or hurt your pet
Great nail grinder to use for small & large dogs, cats rabbits and birds
Our Pet Nail Trimmer is especially designed with low noise and low vibration, making your pet no fear to time their nails
This nail grinder for dogs is effective yet safe. That's one of the reasons it can take a while to clip each nail.
Con: Takes more time per nail.
So if you're doggie absolutely hates having their nails clipped this may not be the right one for you (or them!)
---
3. Casfuy Dog Nail Grinder – 2-Speed Electric Rechargeable Pet Nail Trimmer
Here is a great portable and recharable electric dog clipper. It comes with a built in battery that will last up to two hours after charging for three hours.
It's extremely lightweigh and really easy to handle and control when clipping your dogs' nails.
Casfuy
Safe, Effective & Precise Trimming: This dog nail grinder uses an advanced diamond drum bit grinder to deliver the safest, most comfortable pet claw grinding. Recommended by veterinarians and pet grooming professionals, painlessly and precisely trim your pet's nails anywhere.
Advanced 2-Speed Switch & 3 Grinding Ports: The trimmer features an adjustable, low-high speed design powerful enough to support heavy grinding. And with 3 ports to match the small, medium, or large pets, simply choose the appropriate port and speed depending on your pet's size and nail hardness.
Super Low Noise & Vibration: Many pets get stressed by the sound and vibration of a pet nail grinder. However, our electric pet nail grinder uses a superior motor with whisper-quiet technology that produces a very low vibration to keep pets calm and help sand pets claws faster and easier.
---
4. Helishy Illuminated Pet Nail Clippers
For the gadget-loving dog owners out there, these high-tech Illuminated Pet Nail Clippers include all the standard features you would expect from a set of clippers. 
Con: Not sturdy enough for some larger dogs
It also comes with something extra: a 5x magnifier and built-in LED light means you'll never have trouble lining your dog's nail up with the cutting blades. 
---
5. Soft Claws Canine Nail Caps – 40 pcs
While these aren't cutters or grinders, the Soft Claws Canine Nail Caps are still worth mentioning. 
Con: This product is pretty hit or miss
They can help protect your doors, floors and furniture from scratches. It's easy to slip them onto the nail, and your dog will find walking perfectly comfortable in them.
Not all dog parents love these things. Some say it's better than clipping and keeps the noise down for hardwood floors.
Others say they make the noise worse.
---
What is the best type of dog nail clipper?
There are two tools you can use to keep your dog's nails short.
Cutters
Like human nail cutters, these are designed to give a clean cut. The cutting blades are curved to follow the typical shape of a dog's nail. Cutters come in a wide variety of shapes and sizes, as the cutters you use to cut a Toy Poodle's nails are unlikely to be the same ones you would use on a Red Setter.
Grinders
Nail grinders use a high-speed motor to spin a small grinding stone. For your dog, a grinder may prove to be a more comfortable experience, as there are no blades involved. However, they can also be very noisy, and create a lot of dust from the ground nail.
The choice between a cutter or a grinder is a personal one. There is no right answer; it comes down to what works best for you and your dog.
Why do I need to cut my dog's nails?
Keeping your dog's nails short is an essential task for any responsible pet owner. If you let your dog's nails grow too long, there may be several undesirable consequences:
General discomfort will agitate your dog and lead to a change in personality.
Ingrown toenails are not only painful but can lead to infection and severe health issues.
Long nails can catch on an object and either break or be accidentally removed. This can cause significant pain for your pet and may require surgery.
Nails can scratch and damage furniture and household fixtures and fittings.
When playing with your dog, you may accidentally get scratched – which can be very painful for you too!
How often should you cut your dog's nails?
Most dog's nails need cutting every 1 – 2 months. 
If you don't know how long it's been, you can still tell it's time to cut your dog's nails by listening for tapping or clicking noises when they're walking on a hard surface. A dog's nails should not touch the ground when standing. If they do, it's time for a clipping.
The amount of time between cuts depends on several factors:
The length of time they spend sitting or walking. A dog that walks a lot will naturally keep their nails shorter.
Diet. The rate of nail growth is strongly affected by the type of food your dog eats and their consumption of minerals and vitamins that lead to nail growth.
Breed. Different breeds will grow their nails at different rates.
How short you cut their nails before. Make sure you do not cut your dog's nails too short, as it can be painful and affect their ability to walk. 
How do you cut your dog's nails?
Your dog will probably find their first clipping to be quite uncomfortable.
Therefore, the first step in cutting their nails is to make them comfortable. Play with your dog, cuddle them, and make them at ease. 
Once they're relaxed, take each paw and gently place it in a position that is comfortable for your dog and easily accessible for you to cut the nail cleanly. 
On the first cut, make sure you allow a little extra nail. This will let you get an idea of where along the nail the cut takes place. You can always make a second cut if you leave it too long. 
After the first couple of nails, you should have built up a good idea of where to place the cutter to get an accurate cut.
Take it slowly and cut one paw at a time. If your dog is uncomfortable, break the session up by giving them a rest between paws. 
You should also reward your dog with a treat at the end of the session. A treat will help your dog associate nail cutting with the pleasure of eating tasty food. 
Some people prefer not to cut their dog's nails themselves and will often ask a vet or a professional groomer to perform the cutting for them. That's fine – just know that it can get pretty expensive.
Continue Reading:
What if my dog doesn't like having their nails cut?
Nail cutting can cause some mild discomfort for some dogs. It, therefore, makes sense to get them used to regular cutting from a young age. 
The guidelines for when to cut your puppy's nails are the same as with adult dogs, as their nails grow at a similar rate.
The best way to make your dog comfortable is to cut their nails in a place they find comfortable. Whether this is snuggled up on the sofa with you or sat on their favorite dog bed, put your dog in an environment that they find safe and happy. 
Always have some treats ready to reward them if they behave during the cutting.
If you still persistently struggle to cut your dog's nails after following these tips, I recommend letting a vet or groomer handle it.